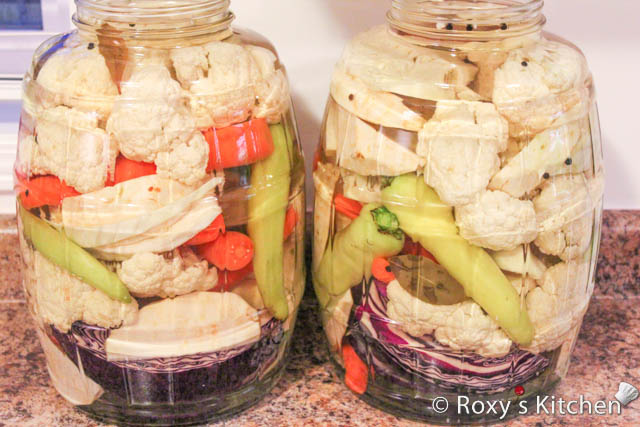 I miss so much the assorted pickles my dad used to make back home that this year I have decided to try out his recipe. I know it's a little late in the year but they should be ready in time for the Christmas feast :). I wish I had some green tomatoes (gogonele) to pickle as well but it's kind of hard to find them in November :D.  I hope my assorted pickles turn out as good as my dad's… I'll let you know in a few weeks :).
Time: 110 min, Prep: 90 min.  Cook: 20 min.
Servings: 7 gallons / 26 liters of pickles
Ingredients:
2 cabbages, cut into wedges                             
1 red cabbage, cut into wedges (to give the pickles some colour )
5 cauliflowers, cut into chunks
2 kg carrots, peeled
12-14 peppers
3 celery roots, peeled and cut into wedges
For the marinade:
21 l water
1.5 kg pickling salt
1.5 l white vinegar
10 bay leaves
black peppercorns
I had two 2.5-gallon (9.5l)  and two 1- gallon (3.8 l) glass barrel jars.
Directions:
For the marinade, mix the water, vinegar, pickling salt, bay leaves and pepper. Bring the marinade to a boil. Set aside to cool.
Make sure you use pickling salt not table salt. The table salt will make your brine look dark and cloudy due to the iodine in the salt. Pickling salt is made without iodine.
In the meantime, wash all the vegetables and cut them.
Place the sliced vegetables in jars.
Pour the cooled marinade over the vegetables.  Seal jars and keep them for 2 days in a warm place (~20 °C). Then store them in a cool place.

YOU MAY ALSO LIKE: