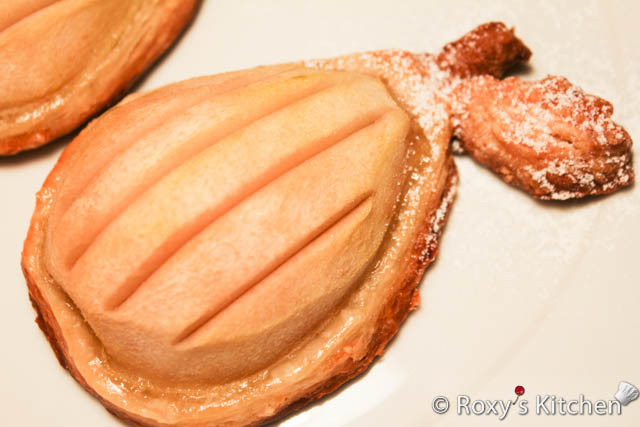 This is a quick and easy dessert or snack to serve anytime of the day. Pear halves are stuffed with chocolate and then baked on puff pastry.  Mmmm, they turned out so good… just writing about this recipe is making my mouth water.  You can make it with apples as well and maybe sprinkle some cinnamon on top to give it a nice touch and flavour. I will definitely try this next time.
Time: 55 min, Prep:  30 min.  Cook: 25 min
Servings: 6              
Ingredients:
350 g puff pastry, thawed if frozen
3 pears
2 squares semisweet chocolate
1.5 Tbsp lemon juice
1 egg, beaten
1.5 Tbsp caster sugar
You also need a baking pan greased with butter and lined with parchment paper.
Directions:
On a lightly floured surface, roll the pastry into a rectangle about ½ cm thick. Trim the edges, then cut into six equal smaller rectangles. Cover with plastic wrap and set aside.
Peel pears and cut in half lengthwise. Remove the core from each pear half.
Pack the cavity with chopped chocolate.
Place a pear half, cut-side down, on each piece of pastry and brush them with the lemon juice.
Preheat the oven to 190°C (375°F). Cut the pastry into a pear shape, leaving a 2 cm border. Use the trimmings to make leaves and brush the pastry border with the beaten egg.
Arrange the pastry and pears on a baking sheet. Make deep cuts in the pears, taking care not to cut right through the fruit, and sprinkle them with the sugar.
Bake for 20-25 minutes, until lightly browned. Serve hot or cold.
Recipe adapted from 'The Chocolate and Coffee Bible' – C. Atkinson, M. Banks, C. France, C. Mc Fadden.

YOU MAY ALSO LIKE: