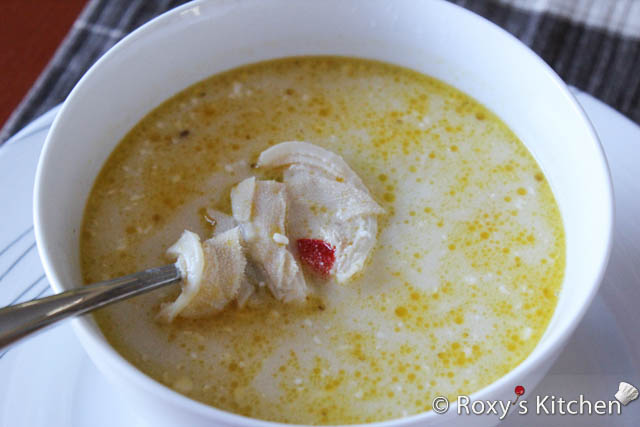 Beef tripe soup (ciorba de burta) is one of the most popular Romanian soups.  Pretty much every traditional Romanian restaurant servers this soup. It takes several hours to cook the beef tripe (unless you have a pressure cooker) but it's definitely worth the effort. It has a distinctive flavour and the beef tripe has a chewy texture that people typically either love or hate. But please don't hate it before you give it a try, at least once :). I highly recommend it!
Time: 205 min, Prep: 25 min.  Cook: 180 min.
Servings: 10-14                         
Ingredients:
5 l water
1.2 kg beef tripe (omasum)
 ½ kg beef bones
½ celery root, peeled
1 parsnip
3 carrots, peeled
2 Tbsp oil
1 onion, peeled
1 Tbsp peppercorns
4-5 bay leaves
10 garlic cloves, minced
6 egg yolks
300 g sour cream
100 g marinated bell peppers
Lemon juice from 1 lemon or 5-6 Tbsp vinegar (I prefer lemon juice)
salt and pepper

Directions:
Wash the beef tripe and cut it into big pieces. Place the tripe pieces in a large pot and add the water, beef bones, peppercorns, bay leaves and a generous tablespoon of salt. Let it boil for 2-2.5 hours (or 1 hour if you have a pressure cooker).
When the beef tripe is almost cooked add 1 carrot, the celery root and onion.
With a strainer or slotted spoon remove foam that forms on top of the soup and discard.
While the beef tripe is cooking, grate the remaining 2 carrots and sauté in a frying pan with 2 tablespoons of oil.
Remove the beef tripe from the soup and cut it into small strips. Discard the beef bones and vegetables from the soup. Place the sautéed carrots in a strainer over a big pot and pour the soup over. The sautéed carrots give the soup a sweet and delicate taste.
Bring the soup to a boil again. Add the beef tripe strips and let it simmer for a few more minutes.
Mix the egg yolks and sour cream. Add 2-3 ladles of soup to bring the mixture to about the same temperature as the soup.  Remove the pot from the heat and pour the mixture.
Cut the marinated bell peppers into small cubes. Mix the minced garlic with a pinch of salt and 2-3 tablespoons of water. Add the marinated peppers and garlic to the soup.
Add the lemon juice (or vinegar) and more salt if needed.
Serve with hot peppers.

YOU MAY ALSO LIKE: