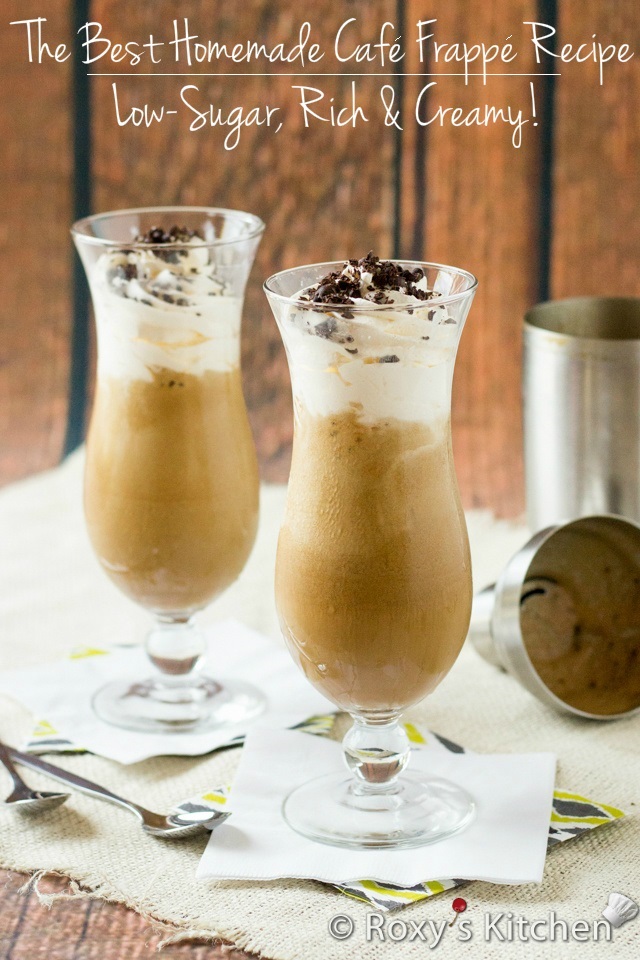 I've said this before, I'm not a big fan of coffee – with one exception though, frappes! They were very popular during my high school years back home in Romania (15 years ago!), especially during the summer time. This is when I pretty much fell in love with this delicious iced coffee drink.  Today I'm sharing with you the Best Homemade Café Frappé Recipe, and trust me, I've had my share of frappés– in many places, countries and even made at home! But did you know that with five minutes and five ingredients you can make your own? Yes, it's that easy!
This is not your traditional Greek frappé made just with instant coffee, sugar, water and iced cubes. It's a decadent combination of coffee, milk, cream and vanilla ice cream topped with whipped cream. It's super creamy and has just the right amount of sweetness. If desired, garnish it with shaved dark chocolate or cocoa! Add a splash of Kahlúa or Baileys Irish Cream to give your frappé an extra kick!  
Time:  5 min, Prep: 5 min.
Servings: 1 large frappé
Ingredients:
4 tsp instant coffee
2 ice cubes
¼ cup (60 ml) cold milk
¼ cup (60 ml) cold whipping cream + ½ cup (120 ml) whipped cream for topping
2 scoops vanilla ice cream
Sugar is optional but you can add 4 tsp sugar for a sweet frappe or 2 tsp for a medium-sweet frappe.
Directions:
Pour the milk and ¼cup whipping cream into a shaker (you can use a blender as well). Add the instant coffee, ice cubes and sugar and shake strongly until it becomes foamy and the sugar is dissolved.
Pour into a glass of 400 ml, add the vanilla ice cream and top with whipping cream and sprinkle shaved chocolate, if desired.
---
5licious – Recipes with Five Main Ingredients or Less
Water, oil for frying, and other essential spices in anyone's cupboard (salt, pepper, paprika, oregano, basil,  rosemary, chili, curry, bay leaves, thyme, cinnamon , vanilla extract, sugar) do not count!
---
I was featured on: Our Three Peas, To Work With My Hands, Easy Lazy DIY Mom, Mommie and Wee, My Big Fat Happy Life, Epic Mommy Adventures, The Domestic Heart, A Peek Into My Paradise, Chronically Content, We're Far From Normal, Grace and Gravy
---

YOU MAY ALSO LIKE: