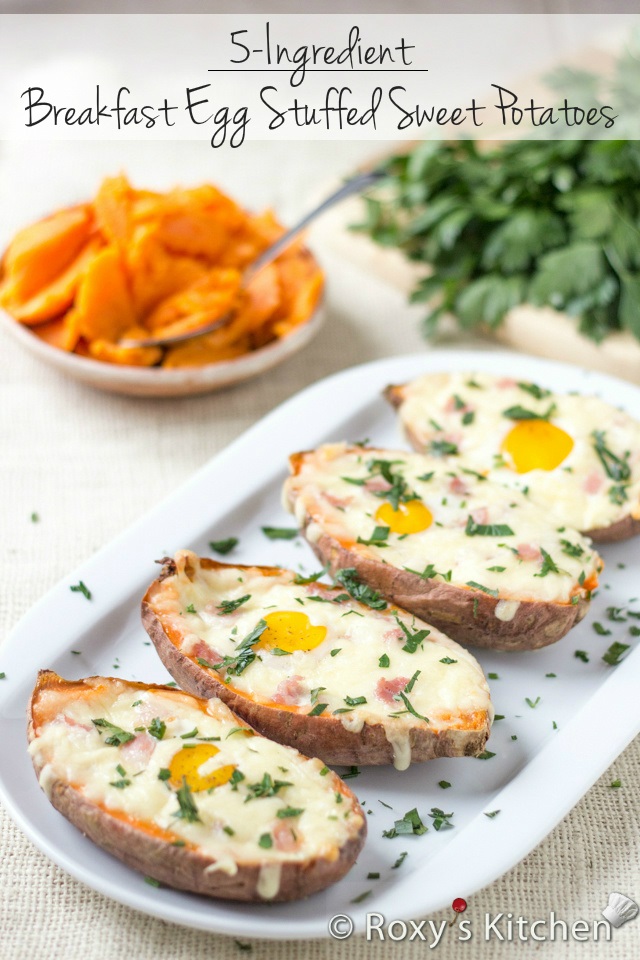 We love having eggs in the morning, usually hard boiled or sunny side up eggs and omelettes. But on weekends we prefer a more filling and nutritious breakfast and these Breakfast Egg Stuffed Sweet Potatoes are just the prefect choice! They are loaded with mozzarella cheese and bacon and topped with fresh parsley – who wouldn't love this!?  You can make them with russet or red potatoes instead of sweet potatoes, depending on personal preference. I prefer sweet potatoes not only because they are tastier but because they are a lot more nutritious and packed with vitamins B, C & D, iron and magnesium. If you feel like it, you can enjoy them as an appetizer or even as a light dinner. 
Time: 30 min, Prep: 10 min.  Cook: 20 min.
Servings: 4
Ingredients:
2 large baked sweet potatoes (poke potatoes with fork & bake @ 400°F / 200 °C for 1 hour or until you can slide a fork through without resistance)
2 cups shredded mozzarella
4 bacon slices
4 eggs
Fresh parsley
Salt & pepper
Directions:
Cut of each baked potato (bake them the night before or use any leftover baked potaotes!) in half and scoop out some of the flesh. The more you take out the more cheese and bacon you can add.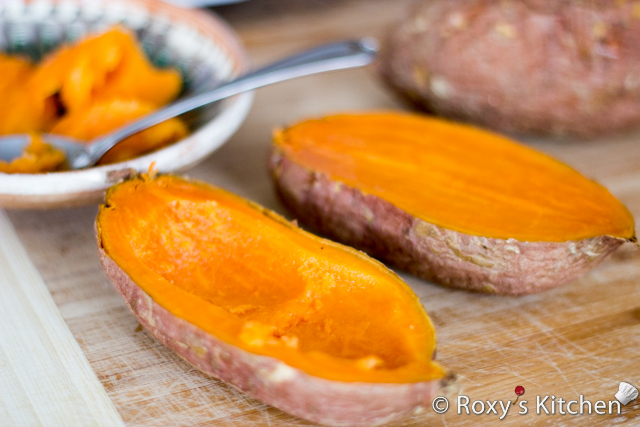 Break an egg into each potato half, sprinkle some salt and pepper and top with mozzarella cheese.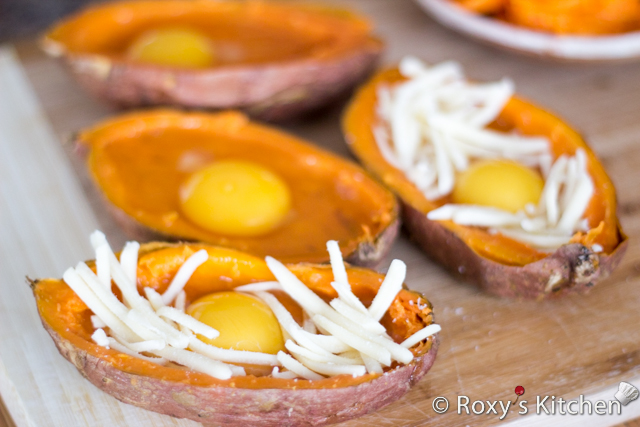 Add bacon and bake for 20 minutes at 350°F / 180 °C.
---
5licious – Recipes with Five Main Ingredients or Less
Water, oil for frying, and other essential spices in anyone's cupboard (salt, pepper, paprika, oregano, basil,  rosemary, chili, curry, bay leaves, thyme, cinnamon , vanilla extract, sugar) do not count!
---
I was featured on: Food Folks & Fun, Feeding Big, Seasoned Home Maker, Real House Moms
---

YOU MAY ALSO LIKE: