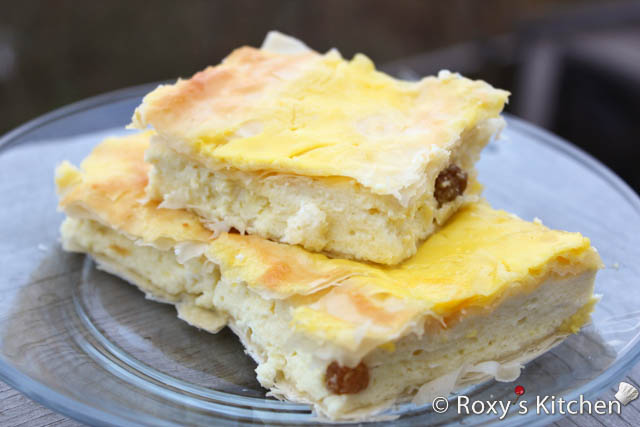 I have a few recipes for Romanian 'Placinta cu Branza' or Cheese-Filled Pie from my friend's grandma a.k.a buni :). This is the first one I decided to try out and hubby and I really loved it.  This recipe is so easy to make and so rich and delicious! You can have it as breakfast (perfect during the week when you're in a rush to work), as an appetizer or even as a light meal served with some salad.
Time: 70 min, Prep:  15 min.  Cook: 55min.
Servings: 25 squares                        
Ingredients:
450 g phyllo sheets
1 kg bakers light cream cheese (I bought this from Starsky)
300 g feta cheese, grated
4 Tbsp sugar
Zest from 1 lemon
2 Tbsp rum extract
2 Tbsp semolina
200 g raisins
60 g butter
6 eggs
2 Tbsp sugar
2 Tbsp sour cream
Directions:
Mix the cream cheese and feta cheese.
Add the sugar, lemon zest, rum extract and the eggs (save 2 egg yolks). Mix thoroughly until all ingredients are combined.  Lastly, mix in the semolina and raisins.
Preheat the oven to 220°C (425°F).
Butter your pan and add half of the pastry sheets. Brush them with melted butter. Spoon the cheese mixture over.
Place the remaining pastry sheets and again brush them with melted butter.
Bake for 45 minutes. Combine the 2 egg yolks with the sour cream and 2 tablespoons of sugar.
Brush the top of the pie with this mixture and bake for another 10 minutes.
Remove from the oven, cut into squares and sprinkle some powdered sugar (if preferred).
Enjoy!

YOU MAY ALSO LIKE: