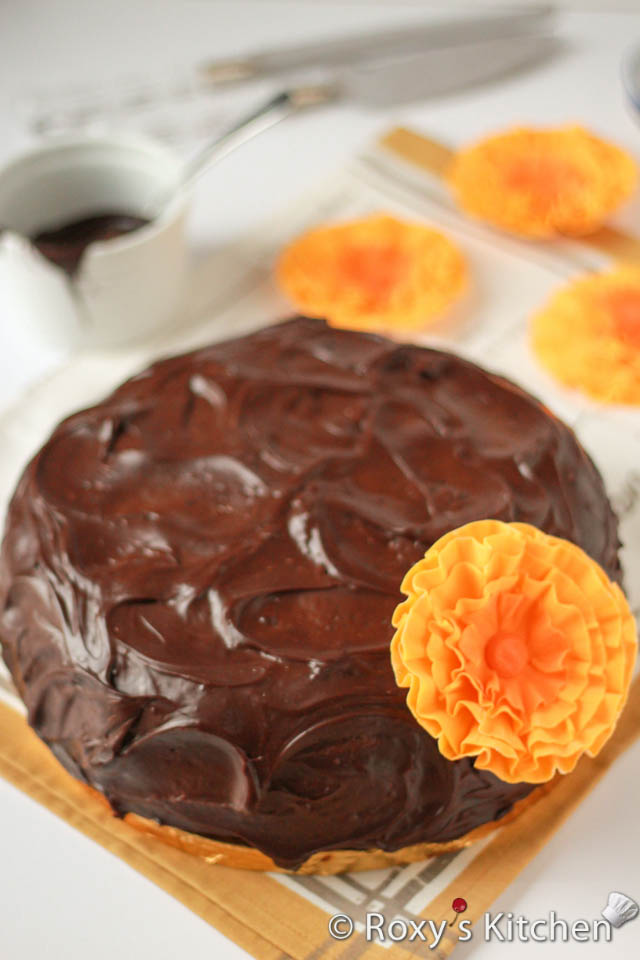 This delicious Chocolate Hazelnut Mousse Cake is for the winner of our 10,000 Facebook fans milestone contest. I promised I would cook/bake the most loved recipe of a fan who would get the most likes/votes and the winner was… Sorina, who asked for a chocolate cake :)!  I hope you'll enjoy this recipe and since you're so far away I can only send you a virtual slice of cake and much love <3 <3 <3.
A special thanks to all my fans for following Roxy's Kitchen, I couldn't have reached this number without you! And I can't believe we're close to 15,000 fans already!
Time:  100 min, Prep: 50 min.  Cook: 50 min + chilling time
Servings: ~20-24
Ingredients:
8 eggs
8 Tbsp water
12 Tbsp all-purpose flour
4 Tbsp cocoa powder
16 Tbsp sugar
5 Tbsp ground hazelnuts
You need a 10-inch round pan greased with butter and floured.
200 g (1 1/5 cups or 7.5 oz) chocolate chips or grated chocolate (semi-sweet, milk or white chocolate)
3 egg yolks
2 egg whites
200 ml (4/5 cup) whipping cream, at room temperature
110 g (1/2 cup) sugar, divided
3 Tbsp hazelnut liqueur
60 g (1/4 cup or 3 oz) unsalted butter
14 g unflavoured gelatin
For syrup to moisten cake:
200 ml boiled water
5 Tbsp sugar
1.5 Tbsp rum extract
Boil the water and sugar, add the rum extract and let it cool off.
For chocolate ganache topping:
300 ml (1 1/5 cup) whipping cream
350 g (2 cups or 13 oz) chocolate chips or grated chocolate (semi-sweet, milk or white chocolate)
Directions:
After you've baked the chocolate hazelnut cake let it cool off and cut it horizontally in two.
Line a 10-inch springform pan with foil and place the first layer of your cake.  Moist it with sugar syrup.
Using a spatula, evenly cover the top of the first layer with the chocolate mousse filling.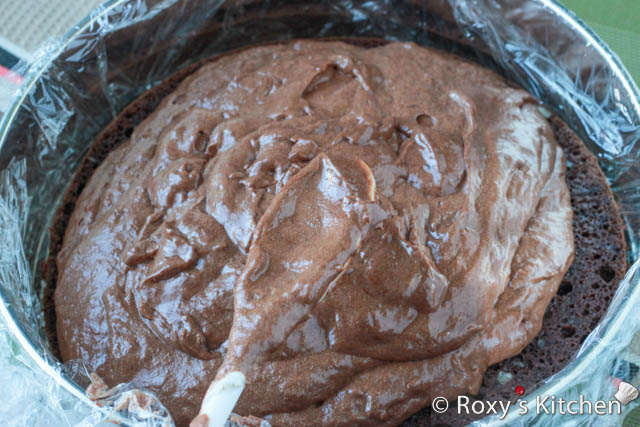 Place the second layer on top and moist it with sugar syrup. Refrigerate the cake for a few hours.
For the chocolate topping, heat the whipping cream over medium heat, remove from heat, add the chocolate and stir until completely mixed and glossy.
Set aside until it cools off but still has a pouring consistency.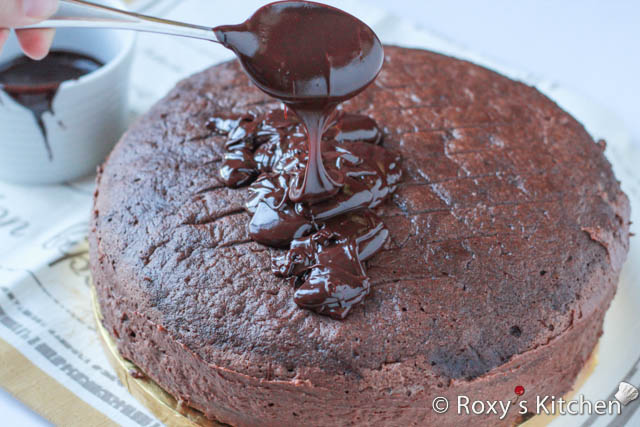 Spread the chocolate ganache over the top and sides of the cake.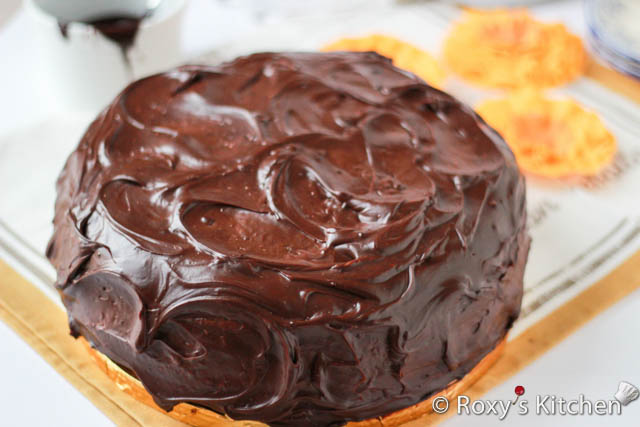 If you want to decorate it with a fondant ruffle flower as I did check out the tutorial here to learn how to make one.

YOU MAY ALSO LIKE: