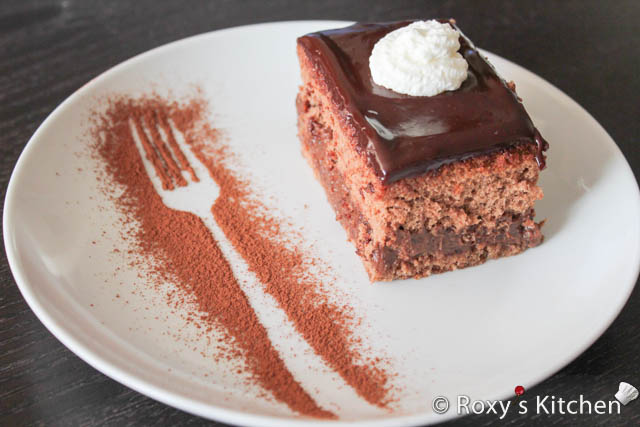 Chocolate Sponge Cake is known as 'Amandine' in Romania. This is a very popular Romanian cake filled with either chocolate or almond cream. If you ever visit Romania, look for the "cofetarie" signs. This stands for confectionary or sweet shops and don't worry, you won't have a hard time finding one; Romanians love sweets and there are plenty of these shops around. They usually sell locally cooked sweets, cookies and cakes including Amandine which is a must-have in any confectionary shop. This recipe brings back sweet memories from our school days when our parents would take us to the Cofetarie  – not as often as we wanted to go but usually, this was our reward for getting good grades in school :).
This is not a complicated recipe, it just takes a little more time to make.  I got this recipe from a great Romanian blog – Lissa's Cakes- and just adjusted the quantity of the ingredients for my bigger baking pan. Hope you'll enjoy it as much as we do!      
Time: 110 min, Prep: 80 min.  Cook: 30 min
Servings: 15-20
Ingredients:
For sponge cake:
260 g sugar
8 eggs
40 ml water
50 ml oil
30g cocoa
150 g all-purpose flour
You also need a 33 x 22.9 x 5.08 cm (13 x 9 x 2 inch) baking pan greased with butter and lined with parchment paper.  Or whatever baking pan you might have but make sure to adjust the ingredients accordingly.
For filling:
4 eggs
200 g sugar
330 g unsalted butter , at room temperature ( ~ 3 butter sticks )
2.5 Tbsp cocoa
For syrup to moisten cake:
400 ml water
200 g sugar
2 Tbsp cappuccino
For chocolate glaze:
250 g chocolate (I used semi-sweet chocolate chips)
150 ml whipping cream
Directions:
Sponge cake:
Beat egg whites and water with an electric mixer until stiff peaks form. Add sugar and beat until dissolved.
In a separate bowl, mix egg yolks and oil. Fold in the egg yolks.
Combine the flour and cocoa. Slow down the mixer and carefully blend in the flour and cocoa until just combined.
Preheat oven to 180°C (350°F). Bake for about 25-30 minutes, or until brown (you can insert a toothpick in the centre and if it comes out clean then it's ready).
Filling:
While the cake was baking, I made the filling.
You have to beat the eggs and the sugar in a bowl over a pot of boiling water until thick and creamy. Then add half of the cocoa and mix until well combined. Remove from the heat and set aside to cool.
Cream the butter and add remaining cocoa. Combine with the chilled egg mixture.
Syrup:
For the syrup, combine water and sugar and stir over medium heat until sugar is dissolved.  Add cappuccino and bring to a boil. Remove from the heat and let it cool.
Assembling the cake:
Place the cake (bottom side up) onto your work surface. Let it cool and then cut the cake horizontally in half. Moist each part with the cappuccino syrup. Using a spatula, evenly cover the top of the first layer with the cocoa filling.  Place the second layer on top.
Glazing the cake:
To make the chocolate glaze, place the chocolate and whipping cream in small saucepan over low-medium heat. Stir continuously until smooth. Set aside for a few minutes until it becomes warm and has a pouring consistency.
Pour the glaze onto the center of the cake and carefully spread it to the edges of the cake. It's ok if the glaze drips down the sides; you can just cut away the sides a little with a sharp knife (the way I did it).
Lastly, I cut the cake into 15 pieces and decorated with whipped cream.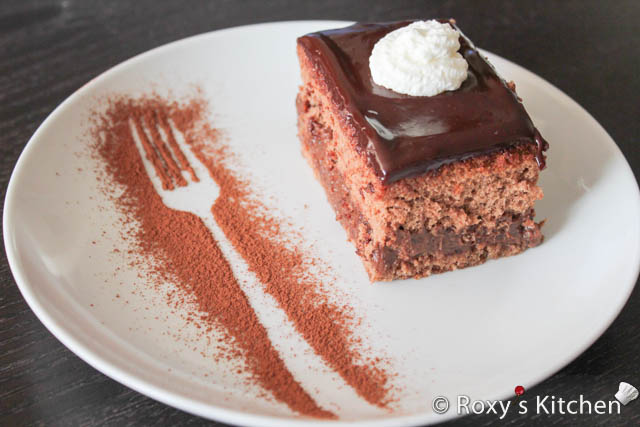 YOU MAY ALSO LIKE: