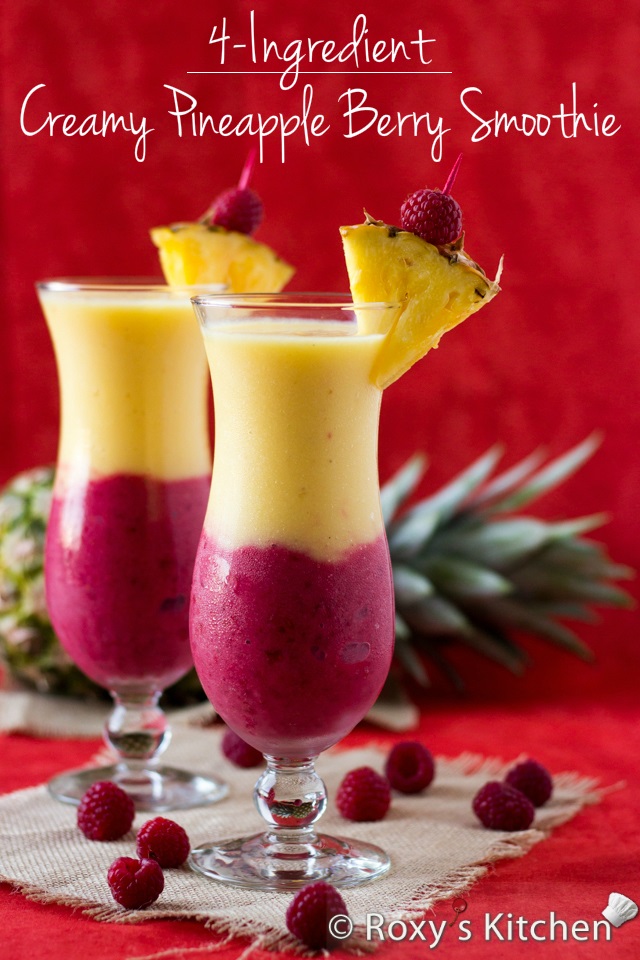 There is nothing better than a good and creamy Pineapple Berry Smoothie! It is filling and packed with vitamins and nutrients that provide so many health benefits. From improving digestion to lowering cholesterol & blood pressure, boosting your immune system and preventing early ageing, tooth decaying & cancer, this smoothie does it all! And do you agree that the taste and smell of fresh pineapple, strawberries and raspberries are just fantastic?
We came back from our Mexico vacation two weeks ago but I already miss having their juicy, sweet and aromatic pineapples every day.  Yes, I know, the best pineapples are grown in Hawaii and Costa Rica (still on my travel wish list) but still! Oh and something interesting you might not know about pineapples… did you know that you can cut off the top of the pineapple (the leafy part), let it dry for several days , put it in a glass of water and once you start seeing nice and long roots (after a few weeks) you can plant it in a pot? How awesome is that?!
And did I mention how jealous I am that in so many places the strawberry season has already started… it just feels like it's started everywhere but Canada! I can't wait for the berry season to begin around here so I can pick my own strawberries (and later on raspberries) as I always do every year. If you're one of the lucky ones who can get fresh strawberries check out some of my favourite recipes for Strawberry Smoothie, Strawberry Ice Cream, Strawberry Jam  and, la pièce de résistance, Vanilla Mousse Cake with Strawberry Jelly. 
Time:  5 min, Prep: 5 min.
Servings: 2
Ingredients:
1 pineapple, cut into chunks & half of them frozen
1 cup (150 g) frozen strawberries,
1 cup (150 g) frozen raspberries
3 scoops frozen vanilla yogurt
I prefer freezing the fruits rather than adding ice cubes, the smoothies are better and more filling this way!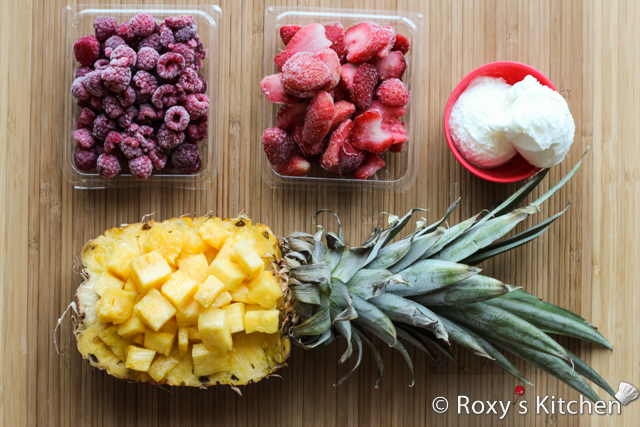 Directions:
Blend strawberries, raspberries and one scoop frozen yogurt until smooth, pulsing as needed. You might need to scrape down the sides of the blender a few times. Pour into glasses.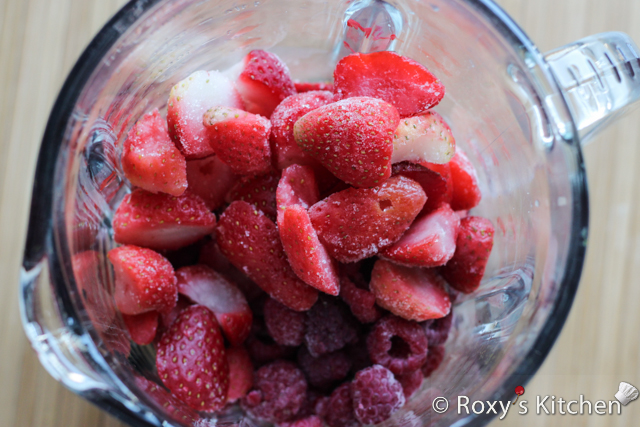 Blend the pineapple chunks and the remaining frozen yogurt.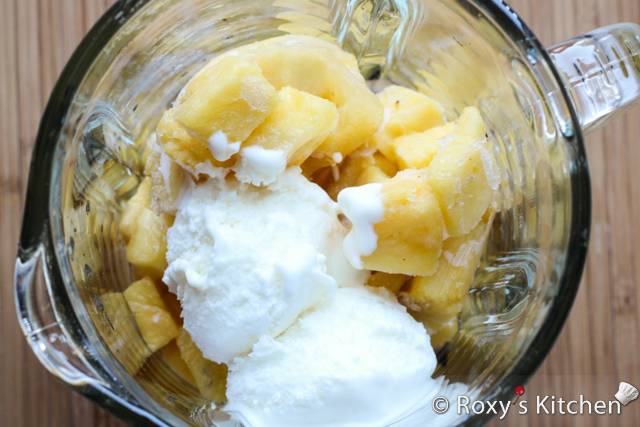 Pour into glasses and serve immediately.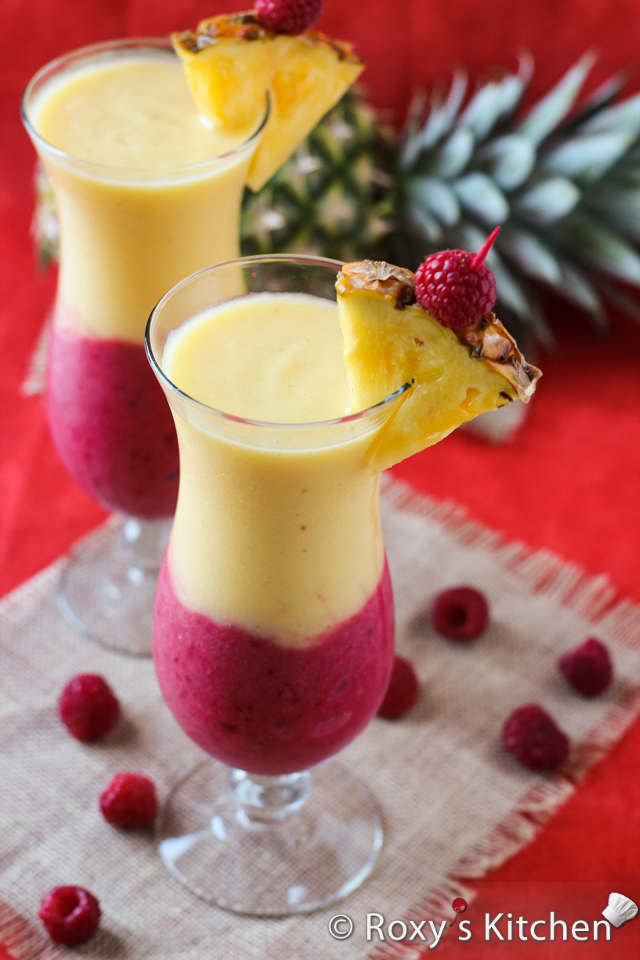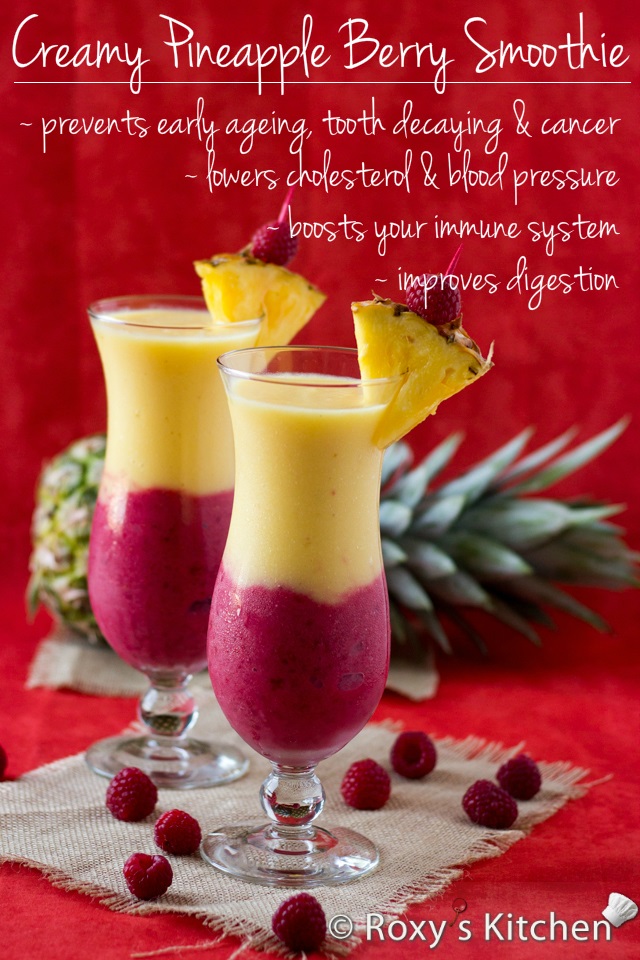 ---
5licious – Recipes with Five Main Ingredients or Less
Water, oil for frying, and other essential spices in anyone's cupboard (salt, pepper, paprika, oregano, basil,  rosemary, chili, curry, bay leaves, thyme, cinnamon , vanilla extract, sugar) do not count!
---
Be sure to follow my very popular Drinks & Smoothies board on Pinterest:
Follow Roxy's Kitchen's board Drinks & Smoothies on Pinterest.
---
This recipe was shared at these parties:
Menu Plan Monday, WOW Us Wednesdays, Moonlight & Mason Jars @ The Newlywed Pilgrimage
---
I was featured on:
Living Well Spending Less, All She Cooks, Yummy Healthy Easy, Rae Gun Ramblings, Making the World Cuter, A Dose of Paige, My Love for Words, House of Yumm, Titi Craft, Living Better Together, Yummy Healthy Easy, Moms and Munchkins 
---

You might also like…
Kiwi Banana Smoothie with a Twist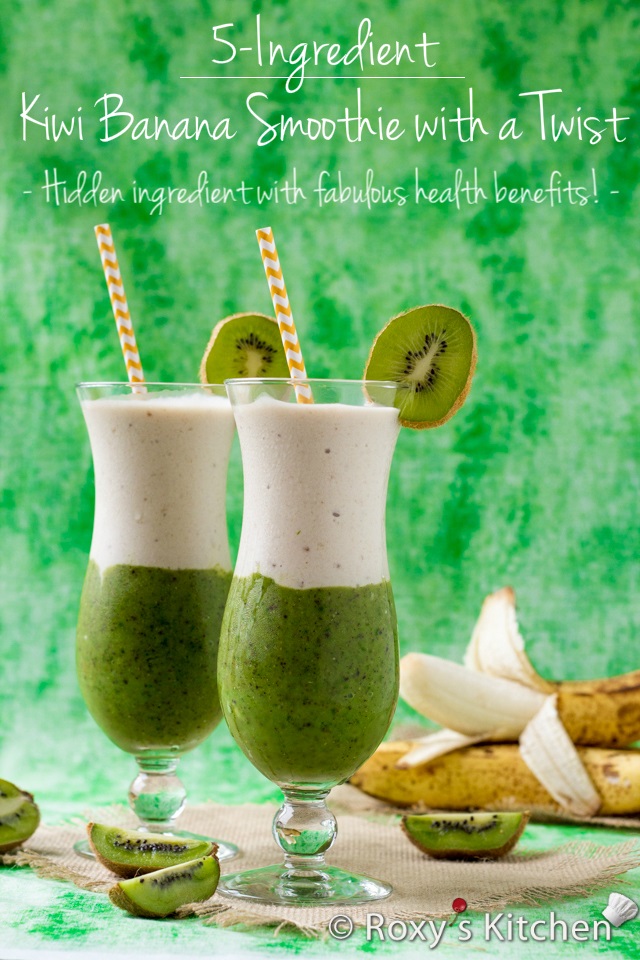 YOU MAY ALSO LIKE: