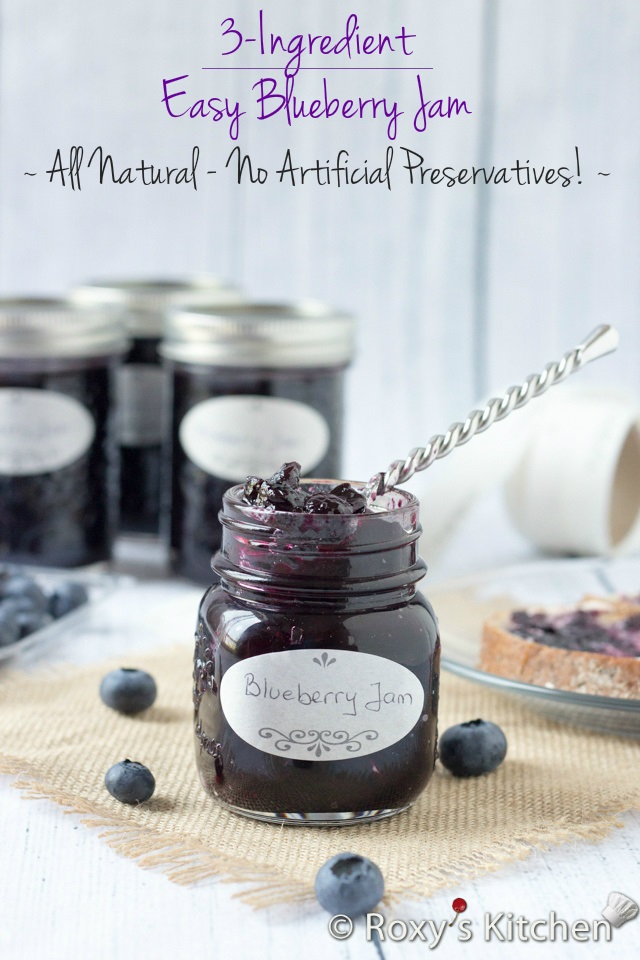 I shared with you my 4-Ingredient Strawberry Apricot Jam recipe last week and today I'll show you a quick and easy Blueberry Jam recipe. Again no food preservatives, pectin or any other artificial flavors and colors are needed… just 3 ingredients! I wasn't kidding when I told you it was jam making season in our house! If you want me to stop canning one week just don't send me to the farmers' market LOL. I'm so tempted to buy a lot of fruit, the taste is amazing, prices are awesome so why not?!
Although we eat fresh blueberries and enjoy them in salads, smoothies, parfaits or baked goods, I must admit this is the first time I'm making blueberry jam. Not sure why it took me so long to try it since it's super easy to make. If you can find wild blueberries out in the woods, that's even better; they have a more intense sweet and tangy taste than the cultivated ones… plus you don't have to spend a dime to get them! If you know any good place to pick wild blueberries in Ontario / around GTA, I'm all ears : -)! 
Time: Prep: 20 min.  Cook: several hours until your jam sets well
Yield: 5 jars of 250ml
Ingredients:
3.3 pounds (1.5 kg) fresh blueberries
3.5 cups (700 g )sugar
Juice from 1/2 lemon
Equipment:
Jars & lids. Lids should have a gum binder that seals them against the top of the jar.
1 large heavy pot for boiling the jam
Wooden spoons for stirring
Ladle for distributing jam into jars & a canning funnel
Directions:
Wash blueberries and remove any bad ones, leaves and stems.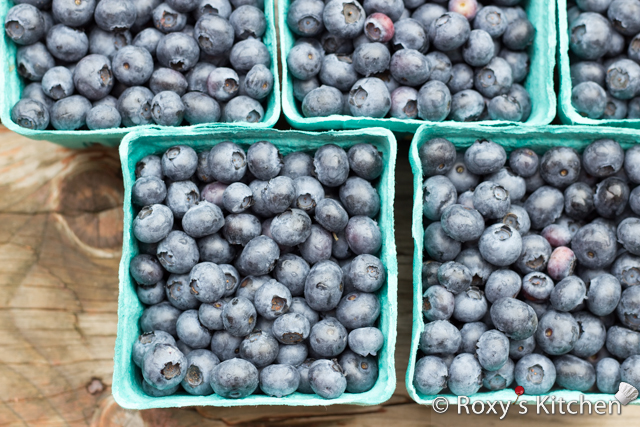 Place the drained berries into a large pot, alternating with sugar. If you don't want to see your jam overflow down the stove make sure you don't fill the pot more than two-thirds.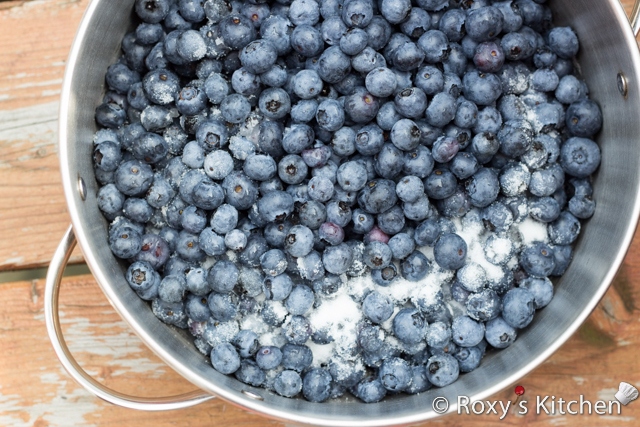 Then get your hands dirty and mash them up a bit to let some of the juices out! You can use a potato masher as well.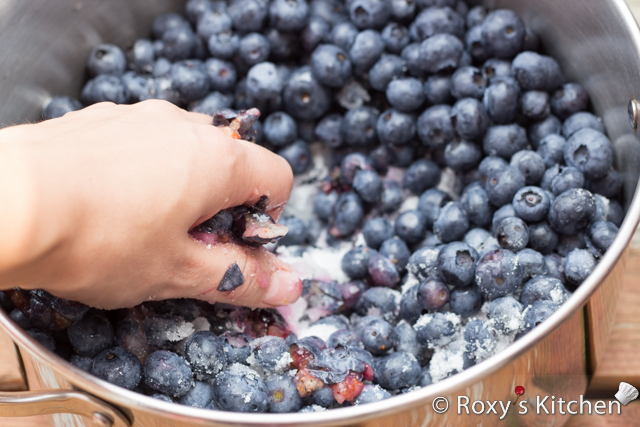 Add the lemon juice and bring the mixture to a boil over medium heat.  Stir occasionally and skim the foam once in a while.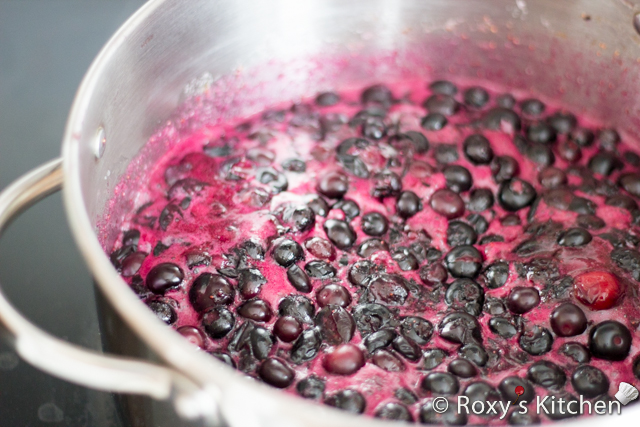 Reduce heat to medium-low and let the jam simmer, stirring constantly to prevent any sticking to the bottom.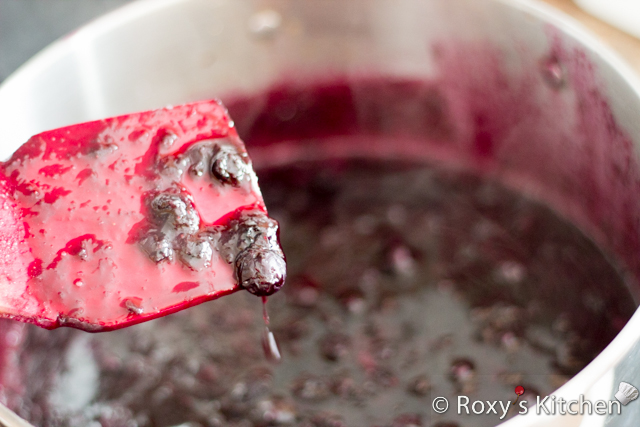 Test the thickness of the jam periodically (spoon some jam onto a plate and let it cool). If it's runny and saucy you need to let the jam cook for some more time.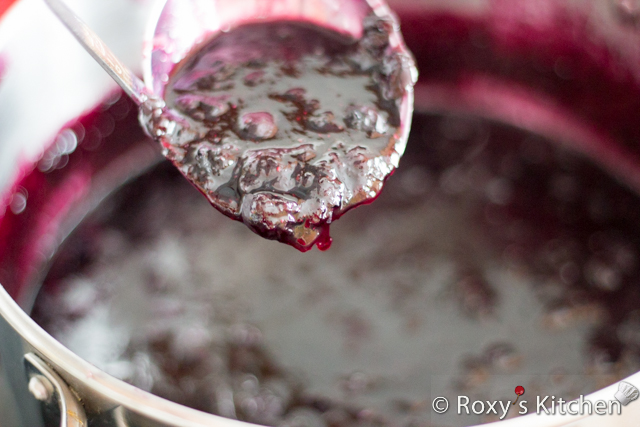 While your jam is simmering, wash the jars in soapy water and rinse them thoroughly. Allow them to drip-dry for 15-20 minutes and then place them in a pan (or right on the rack) in the oven set to 225F (100C) to sterilize the jars. Leave them there until you are ready to pour the jam. Make sure the lids are clean and dry as well before using them.
Carefully remove the jars from the oven. Pour the jam into hot sterilized canning jars. It's better to pour half a ladle of jam in each jar to allow the jar to reach almost the same temperature as the jam. Then fill all the jars leaving 1-1.5 cm headspace. This is very important as overfilling can result in a jar that doesn't seal properly.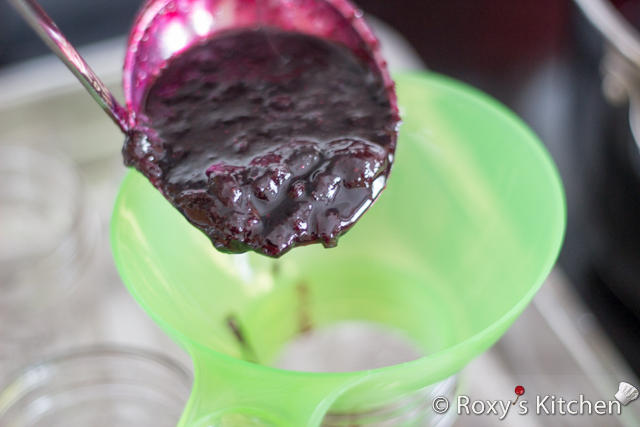 Wipe the jars with a clean damp paper towel to remove any residue. Place lids on top and cover the jars with a blanket until they are completely cooled. The purpose of the blanket is to allow the jars to cool slowly and help the lids seal properly.
I stopped processing the jars in a water bath last year and my jam is still perfectly fine. But remember you need to sterilize them using the blanket trick instead. If you want to sterilize them using the water bath feel free to do so. You can check out how to do this in one of my previous recipes for strawberry jam or apricot jam.
After the jars are completely cooled if you can press the center of the lid down, it did not seal.  If any jars have not sealed, you can either try processing them again in a water bath or just refrigerate them.
---
5licious – Recipes with Five Main Ingredients or Less
Water, oil for frying, and other essential spices in anyone's cupboard (salt, pepper, paprika, oregano, basil,  rosemary, chili, curry, bay leaves, thyme, cinnamon , vanilla extract, sugar) do not count!
---
This recipe was shared at:  WOW Us Wednesdays link party
---
I was featured on: Bloom Designs Online, Pieced Pastimes, Our Mini Family, Designs by Miss Mandee
---

YOU MAY ALSO LIKE: