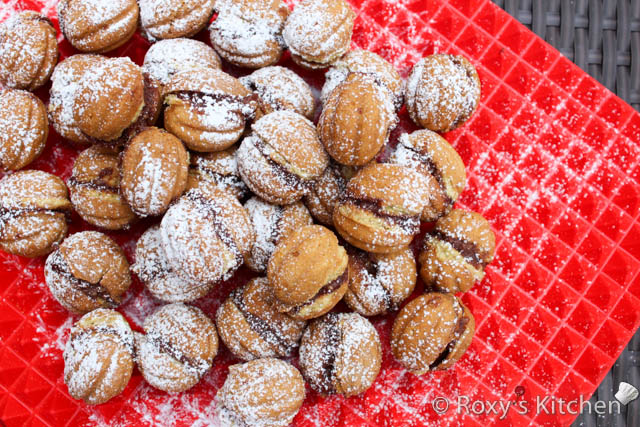 I have been looking for a cookie press like my mom used to have for so long. I found a walnut shell mold from House on the Hill, another mold from Golda's Kitchen that you can place in the oven, but nothing like my mom's cast iron mold. You can definitely use the other two molds to make these filled walnut cookies but I find that using the cast iron press on top of the stove it's much faster and gives perfectly shaped walnut shells. Luckily I went back home to Romania this Fall, the only place I knew for sure I would find this cookie press… and now I have not one but two of them, each one having slightly different shapes – from walnuts to mushrooms to clam shells. In this recipe I'm using the first cookie press that has only the walnut shapes. These beauties are delicious and will definitely impress your guests. And since winter holidays are just around the corner I must say – these cookies would be a great addition to your holiday cookie tray :)!                    
Time: 65 min, Prep: 30 min.  Cook: 5-7 min. per batch
Servings: ~50 cookies
Ingredients:
For dough:
350 g  (3 cups) white flour
130g (1/2 cup) sugar
130g unsalted margarine or butter
2 egg yolks
12 Tbsp milk
1 pouch vanilla sugar (9 g)
1 lemon, juice and zest
1 tsp baking soda
For filling:
200 ml milk
200 g ground walnuts
2 Tbsp rum extract
4 Tbsp apricot jam
100g sugar (or less if the jam is too sweet)
1-2 tsp cocoa powder
50 g Turkish delight (optional)
icing sugar  for dusting
Directions:
Cream the margarine, sugar and egg yolks. Add vanilla sugar.
Add the juice and zest from a lemon. Pour in the milk, a little at a time, stirring continuously.
Stir in the flour mixed with the baking soda, one tablespoon at a time. Knead with your hands or using a stand mixer with the dough hook attachment.
For my walnut mold I had to shape the dough into small balls that were close to 1cm in diameter (used about ¾ teaspoon of dough for each ball).
Preheat your walnut press on top of the stove. Place the dough balls into the walnut mold and press down to shape your walnut shells.
Cook walnut shells on top of the stove turning the cast iron press every 1-2 minutes until the cookies are set and lightly brown.
Remove the cookies from the mold and trim the edges.
Soak the edges in milk, you'll be using them for the filling.
Add the ground walnuts over the soaked edges as well as the rum extract, cocoa, sugar, apricot jam and Turkish delight cut into small cubes. Mix well until all ingredients are combined.
Spread one teaspoon of walnut filling onto one cookie. Press another cookie onto filling to sandwich. Repeat with remaining cookies and filling.
If you can resist the temptation to eat the cookies, it's better if you store them overnight into an airtight container. The shells will soften a bit and will be perfect.
For a final touch, sprinkle some powdered sugar on top before serving.
Enjoy!

YOU MAY ALSO LIKE: