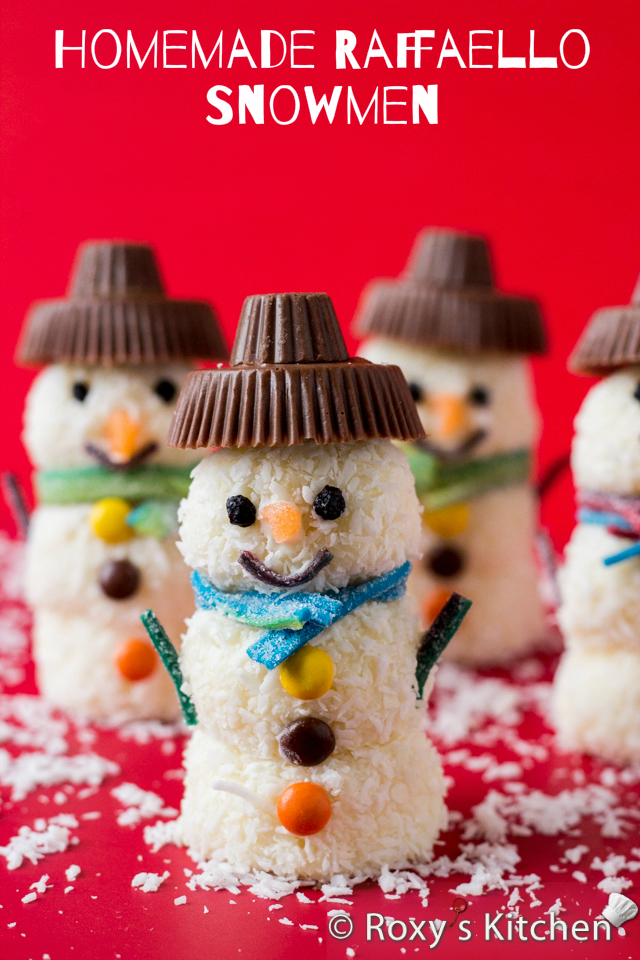 Winter is officially here and the holidays are just around the corner so I thought I'd share with you the cutest, the easiest and most delicious treat you can make for your kids this season – my special Homemade Raffaello Snowmen. And if you haven't noticed already I have "a thing" for snowmen made out of food… just check out my Egg Snowmen recipe that brings thousands of visitors to my blog during this time of the year.
But back to this post… you can use store-bought Raffello to make these snowmen but I prefer using homemade ones because  it's cheaper to make them at home, my husband loves them more than the store-bought ones and you can make them bigger/smaller depending on how you want to use them. For these snowmen I actually made the bottom two 'snowballs' slightly bigger than the top one. Another important point to mention is that the homemade Raffaellos are easier to work with since they are not as dry and hard as the store-bought ones when you initially make them… you can easily shape them with your hands if you need to do so to flatten the bottom of the first snowball for example so that your snowman can stand upright. If you use store-bought candies you will have to create a flat base out of melted white chocolate or candy coating and place the bottom snowball on top to secure it in place.
So if you haven't tried out my recipe for Homemade Raffaello Almond Coconut Candies posted back in 2011 now is the perfect time to do so! You will need 3 of them for each snowman so make as many as you want. I used half of the ingredients indicated in the recipe to make 5 snowmen. 
Time:  30 min, Prep:  30 min
Servings: 5 snowmen
Ingredients:
15 Raffaello candies (use)
A few white candy melts (or white chocolate)
2 sour candy belts, for the scarf and mouth
Dried wild blueberries, for the eyes
Reese's mini pieces, for the buttons
5 large and 5 small Reese's peanut butter cups, for the hats
2-3 Maynards fuzzy peaches (or any other orange gummies), for the noses
A toothpick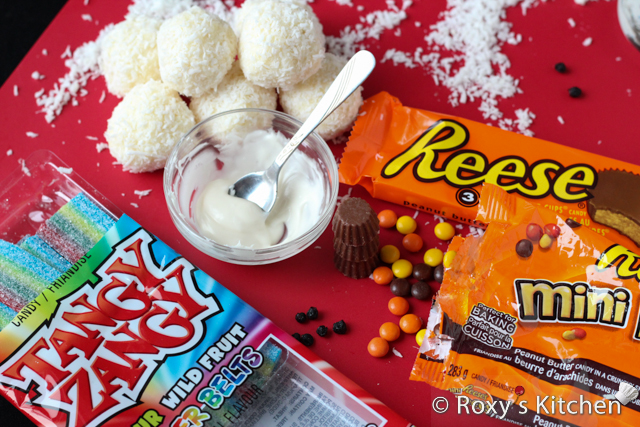 Directions:
Start by making the Raffaello candies by following the step-by-step instructions in this recipe (only half of the ingredients are required for 5 snowmen). You should end up with something like this :):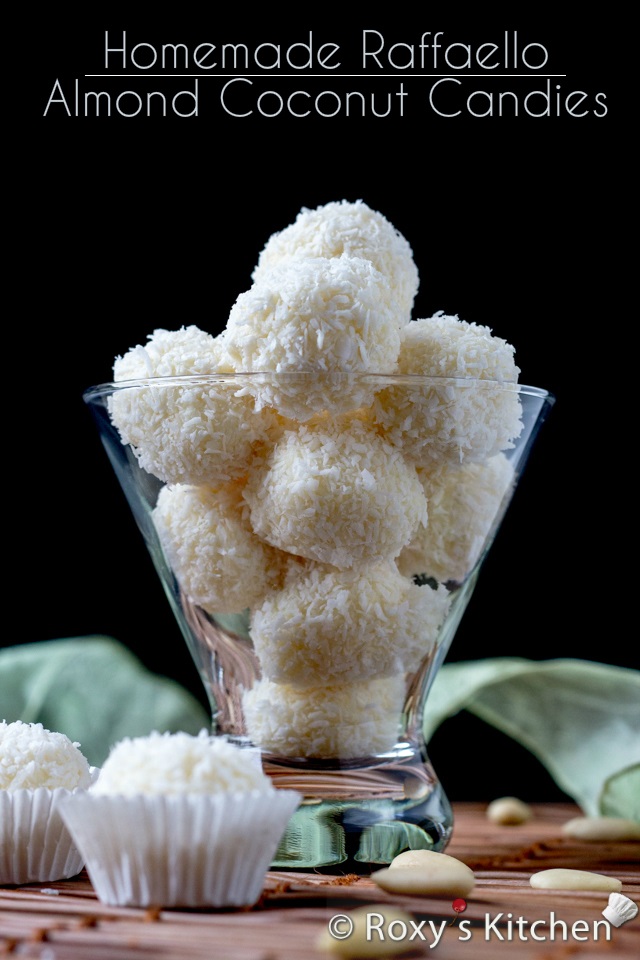 Melt the white candy melts in the microwave for 10 seconds at a time. Stop and stir after each 10-second interval until the coating is completely melted. Use this as glue to stick the three snowballs together.
Use a toothpick to apply a small amount of candy coating to the wild blueberries and attach them to the snowman's face.  Cut out a nose shape out of an orange fuzzy peach gummy and attach it using white candy coating as glue.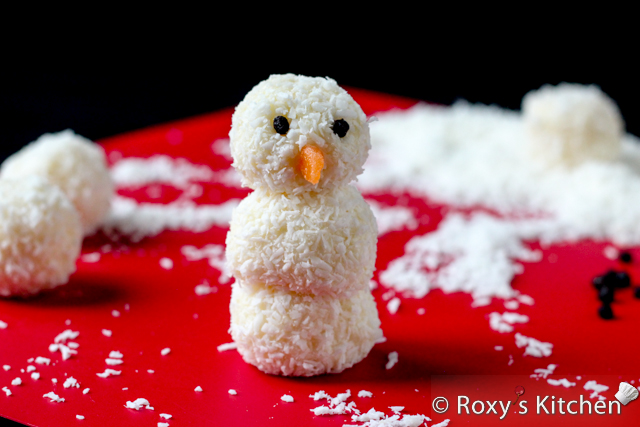 You might have to melt your candy coating again if it starts to thicken.
Add a dab of candy coating on the back of each Reese's mini piece (a.k.a. the buttons) and attach them to the snowman.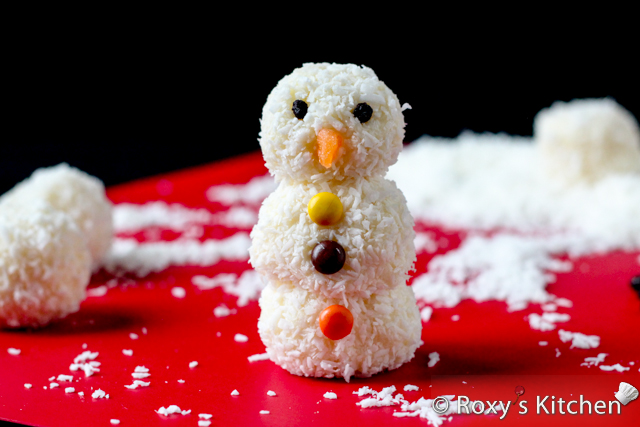 Cut each sour candy belt in four and cut slits in the ends to create a frayed scarf look.
Add some candy coating around the neck area and wrap the scarf around.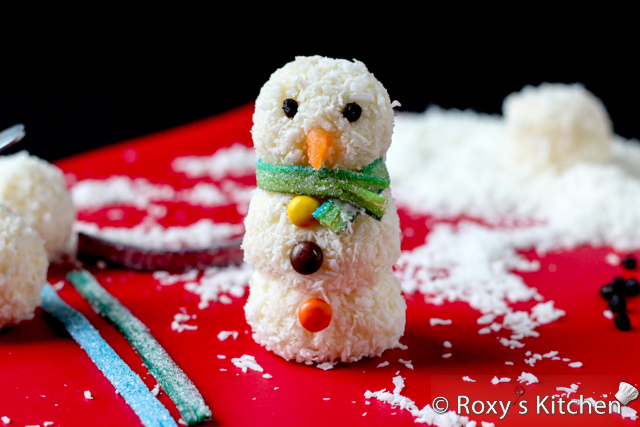 Place a small peanut butter cup on top of a larger one to make the hat and attach it to the snowman using candy coating as glue.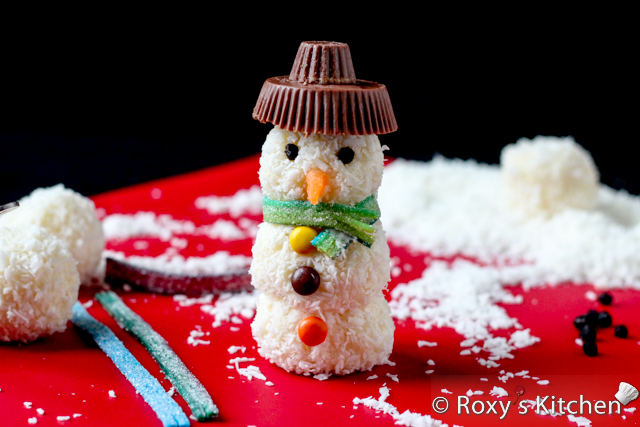 Lastly, cut out a few thin strips out of the sour candy belts to make the mouth and arms and attach them to the snowman using candy coating again.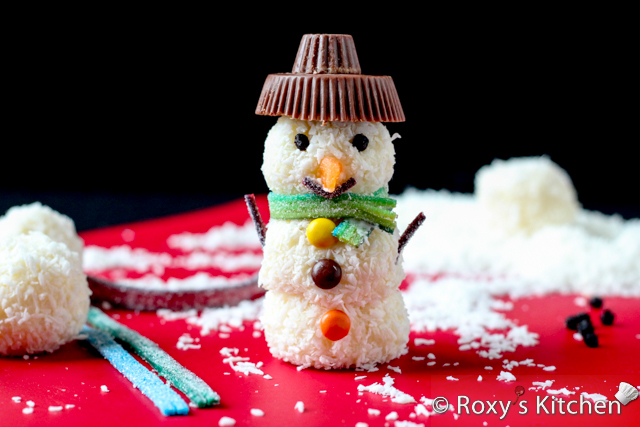 Repeat these steps to make all your snowmen. Store the snowmen in your refrigerator… just to make sure they're not melting :-P.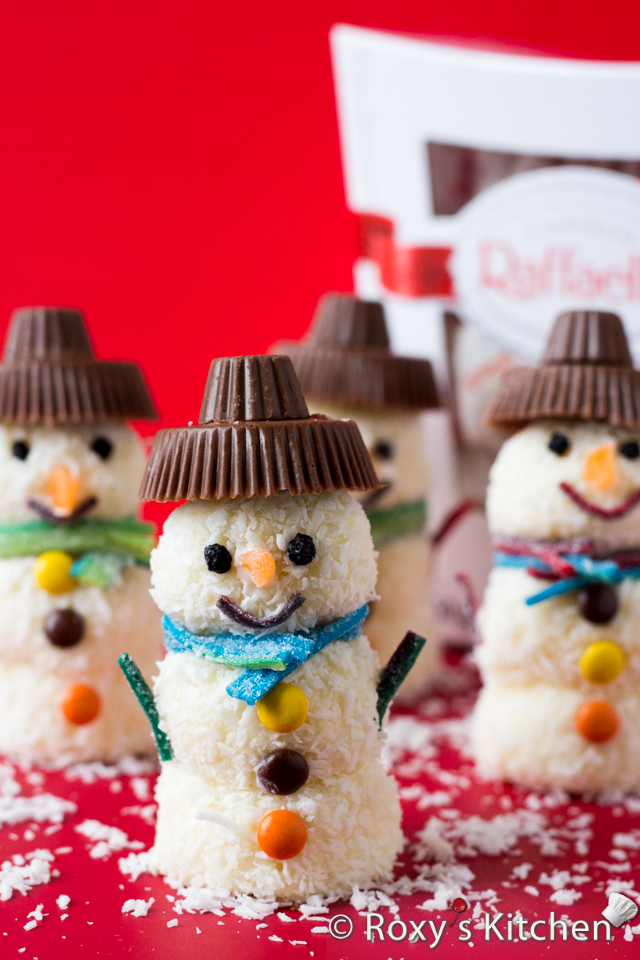 YOU MAY ALSO LIKE: