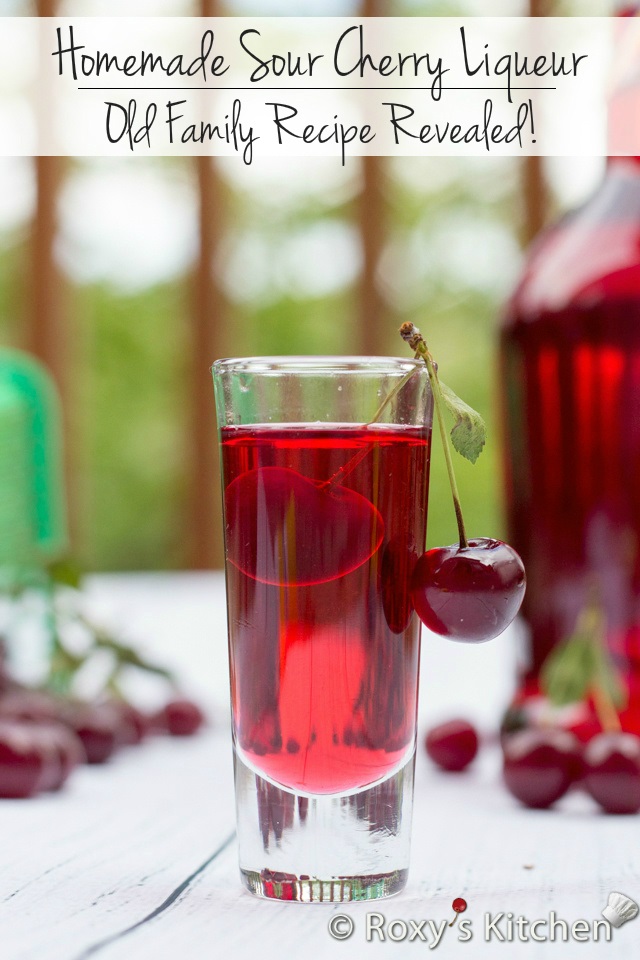 Have you ever tried homemade liqueur? It's super delicious and surprisingly easy to make and you only need four ingredients – sugar, fruit, water and alcohol. Plus, how awesome would it be to treat your guests to a shot of homemade liqueur during the holiday season or offer your family and friends a bottle as a gift?
Today I'll show you an old family recipe with step by step photos for Homemade Sour Cherry Liqueur. I remember my grandparents making their own liqueur every year. In fact, there was no summer/fall without some type of homemade liqueur, brandy, wine and țuică (a traditional Romanian spirit made of plums).
I love Sour Cherry Liqueur because I find it much more flavorful with a slight bitter-almond taste that comes from the pits.  For an even stronger flavor you can add a few crushed cherry pits together with the sour cherries. If you're not into sour cherries or you can't find them easily, you can choose any other type of flavor from sweet cherry, blackberry, blueberry or raspberry to apricot, lemon and orange.  Of course the sugar to fruit ratio would be different since some fruits are sweeter than others. If you're interested in other types of liqueurs leave me a comment below and I'll give you the ratio.
Before we move on to the recipe, a few important things to know! The traditional recipe asks for refined alcohol which has 95% alcohol content but I can't seem to find this in Canada. You can find Spirytus at some LCBO stores which has 76% alcohol content or just use regular Vodka. Also, fresh fruit is always best but you could use frozen fruit as well.
Ingredients for 2.5 -3 litres of liqueur:
0.5 litres alcohol / Vodka
5 cups (1 kg) sugar
750 ml water
3.3 lbs (1.5 kg) ripe sour cherries
Equipment
A large glass jar with lid or a carboy/demijohn (I used a 4 litre jar)
Cheesecloth or a very fine mesh strainer
Small funnel
Glass bottles for the final product
Directions:
Rinse the sour cherries and pick off any stems and leaves.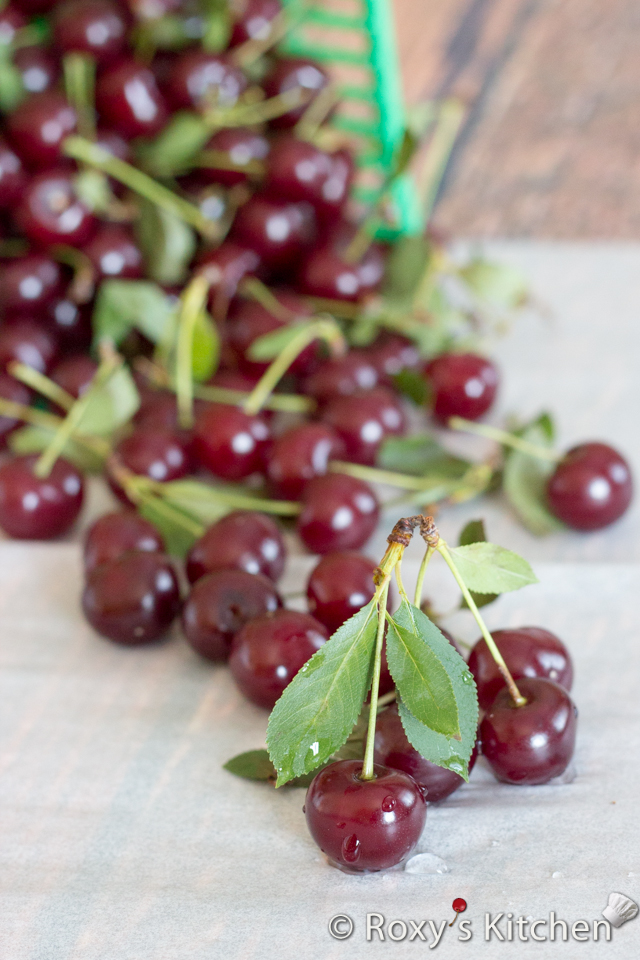 Wash your jar with soapy water and rinse well.
Place a layer of sour cherries in the bottom followed by a layer of sugar another one of sour cherries and so on. The last layer should be of sugar.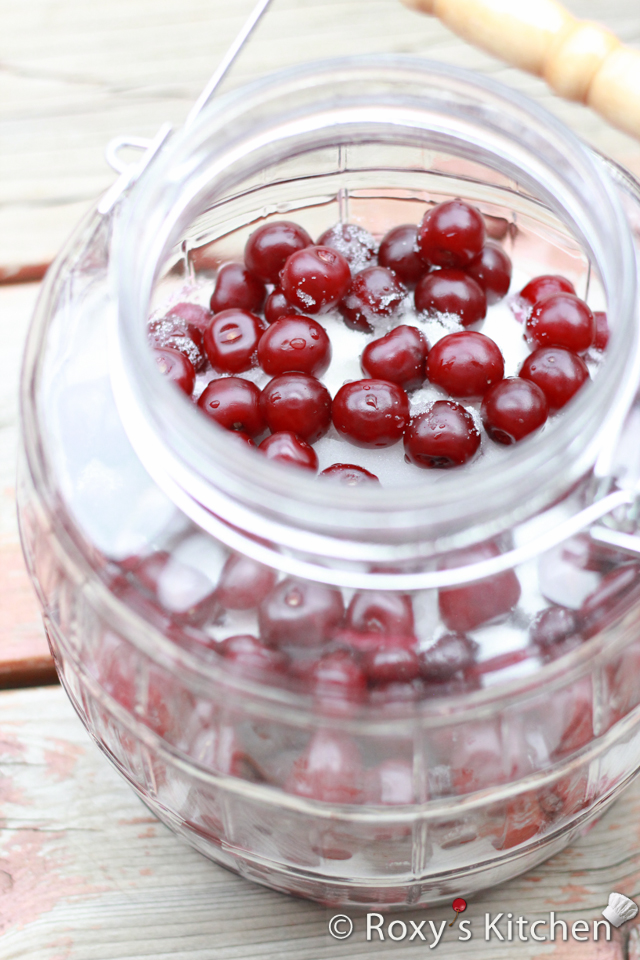 Pour the water and alcohol over and cover the jar.  For the next 7 days, stir everything with a long handled spoon every day until the sugar is melted. Here's a quick look at how my liqueur looked like from days 1 to 7. By day 5 there was no sugar left but it might take longer if you store the jar in a cold place.  And not sure if it's noticeable, but by day 7 the liqueur becomes darker in color.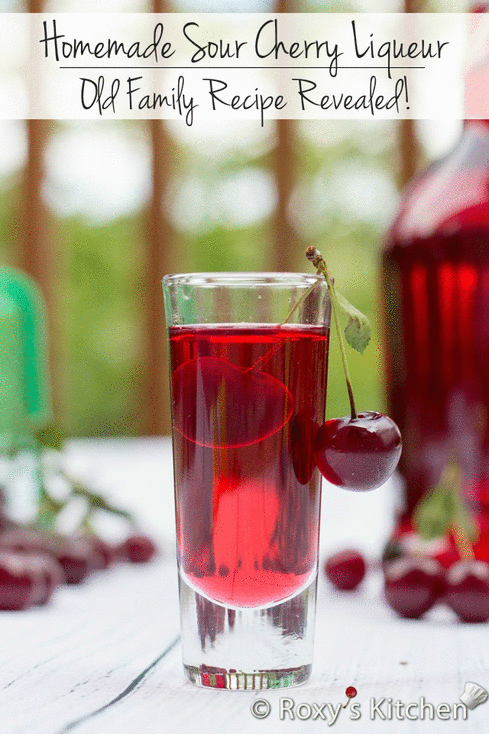 You can enjoy your liqueur after day 7 but the longer you keep it the tastier it would be. I would recommend letting everything infuse for 5-6 weeks.
Strain the liquid and pour it into the bottles through the funnel. Seal the bottles tightly.
If you prefer a stronger liqueur mix up the strained liquid with an equal quantity of alcohol and cold sugar syrup made of 1.5 cups (300 g) sugar & 200 ml water for every litre of strained liquid. So if you have 3 litres of strained liquid add 3 litres of alcohol and sugar syrup made of 4.5 cups (900 g) sugar and 600 ml water. To make the sugar syrup only heat the sugar and water on low-medium heat until the sugar is dissolved. Then give it sufficient time to cool. Mix everything up and after a month strain it again and bottle it up.

YOU MAY ALSO LIKE: