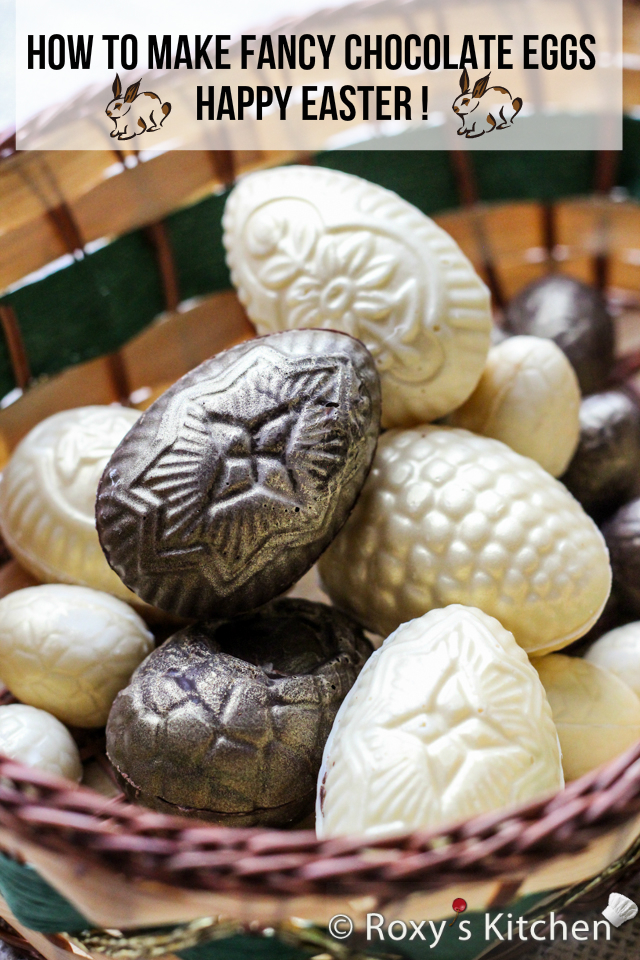 I have always wanted to make my own chocolate eggs for Easter. A few weeks ago I came across some cute plastic egg molds on amazon so I decided this was the year to make my wish come true and have some fun in the kitchen.
These are the chocolate molds I bought but you can find several other designs and sizes on amazon or your local baking or craft stores: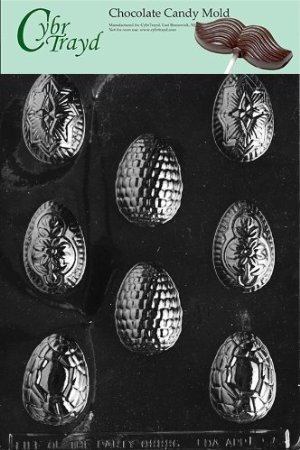 You'll be surprised how easy it is to make these at home. You typically need only 1 ingredient and that is CHOCOALTE!   But if you want your fancy Easter eggs to be even fancier buy a Gold cake graffiti spray and apply a thin layer in your egg molds before pouring the chocolate over. They turned out beautiful with a glossy and sparkly gold finish … and you'll have to trust me on this as you can't see the golden look very well in my pictures.
Even though this is a last minute tutorial you still have time to run to your local stores and buy a chocolate mold and make these cute Easter eggs with your kids. From my family to yours, we wish you a wonderful Easter Weekend!
To make 8 fancy eggs and 17 mini eggs you will need:
600 g (4.5 cups or 22.5 oz) chocolate ; dark or white chocolate is fine but it's easier to work with dark chocolate with a high cocoa content.
A Gold cake graffiti spray (optional)
A cookie sheet
Directions:
Place your chopped chocolate in a microwave safe container. Heat on high for 20 seconds, stir and then repeat 2 more times. Then heat for 10 seconds, stir again and repeat a few more times until your chocolate is almost completely melted. Repeat the process at 5 second intervals until the chocolate is smooth and has the consistency of syrup.
Spray a thin gold layer inside your egg molds using the cake graffiti spray.
Use a tiny spoon to fill the molds. If you want to make the eggs hollow in the middle to hide a surprise inside fill the molds just halfway through. To eliminate some of the air bubbles that usually collect at the bottom of the mold, just slightly tap your freshly filled mold on a table. If you're making the hollow chocolate eggs, take your spoon and slightly drag the chocolate up the side of the cavities. Add more chocolate if necessary until you have covered the entire surface of the cavities with a nice thick layer.
You can fill your chocolate eggs with M&M's, chocolate mousse, cream cheese etc.. I filled some of mine with cream cheese frosting.
Scrap off the excess chocolate across the top of the mold with a cake scraper or a chef's knife so that the finished eggs will have smooth edges.
Place the filled molds in the freezer or refrigerator until the chocolate sets and is very firm.
Remove the mold from the freezer, turn it upside down and gently flex it or tap it on a table to release the egg halves.
Heat a cookie sheet in the oven. Fill one piece with your preferred treats.  Melt the edges of the other piece by rubbing them on the cookie sheet. Press the two halves together to make your chocolate egg (the melted chocolate on the edges will act as the glue).
---
This post contains Amazon.com affiliate links for products I personally use and love. If you purchase a product through an affiliate link, your costs will be the same but I will receive a small commission which is used for hosting and running this site. I appreciate your support! 

YOU MAY ALSO LIKE: