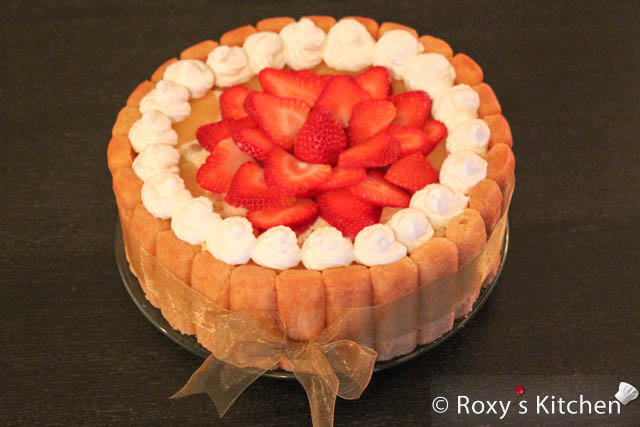 It was Sunday morning and for some reason I woke up with a craving for something sweet. I had fresh fruits, whipping cream and some lady fingers so all I could think of was a fruit cake that my mom used to make quite often when I was a kid. It's called "Tort Diplomat" and there are different variations of the recipe; but, most of the time, the cake filling is made using whipped cream set with gelatin and mixed with fruit pieces (pineapple, oranges, mandarins, kiwi, berries, raisins and so on).
I can assure you that this cake is extremely easy to make and a very refreshing dessert. It's very light and not overly sweet, perfect for any occasion. The only drawback is that you have to refrigerate the cake for a couple of hours to allow the gelatin to set.      
Time: 40 min, Prep: 30 min.  Cook: 10 min + 4 hours to refrigerate cake
Servings: 12-16
Ingredients:
Lady fingers (400 g)
8 eggs
16 Tbsp sugar
40 g gelatin
1 l whipping cream
1 can of pineapple chunks (350 g) – save the pineapple juice to moist the lady fingers
400-500 g fruits, cut into small cubes (I used 1 orange, 2 kiwi fruits, 1 banana). Don't use bananas if you want to refrigerate the cake for a longer time as they oxidize and turn brownish.
A few strawberries and pineapple slices (optional)
Whipped cream for decorating cake (optional)
You also need a springform pan, 26.7 cm (10.5 inch) in diameter, lined with plastic wrap. Allow wrap to extend over the edge of the pan as you'll use this to cover the cake
Directions:
Place the eggs and sugar in a bowl over a pot of boiling water and beat until it becomes thick and creamy. At the same time, in a small bowl, soften the gelatin in about 10 tablespoons of warm (not hot) water. Then place the bowl in pot with hot water until the gelatin is completely dissolved. Gelatin should be dissolved by the time your egg and sugar mixture becomes thick and creamy. Remove from the heat and add the gelatin. Keep stirring for half a minute or so to make sure the gelatin is incorporated into the mixture.
Dip one side of the lady fingers in the pineapple juice (from the can) and line the sides of the springform pan, with the dry side facing outwards. Lady fingers absorb moisture very rapidly so you need to dip them quickly (do not over soak). Don't forget to line the pan with plastic wrap! I've also added a few slices of pineapple and strawberry on the bottom of the pan.
Your fruits for the filling should already be cut into small cubes. If not, put your hubby or someone else to work and continue making the cake filling.
Beat the whipping cream with an electric mixer until stiff peaks form. Combine the whipped cream with the warm egg mixture, the pineapple chunks and fresh fruits. Make sure you don't let the egg mixture chill too much because your cream will not have a tender and smooth texture and you will end up with lots of lumps. It happed to me because I was too busy cutting my fruits (just have your fruits ready before you make the cream) and taking TOO MANY pictures :). The cake was still delicious but not as creamy as I would have liked it to be.
Then pour the cake filling into the pan and add a layer of lady fingers with the dipped side down. Carefully cut off the top part of the lady fingers with a sharp knife. Cover the cake with plastic wrap and refrigerate for at least 4 hours or overnight.
Lastly, uncover the cake and invert the pan onto a serving platter. Decorate it as desired. I just used some strawberries and whipped cream. I didn't do an excellent job at decorating the cake this time as I was just too eager to dig in :).
Voilà!

YOU MAY ALSO LIKE: