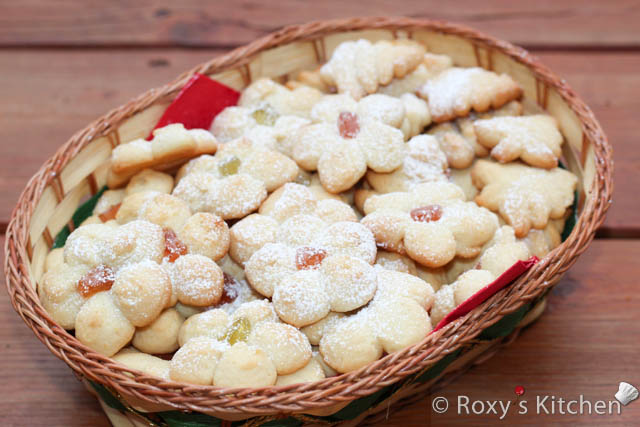 It's been a while since I posted a recipe. I've been busy with family matters and enjoyed a relaxing vacation in the Caribbean but I'm glad to (finally) say that I am back. I hope everyone had a great holiday season with friends, family and great food.
I made these lard cookies for Christmas (yes, I know, took me a while to post this :-P). It's a very basic and old recipe that I know from my mom. She always used lard for these cookies but you can use butter as a substitute. The texture will be a little different though (sandier when using lard)… and the taste as well. You might think that lard is just fat and not good for you but it's actually healthier than butter. Lard is great in pie crusts as well; it adds a great flavour and gives the crust a nice flaky texture.
Time: 95 min, Prep: 80 min.  Cook: 15 min. per batch
Servings: ~100 cookies                              
Ingredients:
200 g lard (or butter)
200 g (1 cup) sugar  (add a little less sugar if using butter since butter is sort of sweet, lard is not)
440 g (4 cups) flour
2 pouches vanilla sugar (18 g)
1 Tbsp yeast
250 ml milk
Zest from a lemon
2 eggs
100 g Turkish delight (lokum)
icing sugar  for dusting
You also need a cookie press or cookie cutters in whatever shape you prefer.
Directions:
In a small bowl combine dry yeast with 1 tablespoon of sugar and some lukewarm milk. Mix for 1 minute to dissolve the yeast and let it rest for 5-7 minutes in a warm place.
In a large bowl place the white flour and make a hole in the centre.  Add the lard, eggs, sugar, vanilla sugar and lemon zest. Pour the yeast and the remaining lukewarm milk mixture over flour.
Mix to incorporate all ingredients with a spoon. Then knead with your hands or (using a stand mixer) for about 15 minutes, until dough will not stick to your hands.
Dough will be soft and maybe a little sticky. I used a cookie press but I think it would have been easier and faster to just roll the dough and use cookie cutters.  Or I should have made the dough a little softer to make it easier to shape the cookies using the press.
For the flower-shaped cookies I cut tiny pieces of Turkish delight and placed one in the middle of each cookie.
Preheat the oven to 180°C (350°F).  Place the cookies about 1-1.5 cm apart in a baking pan lined with parchment paper. Bake the cookies for 15 minutes or until they are lightly browned. Remove from the oven and dust the cookies with icing sugar.

YOU MAY ALSO LIKE: