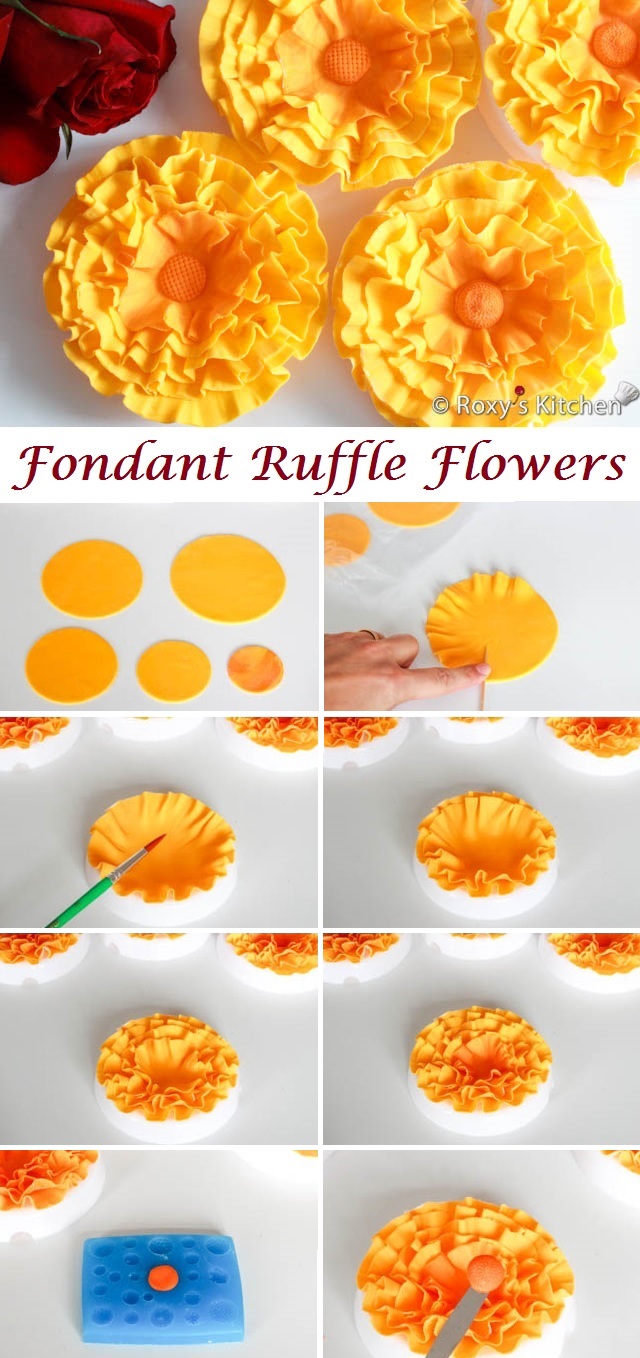 When it comes to ruffle flowers there are endless designs and variations. You can't really go wrong with making one of these because there is no right way of making it! You can use any type of cutters you have available, in the same size or different sizes – round, fluted round, lace cutters etc.. Although I'm using fondant here you can make them out of gum paste or modeling chocolate as well. Lately I've seen many cakes decorated with ruffle flowers so I really wanted to try making some as well. For my first try I think they turned out pretty, what do you think : )?
So let's get started and learn how to make fondant ruffle flowers!
Materials & Tools:
Other than fondant in the colour of your choice, you will need:
5 round cutters in different sizes – the size is your choice depending on how big/small you want to make the flower; I'm using 5 of the Ateco round 11 piece cutter set
rolling pin or pasta machine
some cornstarch
a toothpick or small skewer
fondant shaping foam mat (optional)
forming cups (optional)
Silicone mold for the flower centers (optional); I'm using the First Impression Silicone Mold
You can find the cutters or tools on Amazon or you can just google the names and I'm sure you'll find other places where you can buy them.
Directions:
Sprinkle some cornstarch on your work surface, so the fondant won't stick, and roll the fondant until it's quite thin. I used my pasta machine and went down to the #3 setting but you could roll it even thinner. If you don't have a pasta machine no worries, you can keep using your rolling pin to roll the fondant until it's almost paper thin.
Using the round cutters cut out 5 circles per flower. Note that for the smallest circle I rolled out some yellow-orange marbled fondant to give the flower center a nicer look.
Once you cut out the circles place all of them, except the largest one, in a ziplock bag or cover them with plastic wrap to prevent them from drying out.
Place the fondant circle on your fondant shaping foam mat – I didn't use one and I was able to create the ruffles just as well by placing it straight on the counter top but you have to use the right amount of cornstarch to prevent it from tearing /sticking to your work surface… the mat it's supposed to make it easier for you to make the ruffles without tearing your petals.
Take your toothpick, place it about 1 inch (2.5 cm) on the fondant circle and while holding the toothpick with your fingers rock it back and forth all the way around the outer edge. This will create a nice ruffle effect.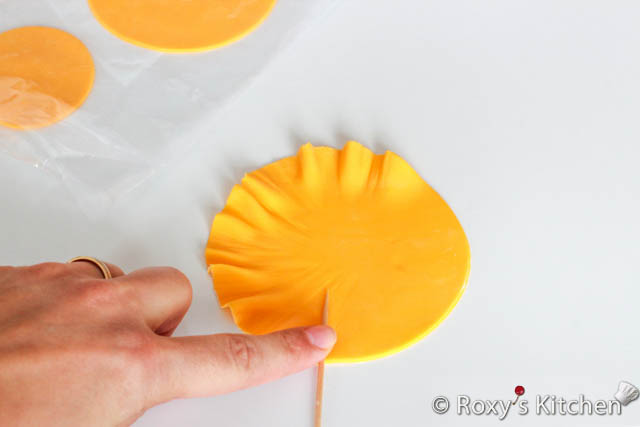 Repeat the steps to create the remaining petals.
Now you can let your flower dry out on a flat surface or in the forming cups, depending on how you want them to look. I assembled mine in forming cups.
Place the first circle and brush some water in the centre.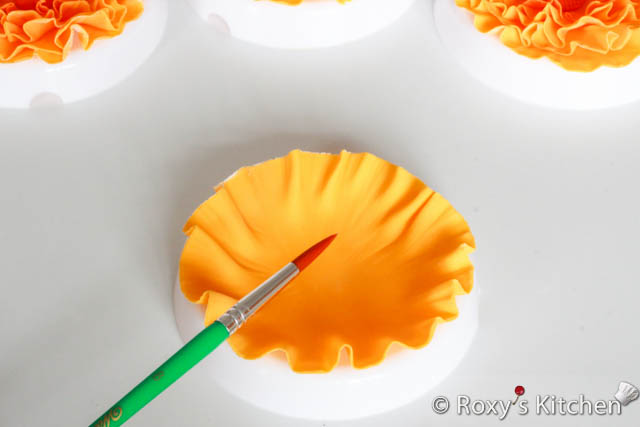 Layer the second one on top, brush some water…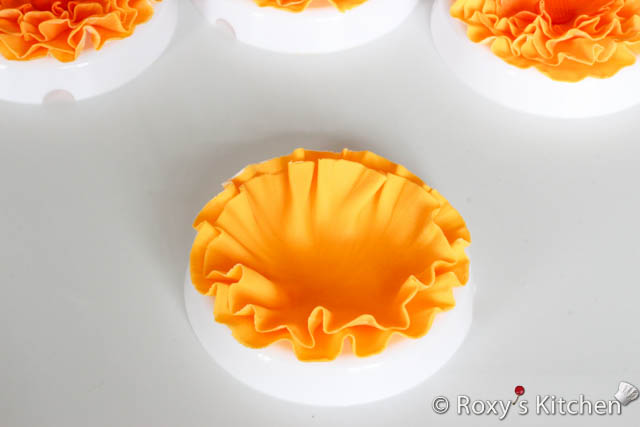 the third one, brush some water…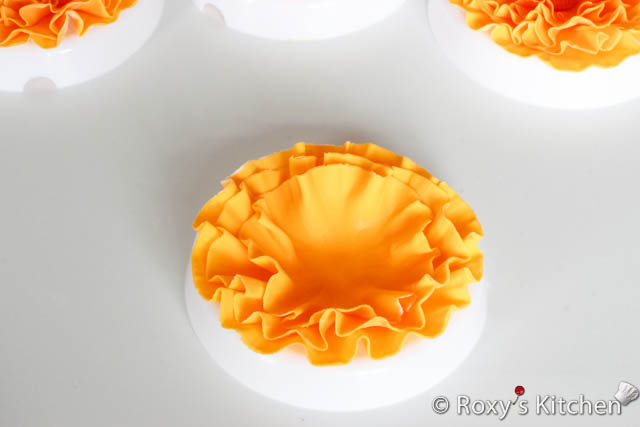 the fourth one, brush some water…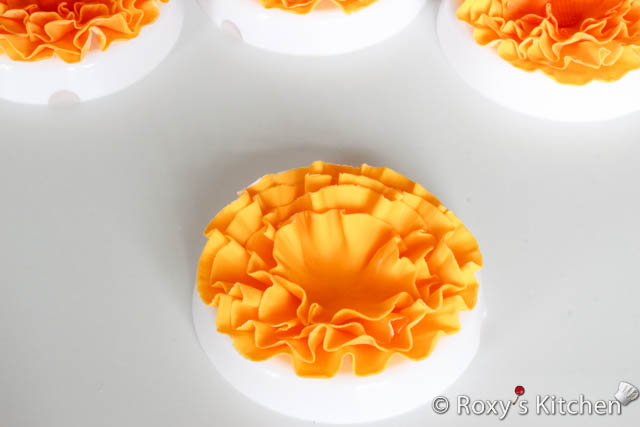 and the fifth one.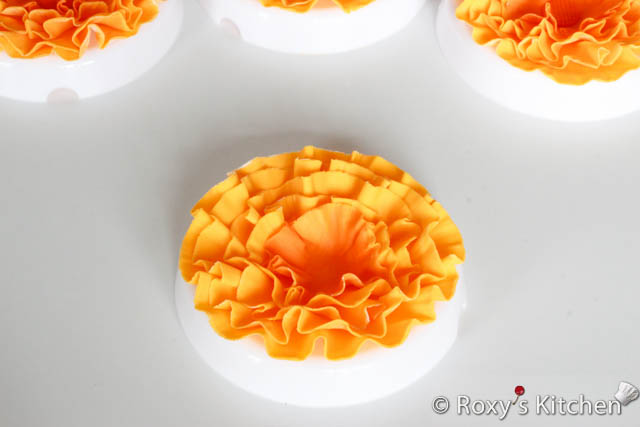 You can make the flower out of three or four circles instead of five. I promise you it will look pretty either way :)!
If you don't have a silicone mold to make the flower centres just take a small piece of orange fondant and make a small ball. Then brush it with some water and place it in the middle of the flower. If using a silicone mold, take a small piece of fondant, dust it with cornstarch and then press it into the mold.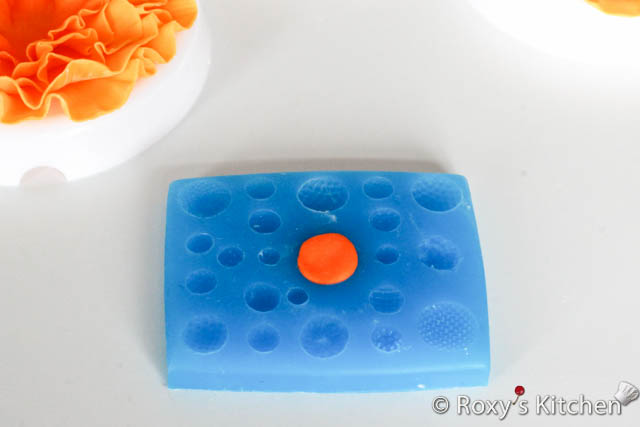 Carefully pop the molded fondant out, brush it with some water on the bottom and put it in the centre of the flower.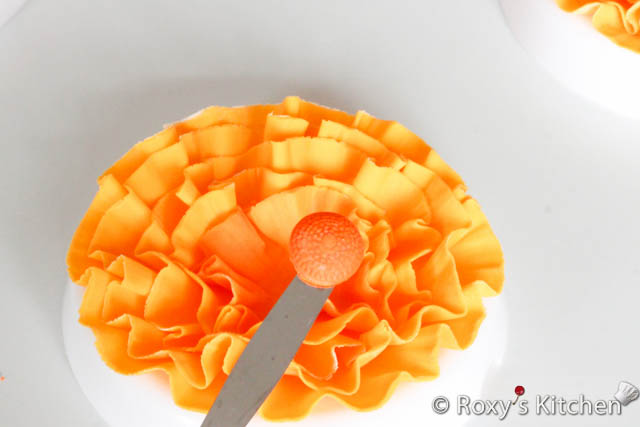 When you decorate your cakes if you want to place a flower on the side of the cake you have to make a hole in the middle of the flower and place a skewer in. Take a skewer and push it through the middle of the flower as seen below but not all the way through. Let the flower dry like that and when you're ready to place it on the cake just place the skewer back in and secure it with royal icing or melted chocolate.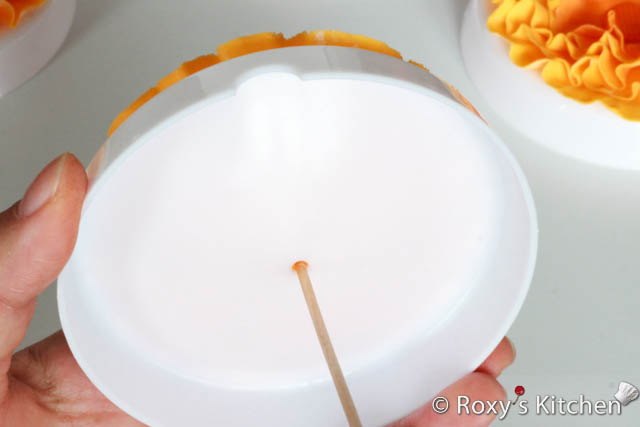 Let the flowers dry out overnight.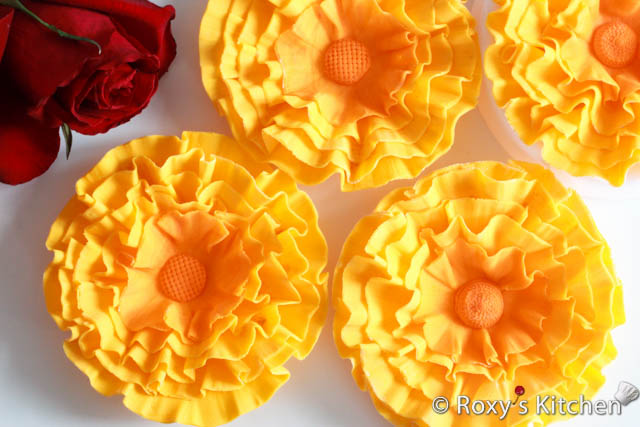 Some of the items used to make these ruffle flowers:
---
This post contains Amazon.com affiliate links for products I personally use and love. If you purchase a product through an affiliate link, your costs will be the same but I will receive a small commission which is used for hosting and running this site. I appreciate your support! 

YOU MAY ALSO LIKE: