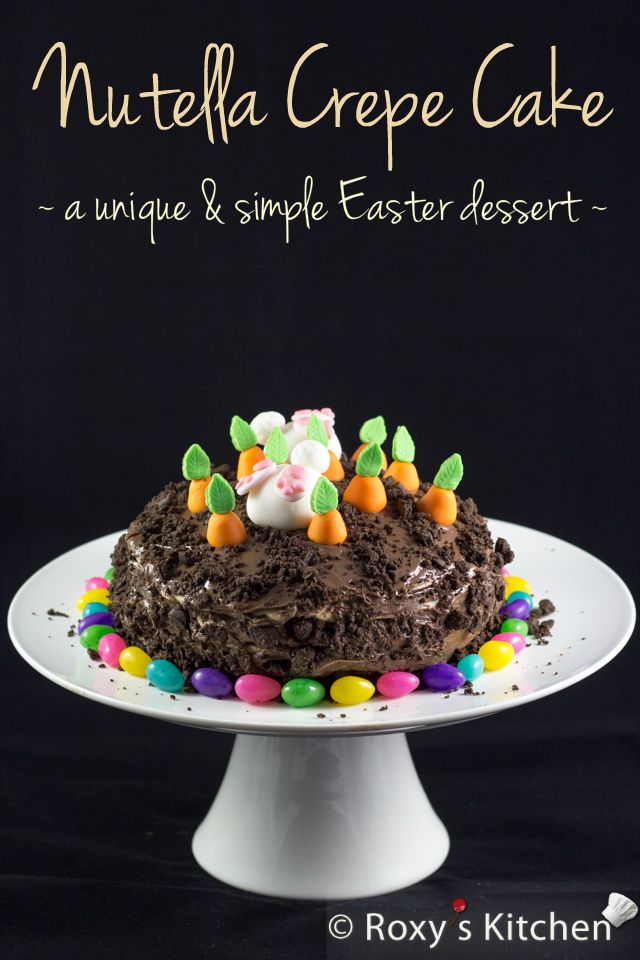 Have you seen all the fancy Easter desserts on Pinterest and all over the internet? Yes, I know, so many I cannot keep up pinning them – just check out my round-up of 30 Easter ideas to get an idea of what I'm talking about! I would love to try so many of them but unfortunately I won't have too much time to go crazy in the kitchen this Easter. So what I needed this year was a unique and simple Easter dessert that would be ready in no time but cute enough to impress everyone.
The other day I bought a Nutella jar as I was planning on making some Nutella coffee crepes (before hubby would start digging into the jar, he has a passion for this once in a while!). But then I had a better idea – why not make an awesome Nutella Crepe Cake, decorate it with some fake dirt & carrots and some Easter bunnies digging in the dirt and raiding the garden of carrots.
Sometimes all you need is a stack of crepes to get creative… this cake turned out pretty cute, right? Also, there is no baking involved… just cook some crepes and put it all together! Plus you really can't go wrong with Nutella and crepes!
You can keep the decorating part even simpler and just make some grass out of coconut flakes (add coconut in a Ziploc bag, add a few drops of food color dissolved in 1 tsp of water, seal and shake the bag) and place some Easter jellybean eggs on top. Easy peasy, right?
But back to the crepe cake I made and my cute carrots and bunnies… here's all you need:
Your favorite crepes – I made these coffee crepes
Nutella (if you want the filling less chocolaty and rich mix in a few tablespoon of whipped cream)
A few chocolate cookies like Oreos, crushed
Orange, green, white & pink fondant to make the carrots & bunnies
A fondant veining tool
A small leaf plunger (optional)
Some Easter jellybean eggs
Directions:
Make your crepes… the more the merrier! I think I made around 30, we couldn't resist and ate 5 so I was probably left with 25, at most! Allow them to cool completely before putting everything together.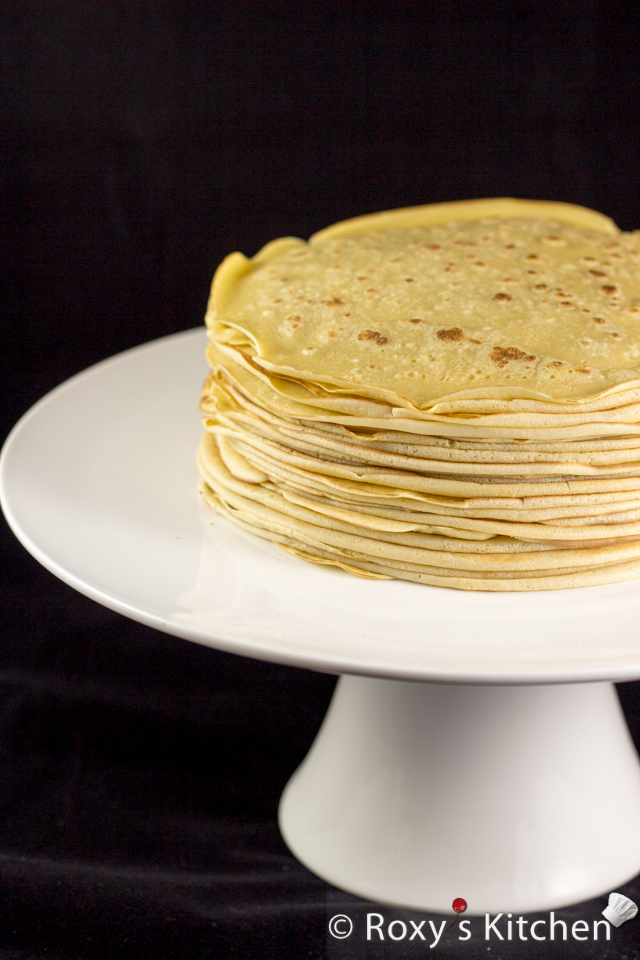 To make the tops of the carrots, roll out some balls out of orange fondant and shape into a cone. To make them look more realistic you can score lines into the carrots using the veining tool or a blunt knife (I was distracted by my crying baby and forgot this step… oh, the joys of motherhood

!).
Top each carrot with a leaf made out of green fondant. You can use a small leaf plunger to make them, like the one in the picture, or just shape a small ball of fondant into a teardrop shape and score some lines using the veining tool.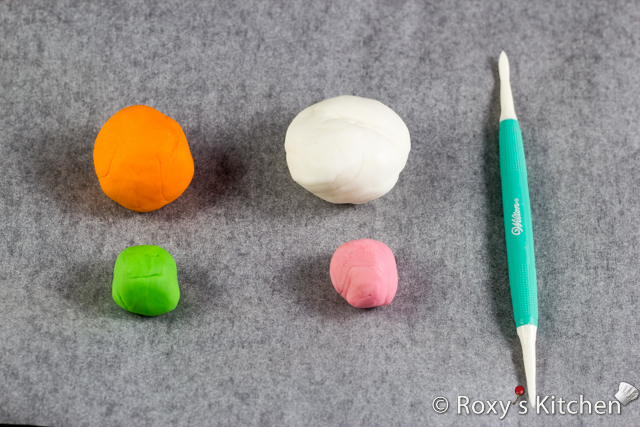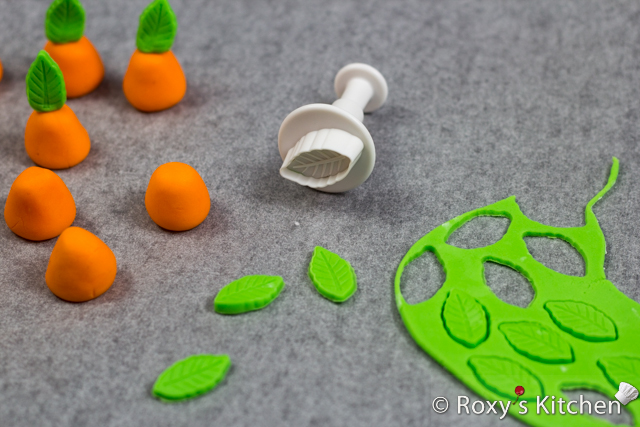 To make the bunnies, roll out two balls out of white fondant. For the tails, make two smaller balls and attach them with some water. Poke the tails a bunch of times with the veining tool or a pointy end of a paintbrush. For the feet make tiny ovals out of white fondant and attach them with some water. Make the pads of the feet and toes out of pink fondant and attach them with water as well.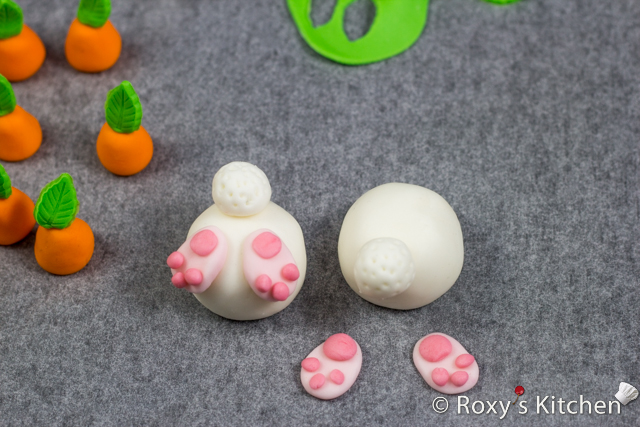 Spread about one tablespoon of Nutella between each crepe.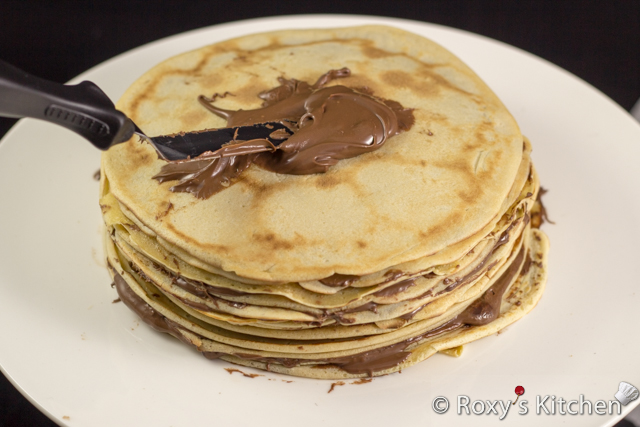 Add a few generous tablespoons of Nutella on top and cover the cake.
Sprinkle crushed chocolate cookies on top to create the dirt.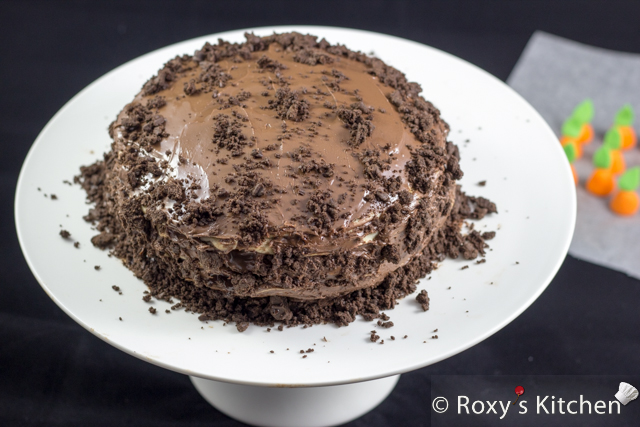 Arrange your carrots and bunnies on top and sprinkle some more crushed cookies around the carrots if you want.
Line the edges of the entire cake with the Easter jellybean eggs.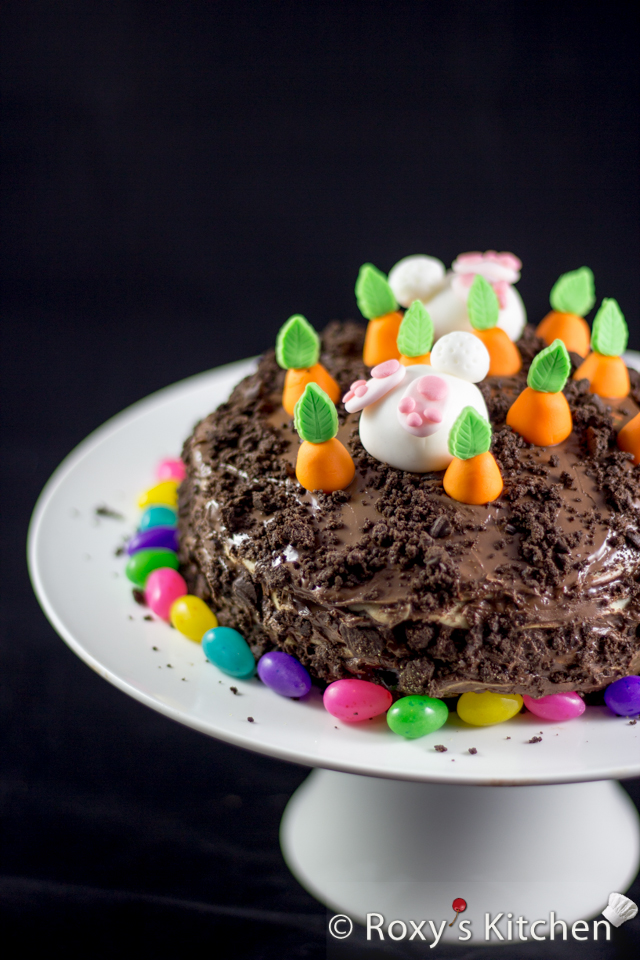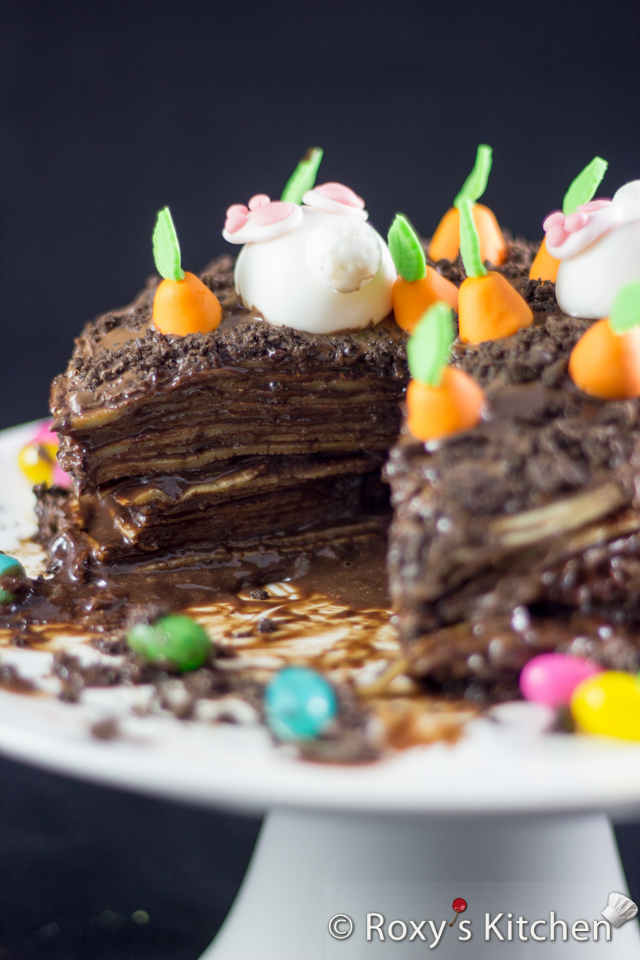 For more Easter inspiration, be sure to check out all my Easter recipes and follow my Easter board on Pinterest:
Follow Roxy's Kitchen's board Easter on Pinterest.
This recipe was shared at these parties:
Inspiration Monday @ I Should be Mopping the Floor, Recipe Sharing Monday @ Jam Hands, Marvelous Monday @ This Gal Cooks, Making Monday @ Kitchen Table Art, The Weekend re-Treat @ The Best Blog Recipes, Foodie Friday @ Rattlebridge Farm, Tickled Pink @ 504 Main, Moonlight & Mason Jars @ Little Miss Celebration, Create It Thursday @ Lamberts Lately, The PIN IT Party @ Creative Geekery, Thriving on Thursdays @ Domesblissity, Full Plate Thursday @ Miz Helen's Country Cottage 

YOU MAY ALSO LIKE: