Posted by Roxy on 7 Comments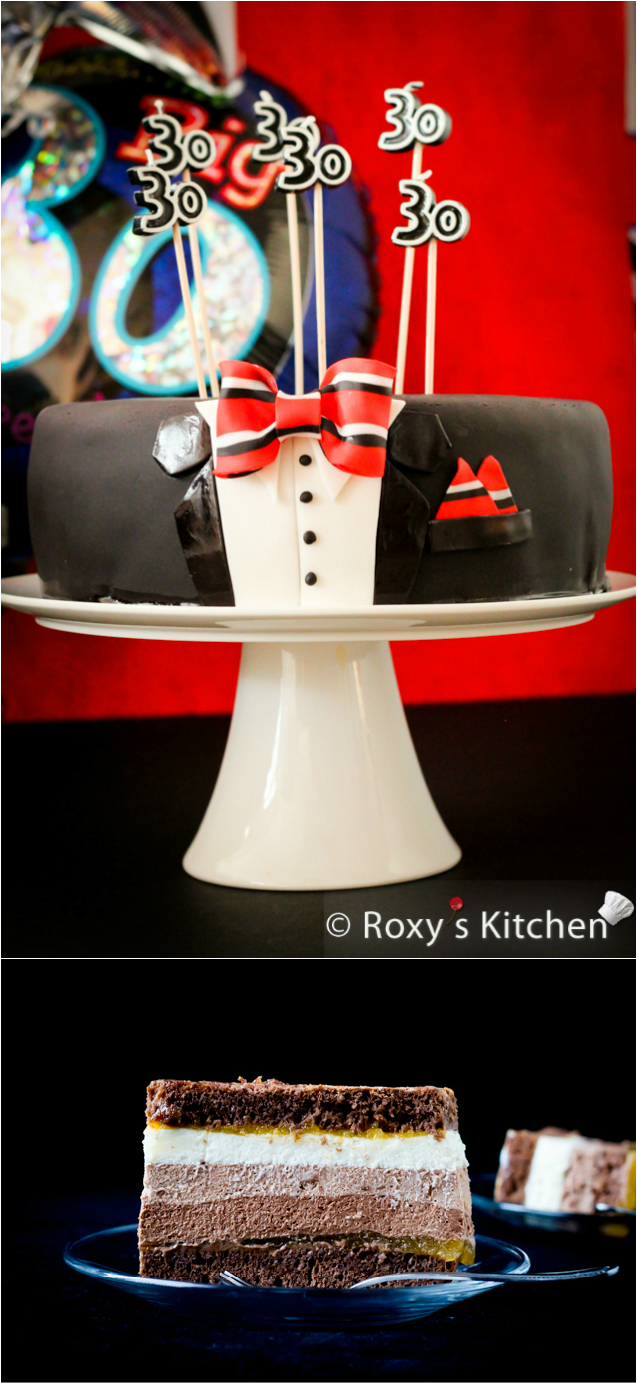 This is the best cake I've made for the best surprise party to celebrate the best occasion of the year – my husband's 30th birthday … well, best occasion until November, when I'm turning 30 :-P. If you're looking for ways to surprise your loved one for their 30th birthday or another milestone birthday party I will give you some great ideas in this post.
Firstly, book a dream vacation for the two of you and your close family and friends… forget about a romantic celebration, you'll have plenty other occasions to go on vacations in two. I made him a 2-in-1 surprise… I managed to bring his parents over (they flew all the way from Spain to Canada) and we all went for a vacation to the Caribbean and HE HAD NO IDEA!!!
Secondly, if you realize that all his friends can't really join you on the awesome vacation, just organize him a surprise birthday party … which I did and IT WAS A BLAST! And this is the party for which I made him the Tuxedo Cake with a Striped Bow Tie. It was a 12 inch chocolate walnut cake, filled with a triple chocolate mousse and peach jelly. That triple chocolate mousse filling was such a huge hit… it looks great and the taste is out of this world! You can find the full tutorial with step-by-step pictures in this post.
Lastly, buy him a unique birthday present. I got him an eOne watch and made him a custom mug and a custom t-shirt. I also made him a beer can cake… scroll down to the bottom of this post to see the t-shirt and the beer can cake picture that I found on Pinterest and used it as inspiration. Read More
posted by Roxy on 7 Comments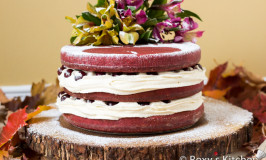 If you've seen my previous post with 14 Fabulous Wedding Cakes with Modern Flair, you probably know that two weeks ago we celebrated our 5th wedding anniversary. I was super busy that week so I decided to make a very simple, yet special, Red Velvet Naked Cake with Drunken Cherries and Cream Cheese … Read More