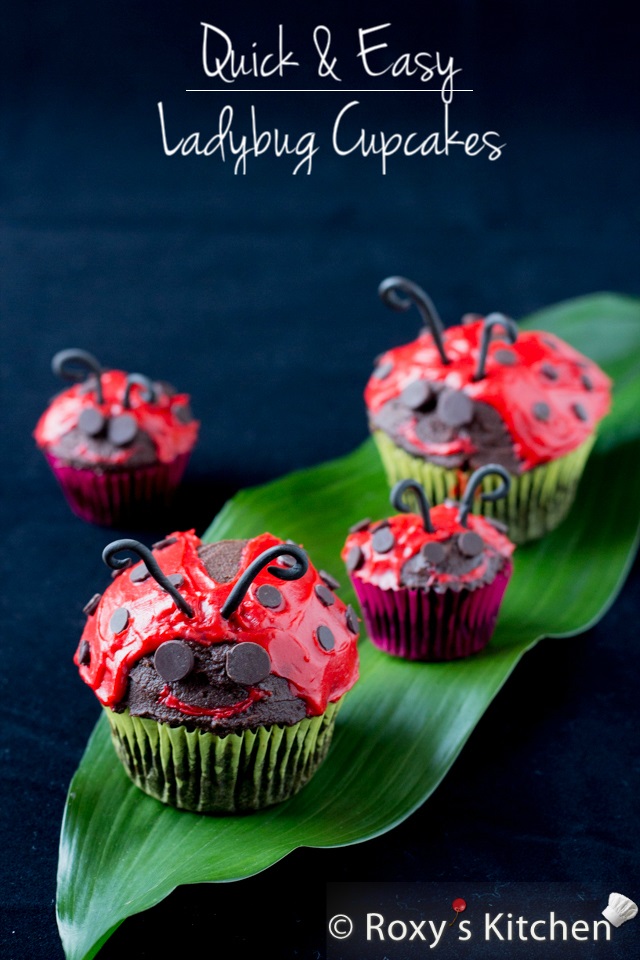 You don't have to be an expert at cake decorating and own all the decorating tools possible to make creative desserts. These quick and easy Ladybug Cupcakes are the perfect example! You just need some cupcakes and frosting (I prefer homemade ones but you can use store-bought as well), a few chocolate chips for the dots on the wings and eyes and a bit of black fondant or some licorice strings for the antennae. In just a few minutes you can put together the perfect ladybug cupcake! You can get your kids involved as well to spread some frosting or attach some chocolate chips onto the ladybugs… how fun would that be?!
These ladybug cupcakes are perfect for a Spring-themed party, a kid's birthday party or a baby shower!
Materials & Tools:
Cupcakes of your choice –I used a few Rich Chocolate Cupcakes
White frosting of your choice mixed with a drop of red gel food coloring, at room temperature – I had some leftover Cream Cheese Frosting
Brown/Chocolate Frosting, at room temperature – I made Chocolate Ganache out of almost  ½ cup (80g) semi-sweet chocolate and 100ml (3.4 oz) whipping cream
Small dark chocolate chips for the dots on the wings
Big dark chocolate chips for the eyes (you could use candy eyes as well)
A small spatula (a butter knife work as well)
Black string licorice or some black fondant
Directions:
Bake your cupcakes and make the cream cheese and chocolate frostings.
If you are using fondant for the antennae make them a few hours ahead or the day before to allow them to dry properly.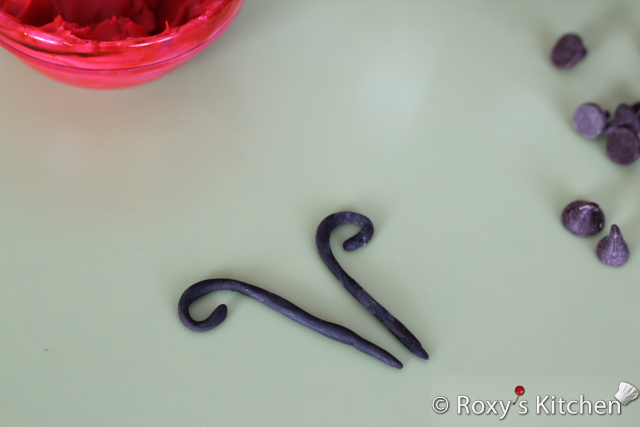 Cover the cupcakes generously with chocolate frosting using a spatula.
Make the wings out of red frosting.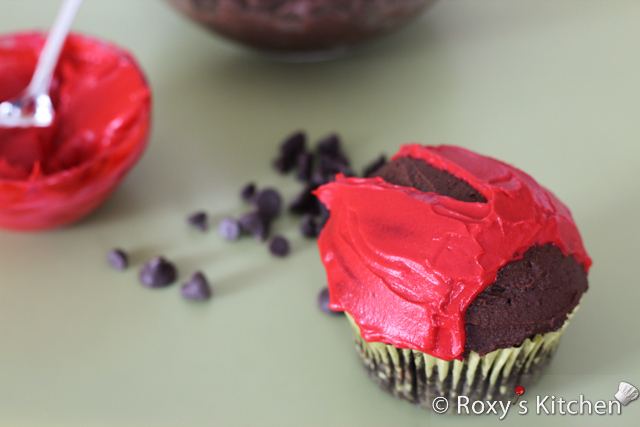 Place a few small chocolate chips on each wing. Another option would be to use a small round tip to pipe chocolate frosting to make the dots on the wings.
Attach two big chocolate chips for the eyes.
To make the mouth, use a toothpick to carefully add some red frosting. You could use a small round tip to pipe the mouth as well.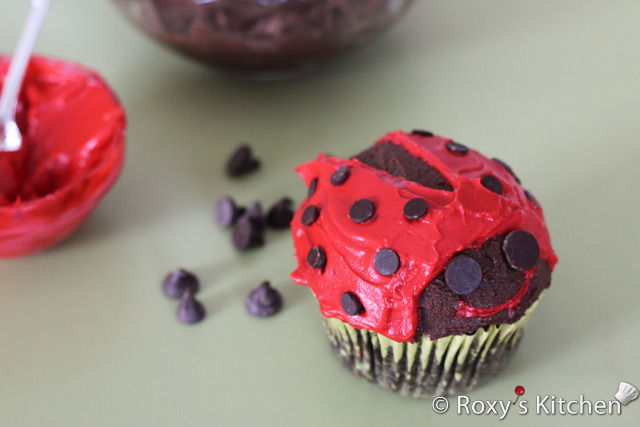 Insert the fondant antennae or two licorice pieces into each cupcake.  Use a toothpick to make the holes first and make it easier to insert the antennae without breaking them.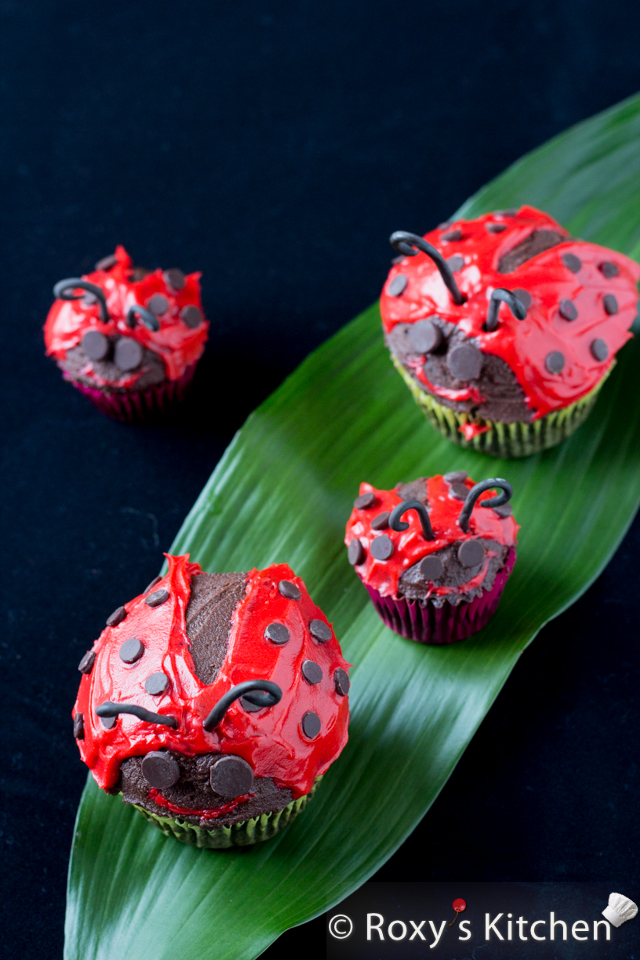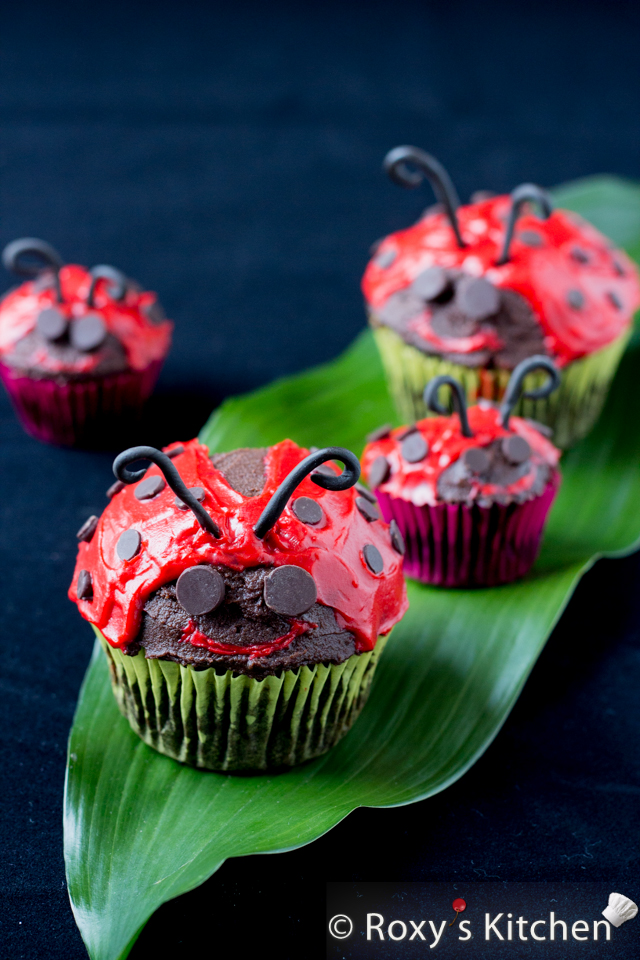 YOU MAY ALSO LIKE: