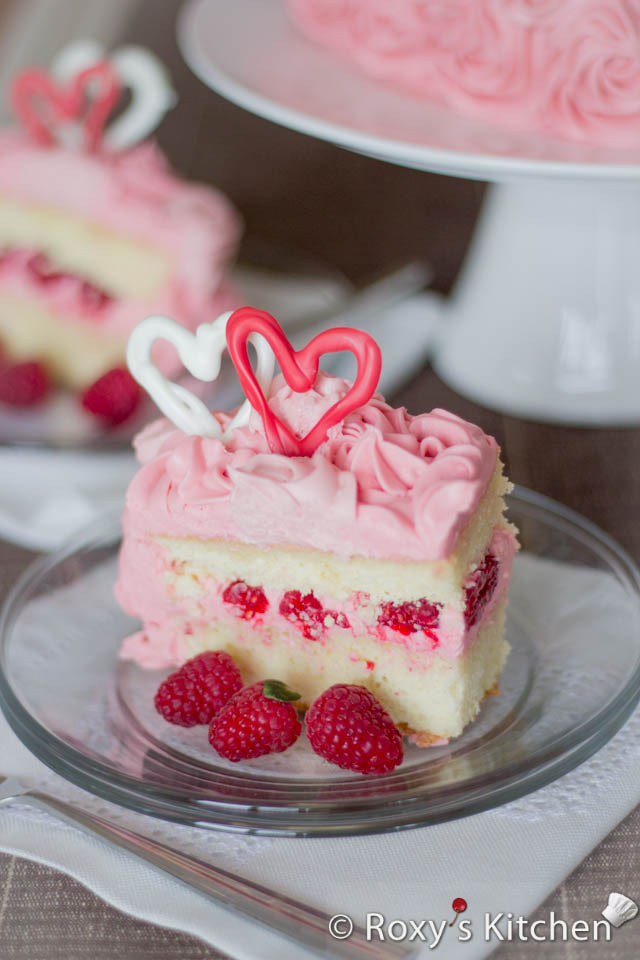 I wanted to experiment more with buttercream frosting. I mentioned in my Vanilla Buttercream Frosting post that I'm not a big fan of buttercream for filling cakes, it's just too buttery and sugary for my taste. However, it's very easy to work with it to decorate cakes/cupcakes hence why I still make it.  But let me tell you, this Raspberry Cream Cheese Buttercream Cake is absolutely divine! The frosting has the perfect mix between cream cheese and butter, it's not very sweet, has a great texture and richness and a wonderful raspberry flavour.
For the base I used my basic cake recipe (only 4 ingredients required!) and made some vanilla sugar syrup to moisten it. Oh by the way, did I mention that I started bulk baking? If I need one cake I usually make two or three of them, saves me a lot of time and money on home energy! I bake my cakes and when they are completely cooled off, I placed them in a Ziploc bag that's sealed very well or an airtight plastic container and freeze them. Most cakes can be frozen for up to 6 months, not that they would actually last for that long around here : )!
Since this is Valentine's week I made a heart-shaped cake and decorated it with some hearts made of candy melts.
Time:  100 min, Prep: 60 min.  Cook: 40 min.
Servings: 20
Ingredients:
For cake:
7 eggs
7 Tbsp water
14 Tbsp sugar
14 Tbsp cake flour
You also need a 24.5 x 9 cm (9.6 x 3.5 inches) round baking pan greased with butter and floured.
For raspberry filling/frosting:
1.5 cups (375 g) unsalted butter, at room temperature
5 cups powdered sugar
18 oz (500 g) cream cheese, at room temperature
1/3 cup (100 g) seedless raspberry jam
2 Tbsp lukewarm water
Red food colouring paste  – I use Wilton (optional)
1.5 cup fresh raspberries (optional)
For syrup to moisten cake:
1 cup (240 ml) water
6 Tbsp sugar
1.5 Tbsp vanilla extract
Directions:
Make your cake, the raspberry filling and the syrup (bring water and sugar to a boil, add vanilla extract and let it cool off).
Cut the cake horizontally in two.  Place the first layer on your cake board or platter, moist it with sugar syrup and evenly cover the layer with 1/3 of the raspberry filling.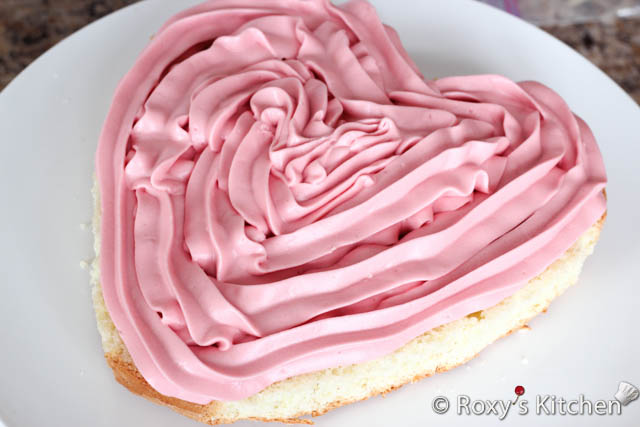 Add a layer of fresh raspberries on top.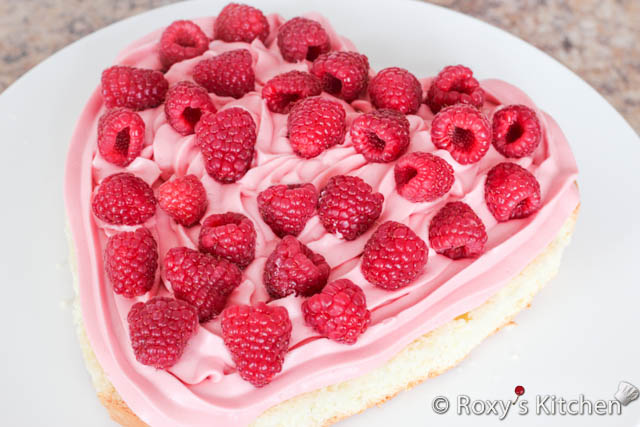 Place the second layer on top and moist it with sugar syrup. Frost the cake with the remaining cream cheese buttercream.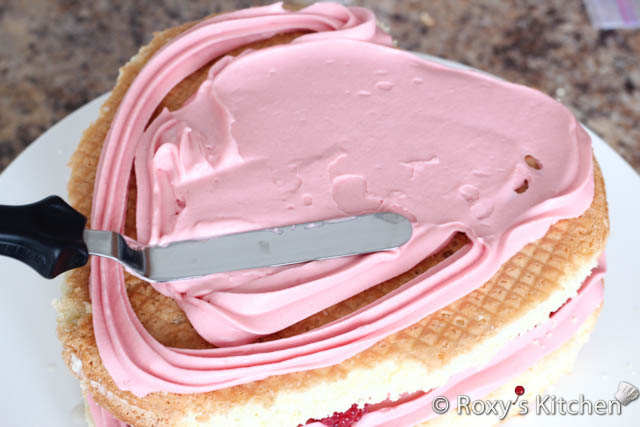 I used a piping bag fitted with #1M tip to make swirls.
I made the hearts on top using white and red candy melts. Melt the white candy melts according to the package instructions, let the coating harden a bit (it should still have a pouring consistency), pour it in a piping bag fitted with a #4 decorating tip and pipe the hearts on a sheet of waxing paper. Repeat the steps to make the red hearts. If your candy starts to harden to much you can place the piping bag in the microwave for a few seconds. Make sure you remove the tip before though. metal should never go in the microwave!!!

YOU MAY ALSO LIKE: