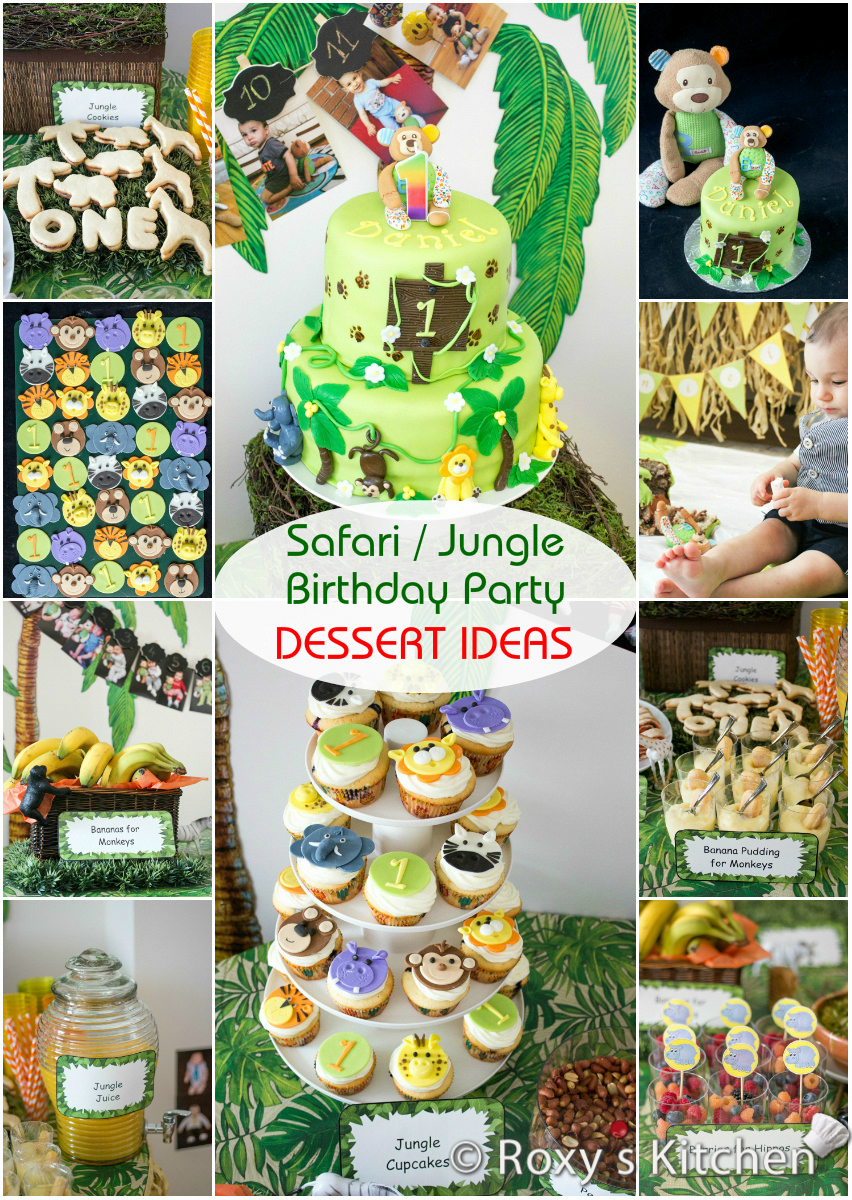 Last week was a memorable one as we celebrated Daniel's first birthday party. I can't believe he's one year old already! My baby boy is seriously growing up too fast so someone, please stop the time! Choosing a theme for his birthday party was super easy as his favorite toys (apart from empty water bottles, TV remote control & cellphones) are all the plush animals around the house from monkeys to teddy bears to elephants.
This Safari / Jungle Themed First Birthday Party was completely styled by me – from choosing the decorations, designing my own banners to baking a cute jungle cake & his smash cake, cupcakes & cupcake toppers, jungle cookies and making all the finger foods (sushi included!). It's a great party theme that I'm sure any kid would love regardless of the age and it's a cute idea for a baby shower as well.
I wanted to make something special for Daniel's 1st birthday but at the same time we didn't want to go overboard and spend a fortune. In this post I'll show you how to throw a fabulous jungle birthday party on a budget for your little ones. Plus you can print all the labels, pennant banners, jungle animals stickers/toppers for FREE!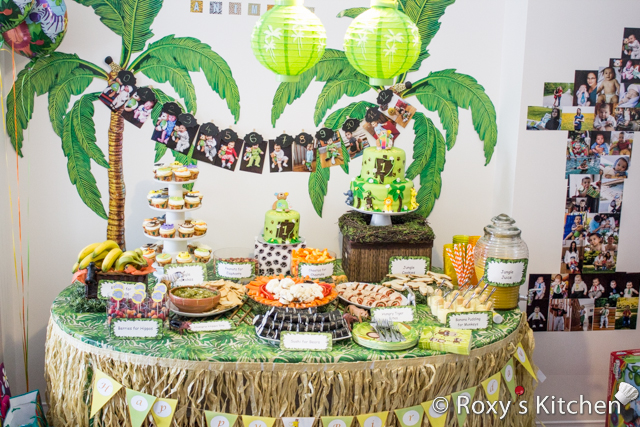 I wanted to share all food ideas and party decorations in a single post but it got ridiculously long so I split it into four parts:
In the following weeks I'll also post full tutorials with step by step photos for the two cakes I made, fondant cupcake toppers and fondant teddy bear cake topper. For the other food ideas, you can find some of the recipes on my blog and others on some of my favorite blogs/websites…I'll explain everything in detail in these four posts. So sit back, relax and get ready to enjoy all the photos from our jungle party that will hopefully inspire you!
Let's start with my favorite part of the jungle food – THE JUNGLE FIRST BIRTHDAY CAKE
It's a two-tier walnut cake (10 inch and 7 inch layers) filled with a delicious chocolate walnut cream, covered in fondant and decorated with fondant palm trees and jungle animals. This cake can easily serve 45-50 people and would have probably costed around $350-$400 if we were to buy it but you can make it for maybe $50 at home (full tutorial with step by step photos coming soon!). It will take you a few good hours to decorate it but hey, who's counting the hours when you're having fun baking and decorating!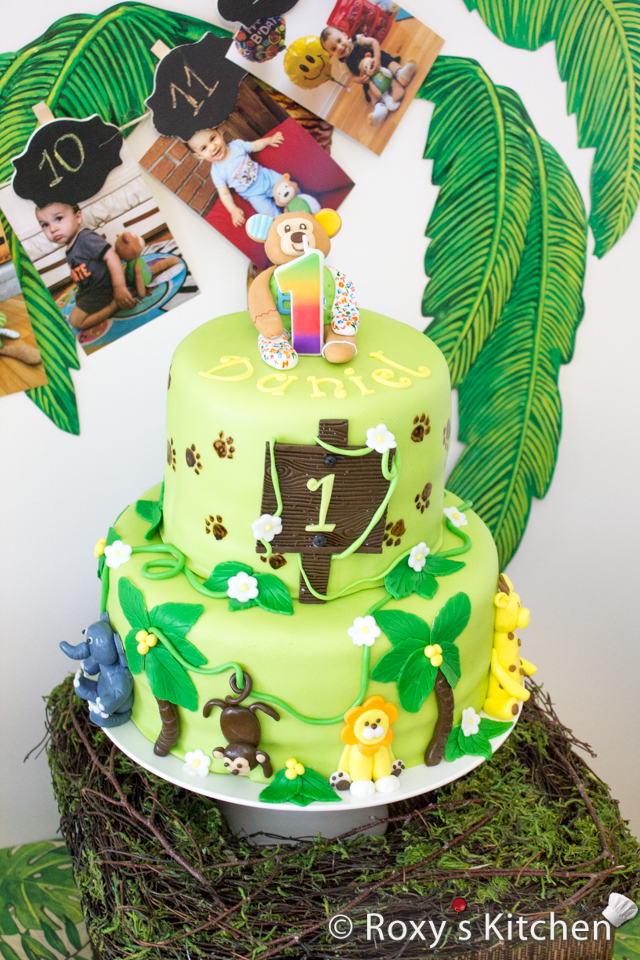 The cake topper is a fondant replica of our son's favorite teddy bear.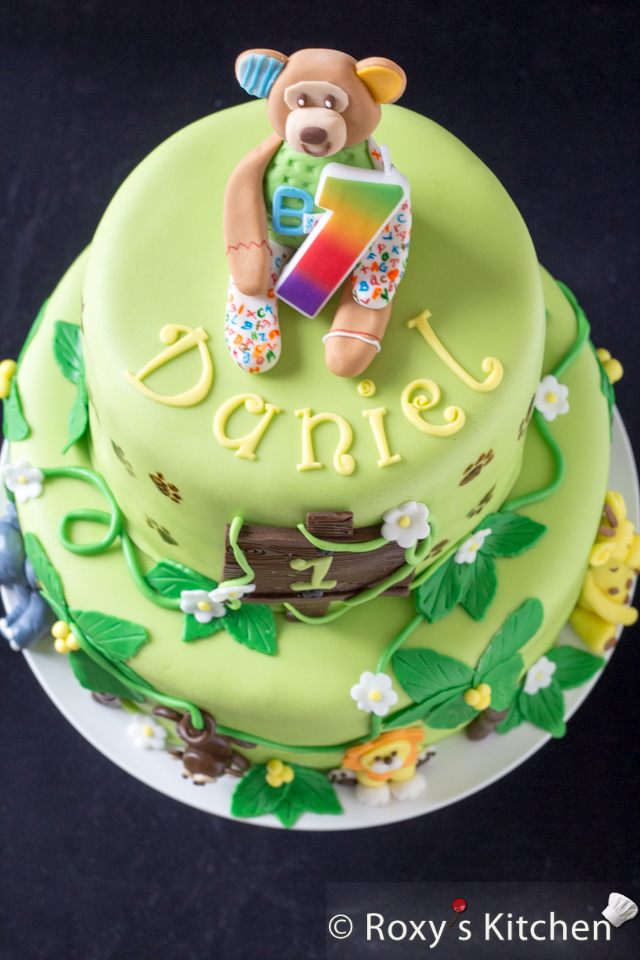 I made two of these, one for the big cake and the other for his smash cake. Check out the tutorial on how to make this cute little teddy bear.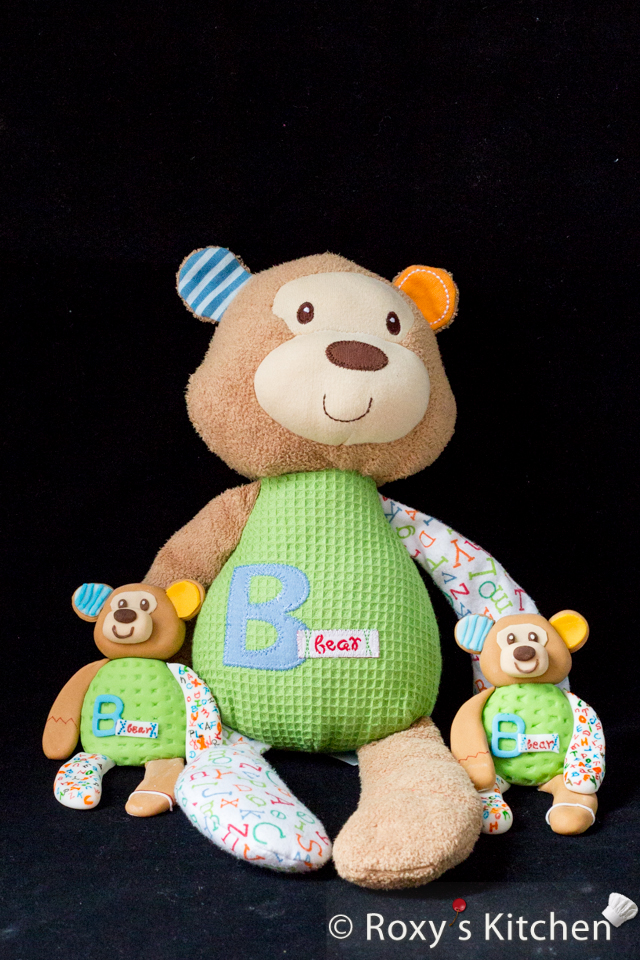 Talking about this, here's Daniel's JUNGLE FIRST BIRTHDAY SMASH CAKE. It's a five-layer walnut cake (6 inches) filled with the same delicious chocolate walnut cream (full tutorial with step by step photos coming soon!).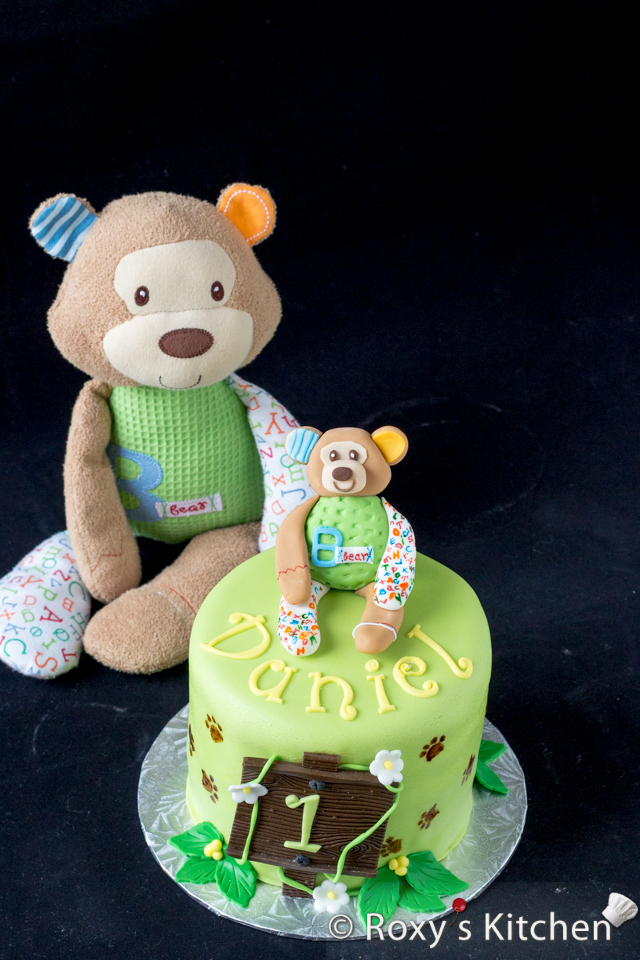 And here's my sweet little Daniel after he smashed his cake, we cleaned him and then he came back to play with his teddy bear, the fondant one that is :)!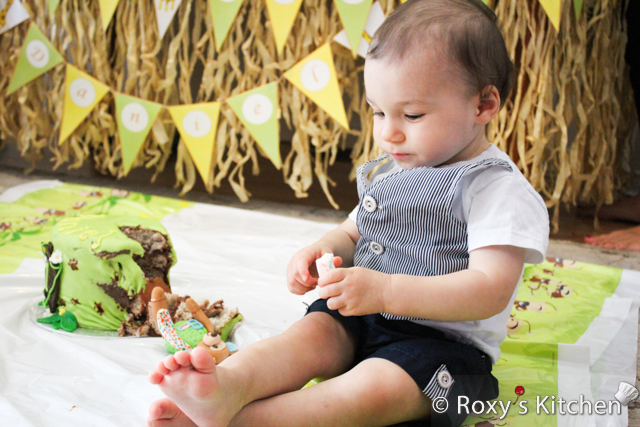 And some more jungle-themed dessert ideas… have you ever had two soft sugar cookies sandwiched with chocolate walnut cream frosting (same one that I made for the cakes)? If not you should give these JUNGLE COOKIES a try, they were a hit at the party! I used the basic Sugar Cookie Recipe from Sweetopia and cut shapes out with a palm tree, elephant and giraffe cookie cutters. I also made a few 'ONE' cookies using cutters from my Wilton 101-Piece Cookie Cutter Set
… by the way, these are Daniel's favorite toys in the kitchen! These cookies would be great as party favors as well!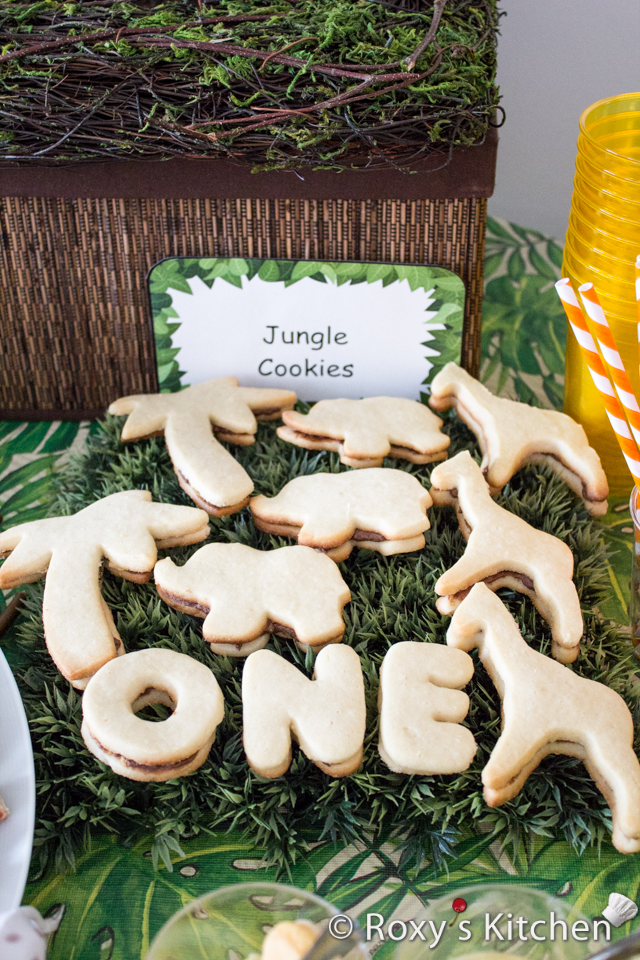 Have some bananas around? Then place them in a basket and add a cute label named BANANAS FOR MONKEYS.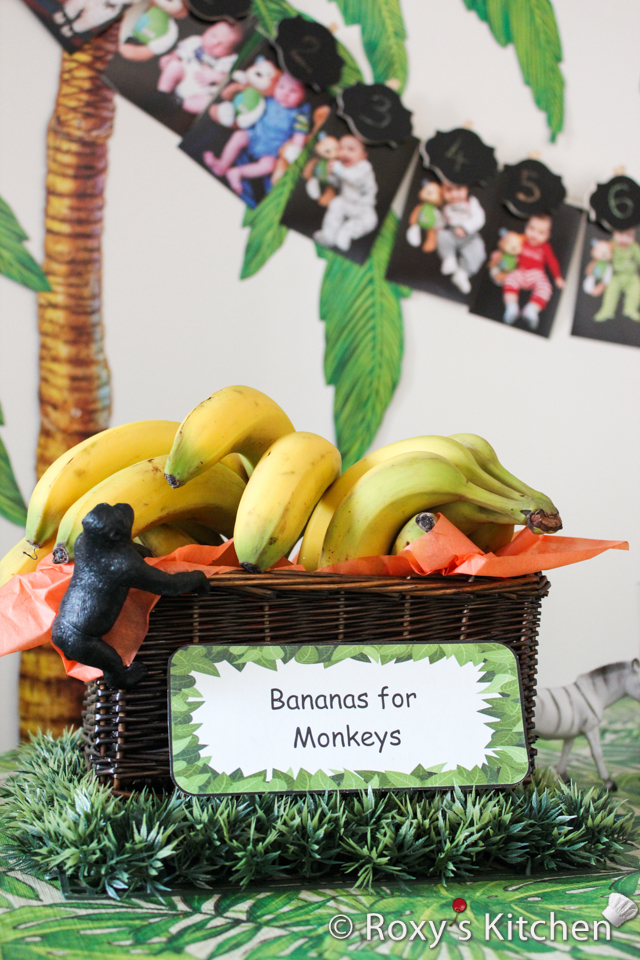 More monkey food coming up!
I made an easy BANANA PUDDING FOR MONKEYS. I don't have a recipe on my blog but I like this Banana Pudding from Epicurious or this Homemade Banana Pudding from the Baker Chick. I adjusted the recipe a bit because I didn't use any Vanilla wafers but placed half a ladyfinger in each dessert cup… just to keep things simple but still delicious!
Got some BERRIES FOR HIPPOS from the farmer's market (blueberries, red & yellow raspberries and blackberries), placed them in some cups and made a few cute Hippo Toothpick Stickers (free printable coming soon in Part III of my post!).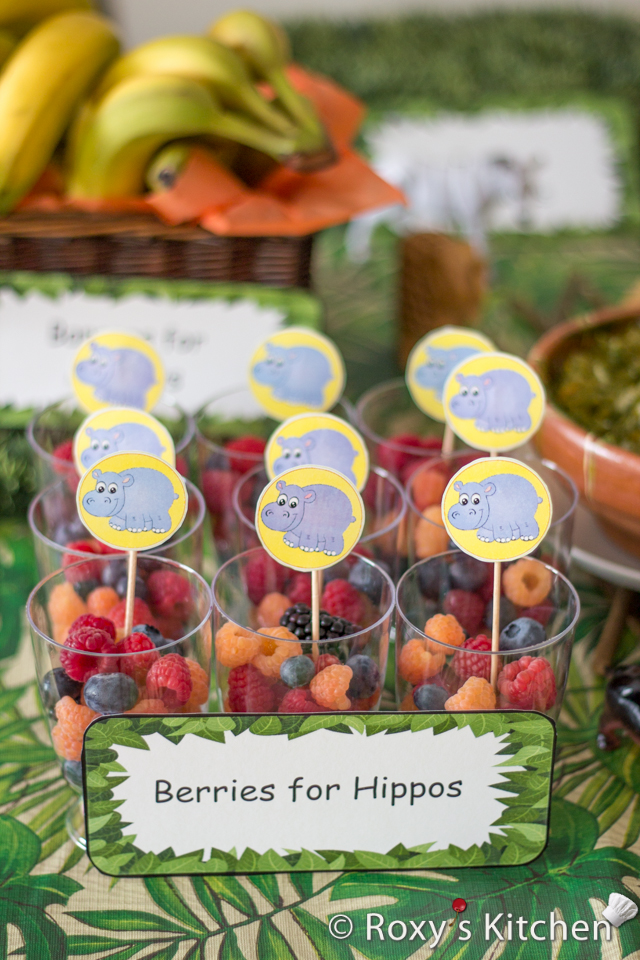 Moving on to the cupcakes…oh my, I had so much fun decorating these JUNGLE ANIMALS CUPCAKES. They were Lemon Blueberry Cupcakes with Cream Cheese Frosting from Annie's Eats. I've made Annie's cupcakes before and loved them so decided to go with this recipe for the party.
I made every single JUNGLE ANIMAL FONDANT CUPCAKE TOPPER – from lions, teddy bears, monkeys to hippos, giraffes, tigers and elephants. Plus a few toppers with number one but you can personalize these based on your little one's age.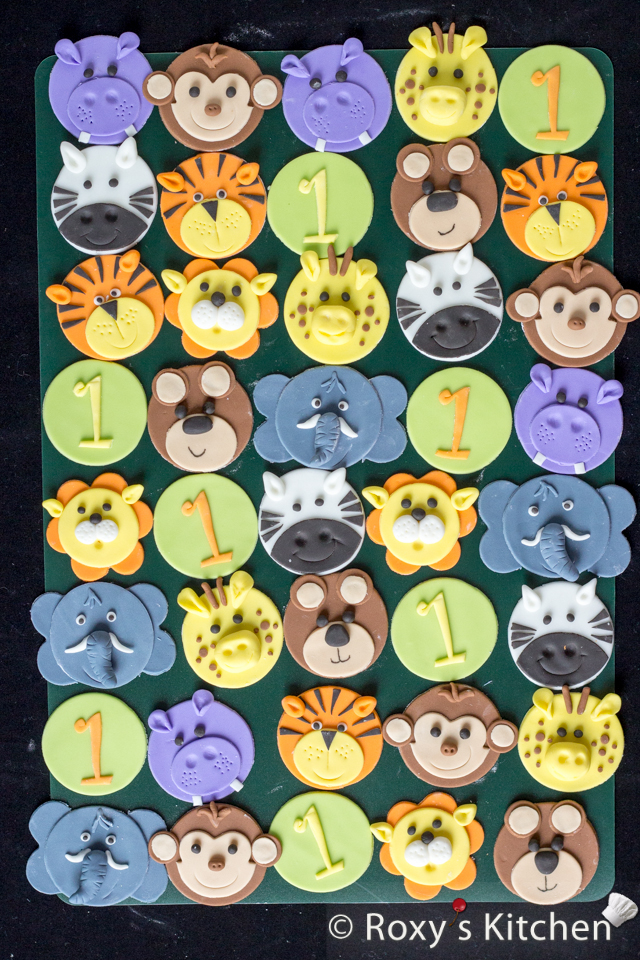 If you don't want to spend the extra time to make your own fondant toppers no worries, I've got you covered! You (can) will be able to download for FREE my Jungle Animals Cupcake Toppers that I'll provide shortly in Part III of my post. Just print them on heavy cardstock paper, cut them out, tape them to ice cream sticks or toothpicks and pop them on cupcakes! Cute and simple decorations!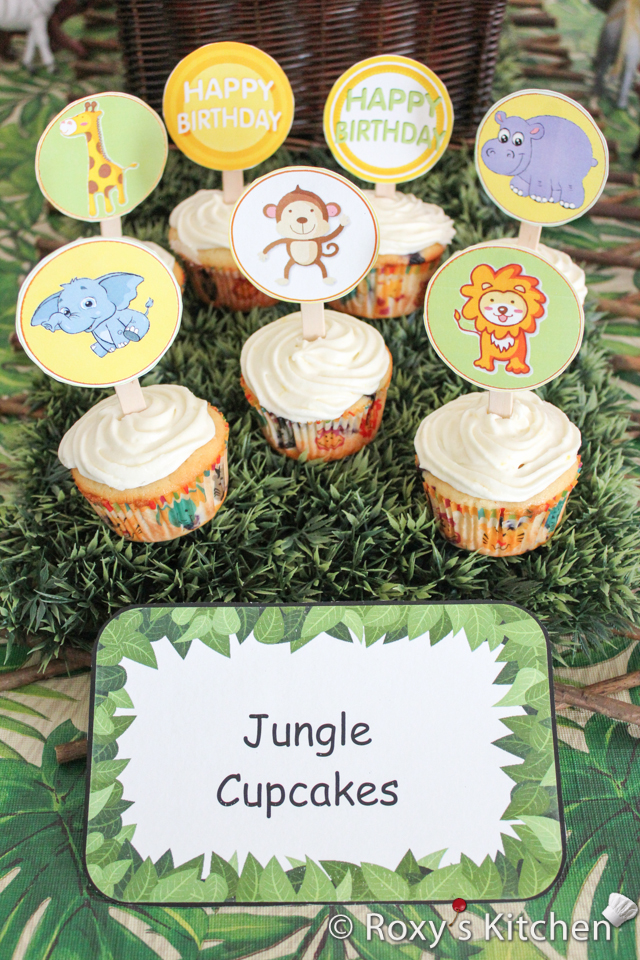 After all these yummy desserts I bet everyone is thirsty so let's not forget the JUNGLE JUICE! Buy one of those water/juice glass jars with a faucet or borrow one from your friends (like I did

). We filled it with orange peach mango juice but you could use anything you like.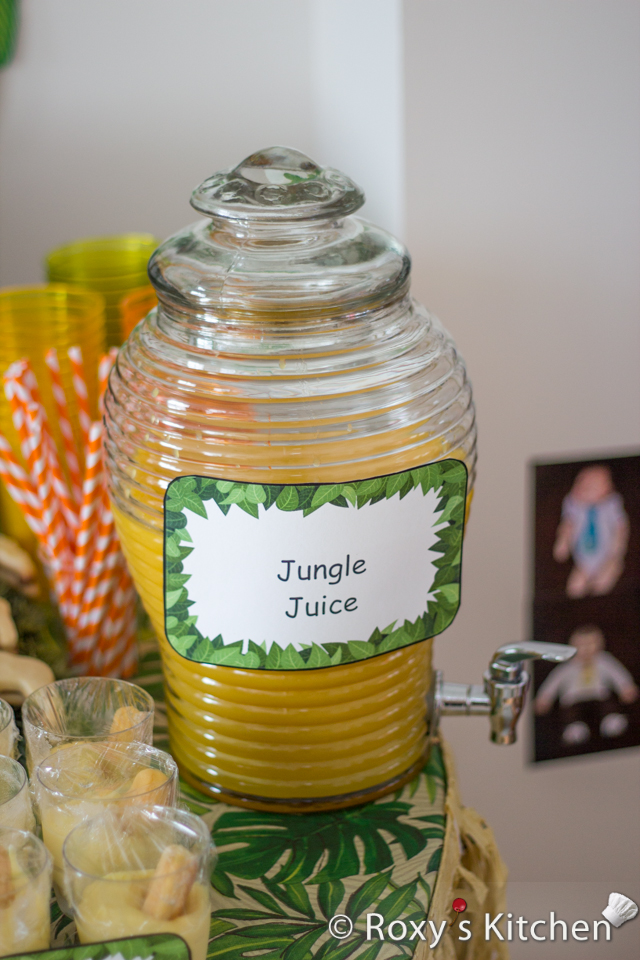 Oh, I almost forgot, my Nutella Peanut Butter Monkey Cupcakes would be just perfect for this party theme as well!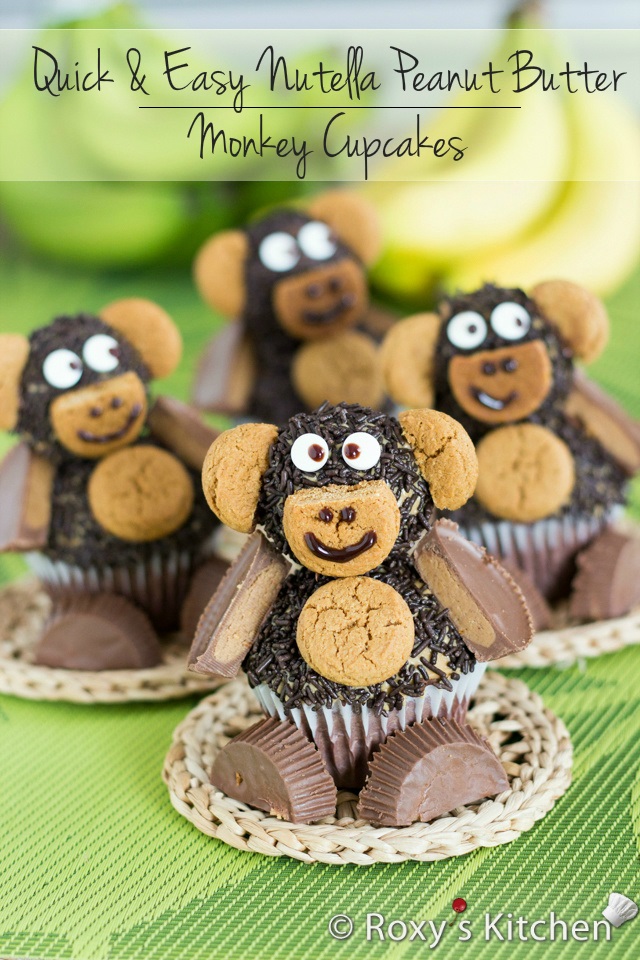 Since I've been asked before what I use to bake and decorate my cakes, cookies and cupcakes here are some of the items:
And Daniel's cute teddy bear in case you were wondering where I got it from :):
This must be the longest post ever but I truly hope it will help many parents out there organize an awesome Safari / Jungle Birthday Party on a budget. If you've found this useful I'd love to hear your thoughts in the comments!
Be sure to follow me on Pinterest for more birthday party ideas, awesome cake decorating tutorials and much more!
Visit Roxy's Kitchen's profile on Pinterest.



---
I was featured on: Party Patisserie, Bloom Designs Online
---
You might also like these posts…
Safari / Jungle Themed First Birthday Party –  Appetizers, Finger Foods & Snack Ideas
Safari / Jungle Themed First Birthday Party– DIY Decorations + FREE Printables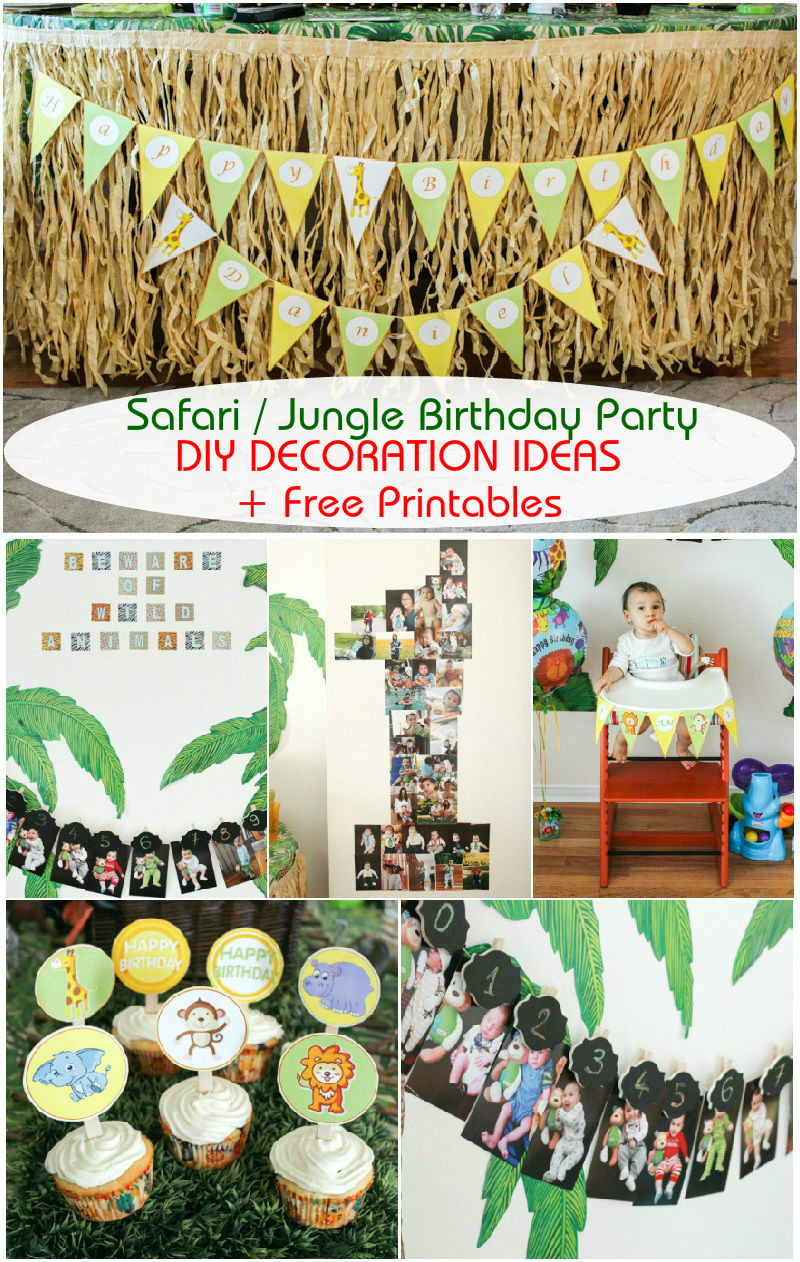 Safari / Jungle Themed First Birthday Party –  Cheap Party Supplies & Decorations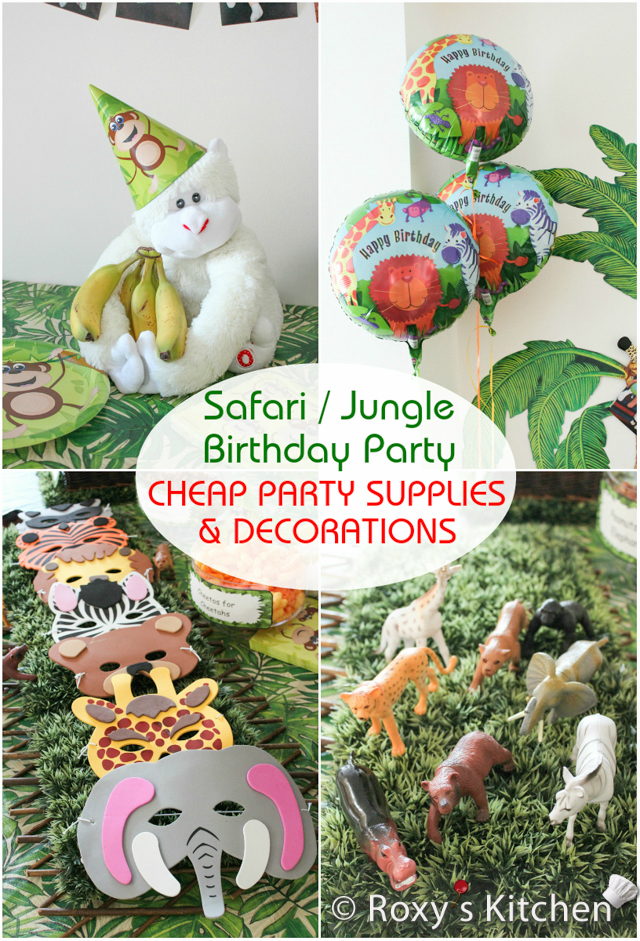 ---
This post contains Amazon.com affiliate links for products I personally use and love. If you purchase a product through an affiliate link, your costs will be the same but I will receive a small commission which is used for hosting and running this site. I appreciate your support! 

YOU MAY ALSO LIKE: