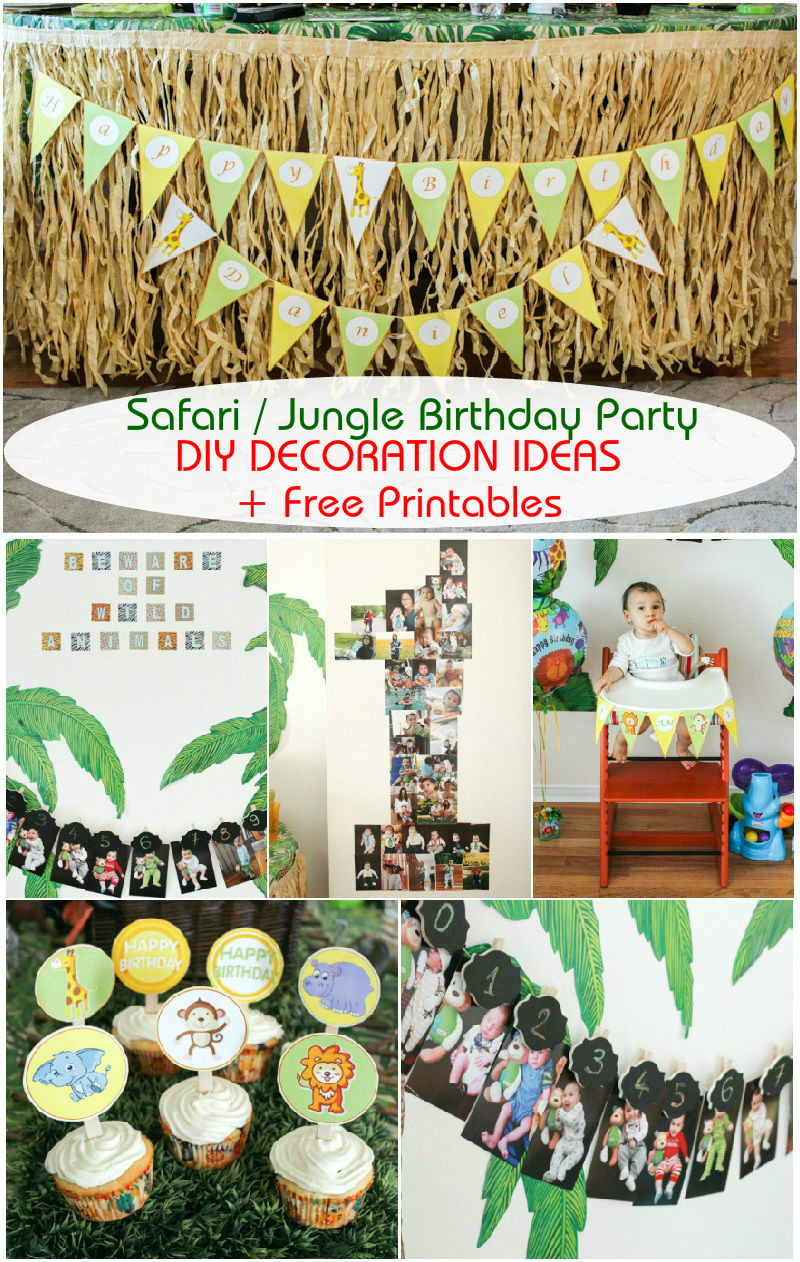 Let's move on to some of the DIY decoration ideas that are so easy and cheap to make and were such a big hit at the party! Because I love my readers, I will provide many printables in this post that you can download for FREE, including jungle animals cupcake toppers & toothpick stickers, 'Happy Birthday' pennant banner, ''I AM 1' high chair banner and others. This is Part III of the Safari / Jungle Themed First Birthday Party post series so if you haven't read the others go check them out, or you're missing out on some great dessert , appetizers, finger food & snack ideas!
We created an adorable NUMBER 1 SIGN OUT OF PHOTOS from Daniel's first year and a few ones from when I was pregnant. All you need are your photos and some tape to stick them to a wall.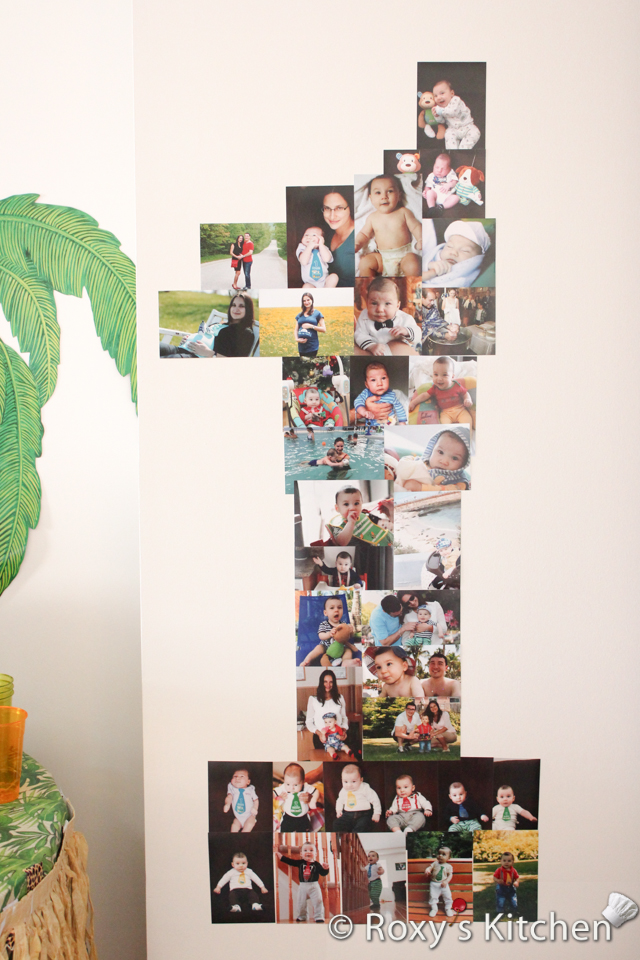 Another cute idea is to make a PICTURE CLOTHESLINE to show 0-12 month photos of your little ones. You will need a string, tape and clothespins. I'm pretty sure you can find these around your house. You can get creative a bit and use chalkboard clothespins so you can write the months or custom message for each month. I bought these at Michael's – 2 for $1.50 – and I plan on re-using them at future parties.
All the jungle labels, stickers, banners I used at the party are FREE to download and print. I either found them on some great websites or I just designed them myself. I found these cute LEAVES LABELS on Pinterest and printed them out for FREE. You can find other designs as well with lions, giraffes, elephants, crocodiles and hippos on the same website.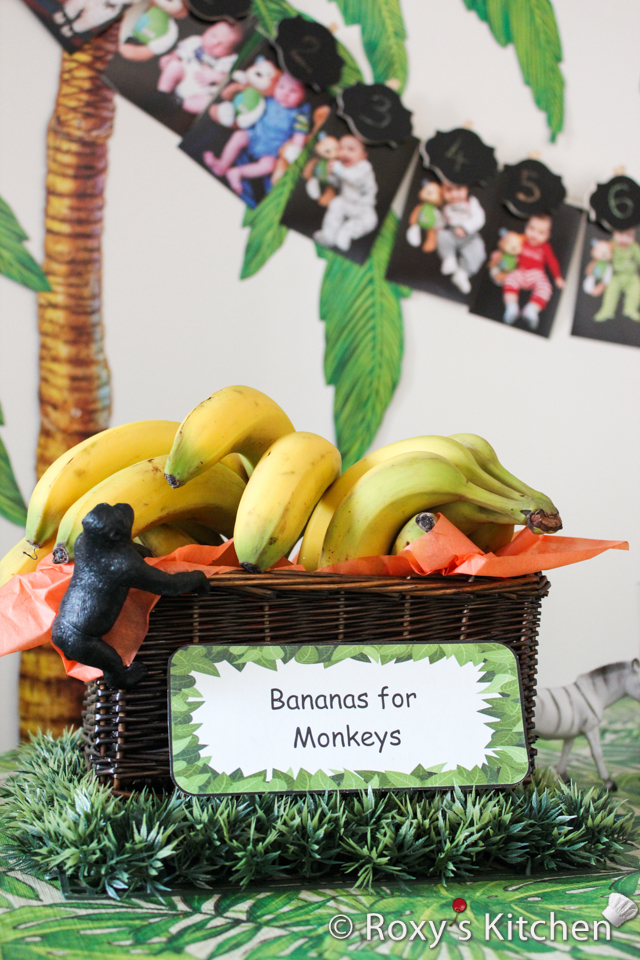 For the HIPPO TOOTHPICK STICKERS I found a hippo image online and designed the round stickers using pixlr.com. You can download the JUNGLE ANIMALS TOOTHPICK STICKERS for FREE and in case you have other hungry animals around, I've included some images of giraffes, lions, monkeys and elephants as well. Plus a few Happy Birthday stickers because in the end we're celebrating a birthday here! Just print them on heavy cardstock paper, cut them out and tape them to toothpicks. Some of the animal photos are from profilepicturemaker.com, just check out their stickers library. They have a cute African Safari Photo Frame as well and other frames, labels etc. that you can customize and download for free.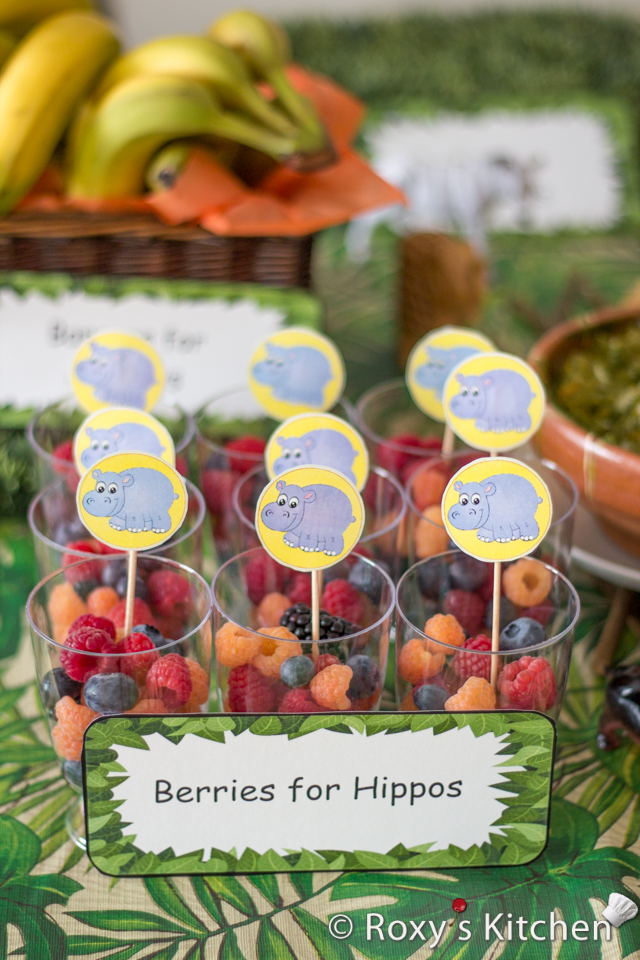 As I've mentioned in my first post, if you don't want to spend the extra time to make your own fondant toppers no worries, I've got you covered! You can download my FREE printable for JUNGLE ANIMALS CUPCAKE TOPPERS. Just print them on heavy cardstock paper, cut them out, tape them to ice cream sticks or toothpicks and pop them on cupcakes! Cute and simple decorations!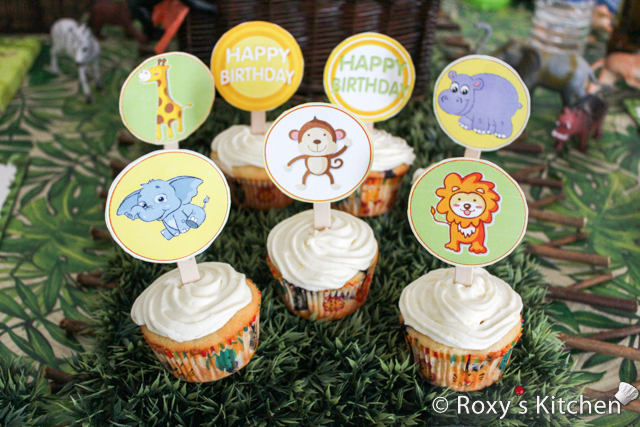 I designed my own 'HAPPY BIRTHDAY' PENNANT BANNER and 'I AM 1' HIGH CHAIR BANNER which you can download for FREE. Print them out on heavy cardstock paper, cut them out, fold the top flap over a string or ribbon and tape the back.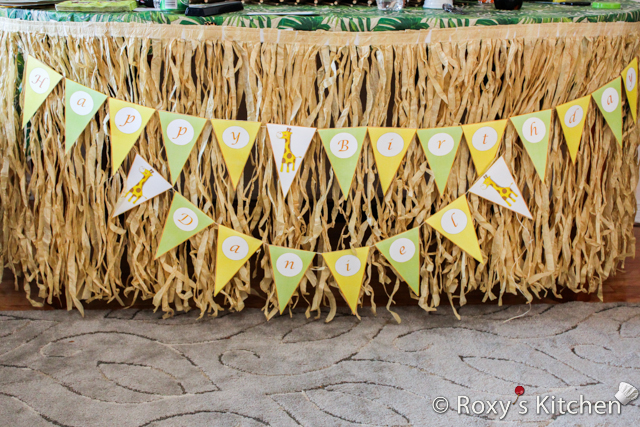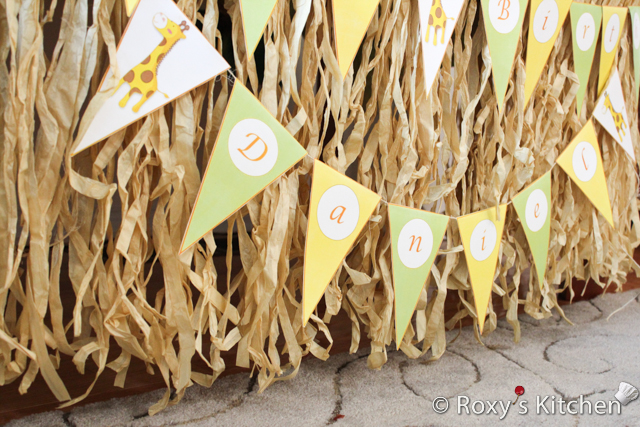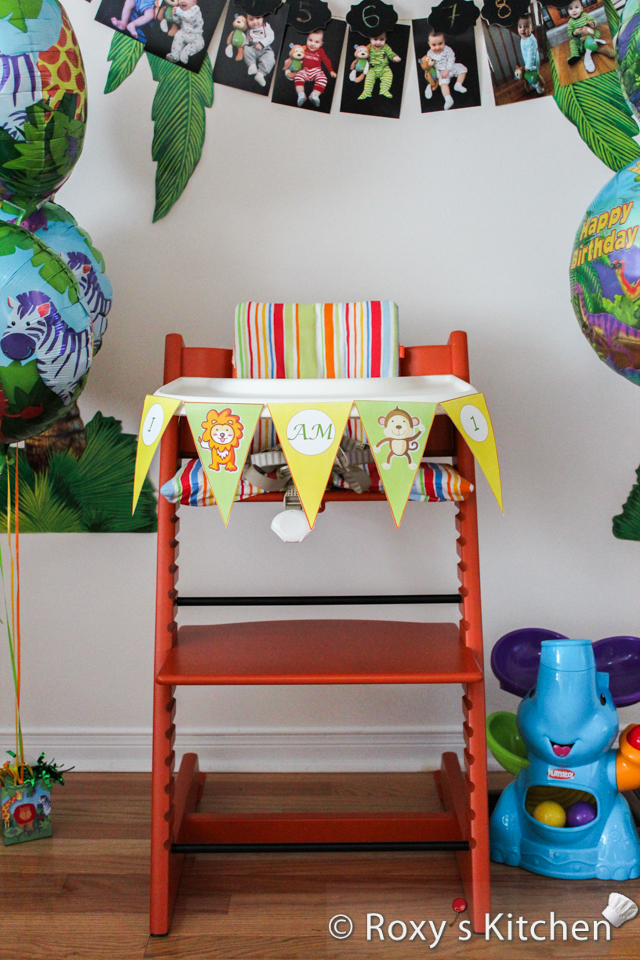 You can also print the free "BEWARE OF WILD ANIMALS" banner below from Moms and Munchkins.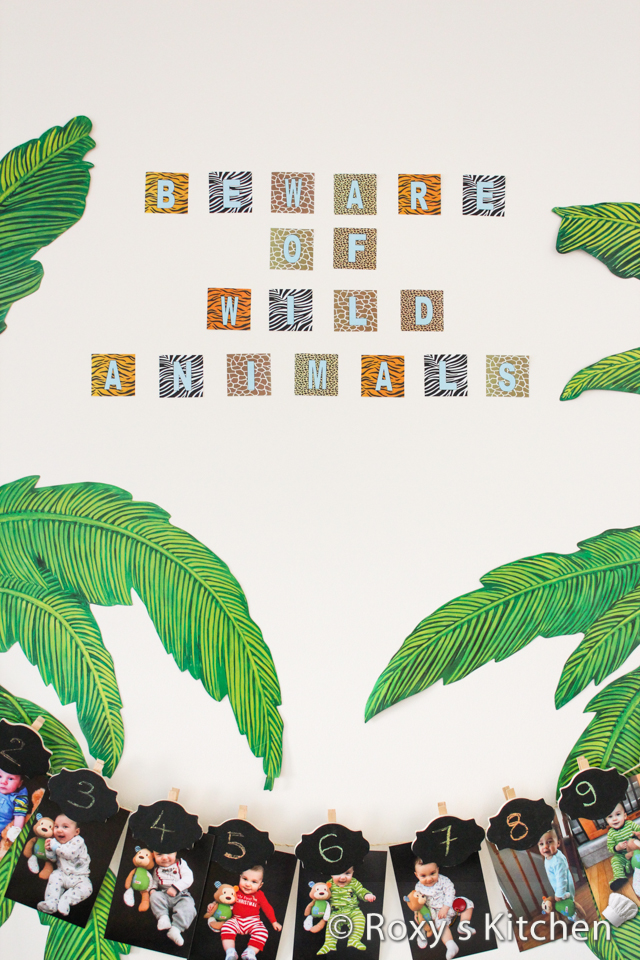 This is unrelated but I had to share a few pictures! Daniel got as a birthday gift from his godparents a custom-made book "Daniel Goes to the Zoo" . They had no idea what the party theme was so it was quite funny to see this gift. You can easily adapt most of the ideas from this post for a Zoo Birthday Party as well

!
If you've found this post useful I'd love to hear your thoughts in the comments!
Be sure to follow me on Pinterest for more birthday party ideas, awesome cake decorating tutorials and much more!
Visit Roxy's Kitchen's profile on Pinterest.
You might also like these posts…
Safari / Jungle Themed First Birthday Party – Dessert Ideas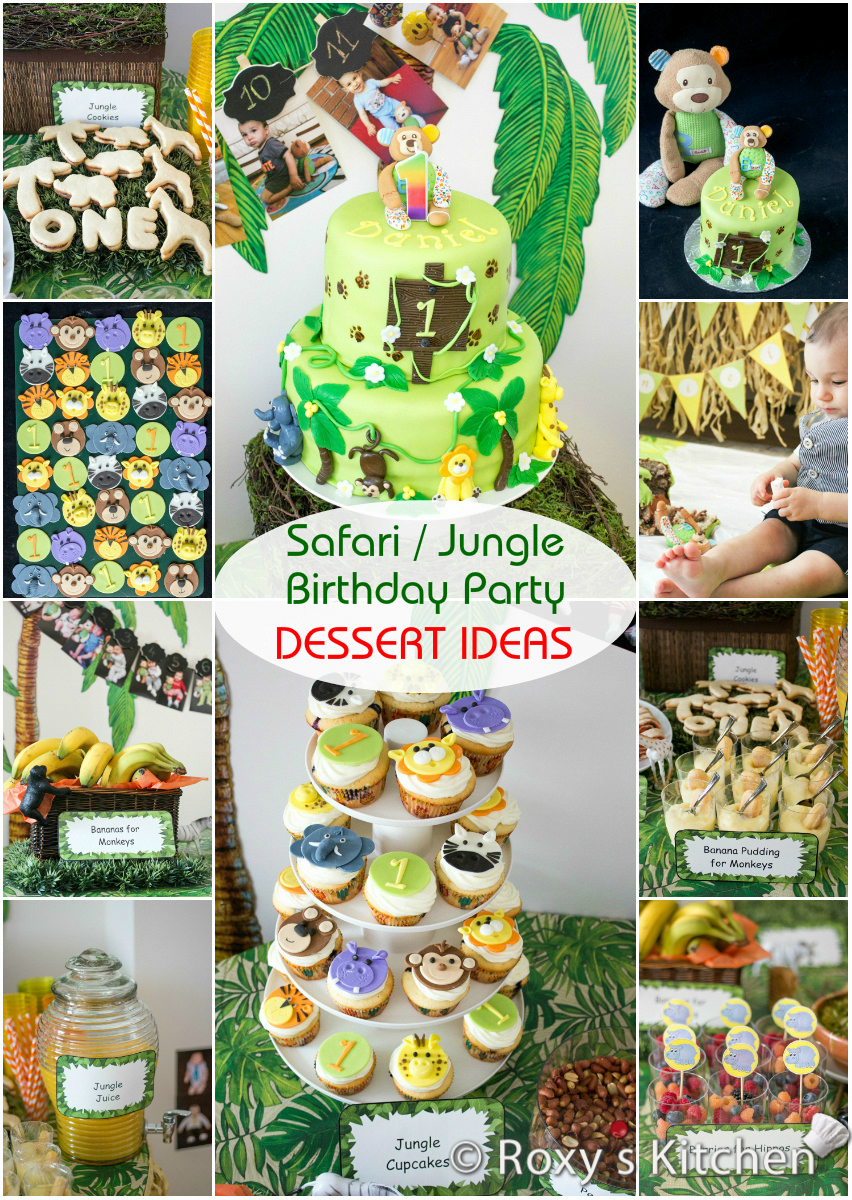 Safari / Jungle Themed First Birthday Party –  Appetizers, Finger Foods & Snack Ideas
Safari / Jungle Themed First Birthday Party –  Cheap Party Supplies & Decorations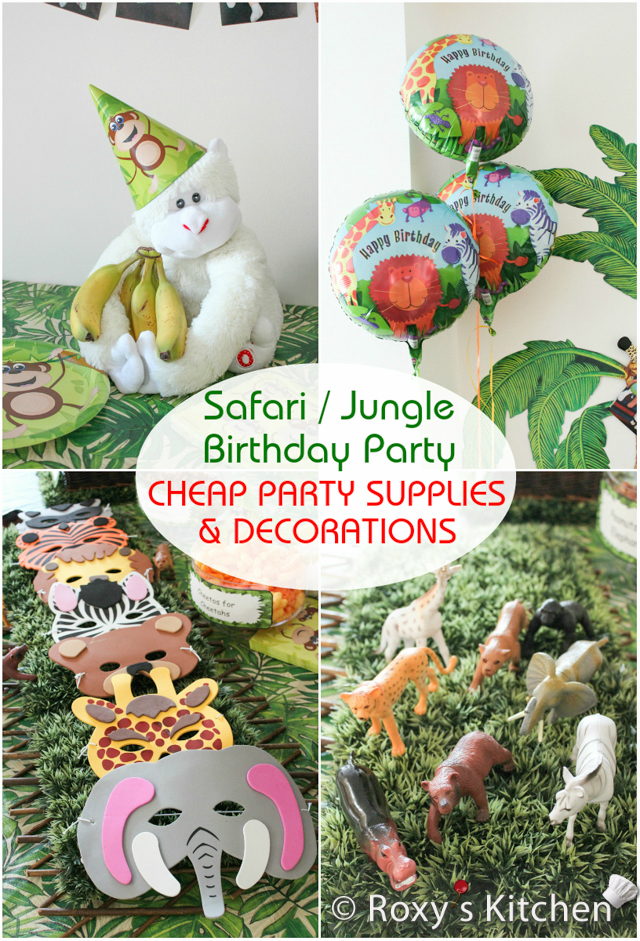 YOU MAY ALSO LIKE: