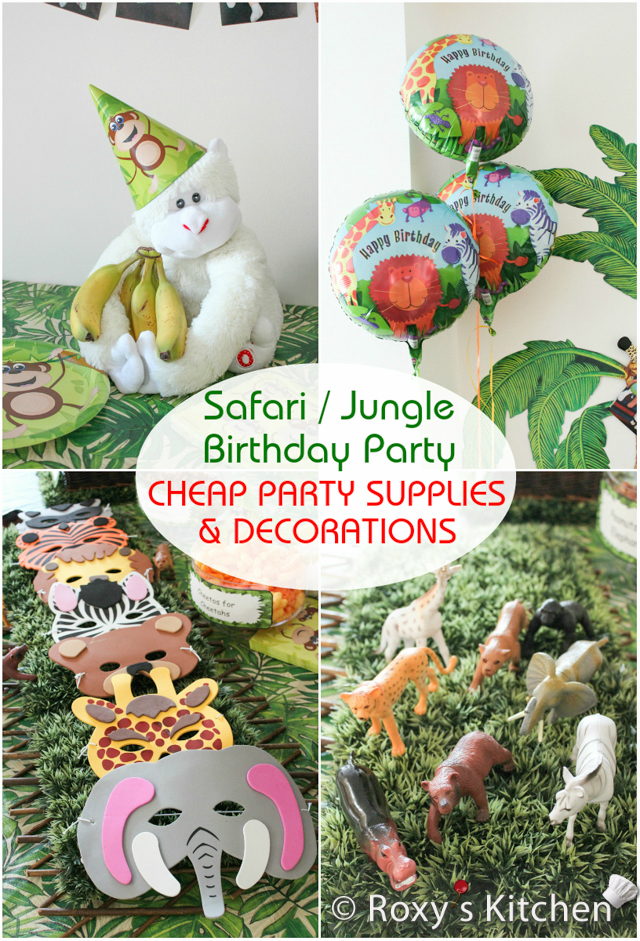 This is Part IV of the Safari / Jungle Themed First Birthday Party post series and the last one. In this post I'll give you a lot of details on where to get the cheapest party supplies and decorations. Some ideas on freebies are included as well!
Check out my previous posts if you're looking for more inspiration on desserts, appetizers, finger food & snack ideas as well as DIY decorations & FREE printables:
Part I – Dessert Ideas
Part II – Appetizers, Finger Foods & Snack Ideas
Part III – DIY Decoration Ideas + FREE Printables
Part IV – Cheap Party Supplies & Decorations 
So let's get started with today's post!
Use your little one's plush toys to decorate the party room. I'm sure you can find some monkeys and teddy bears around!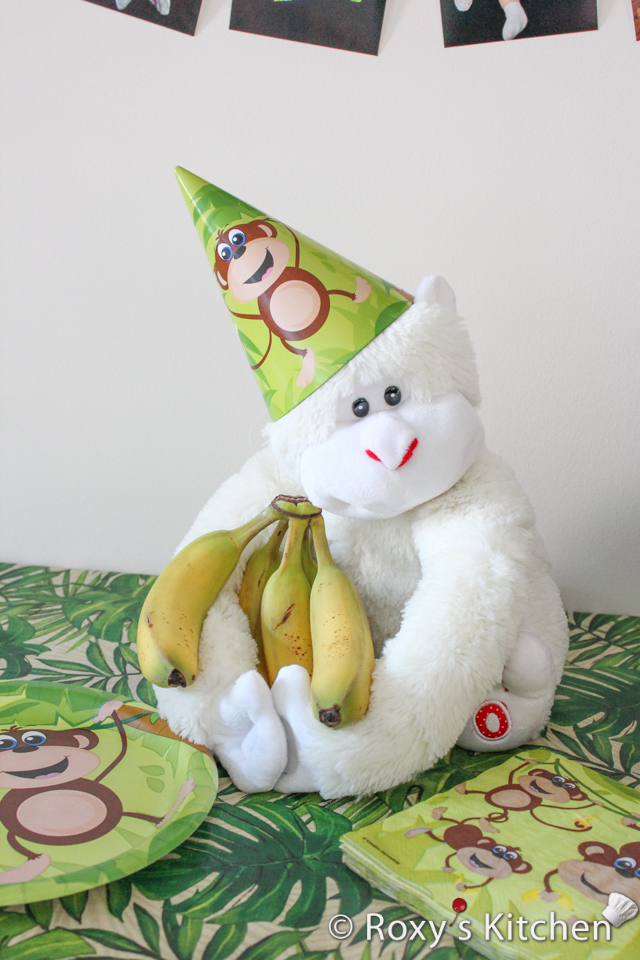 Maybe use some small animal toys that you already have or can get for a few dollars…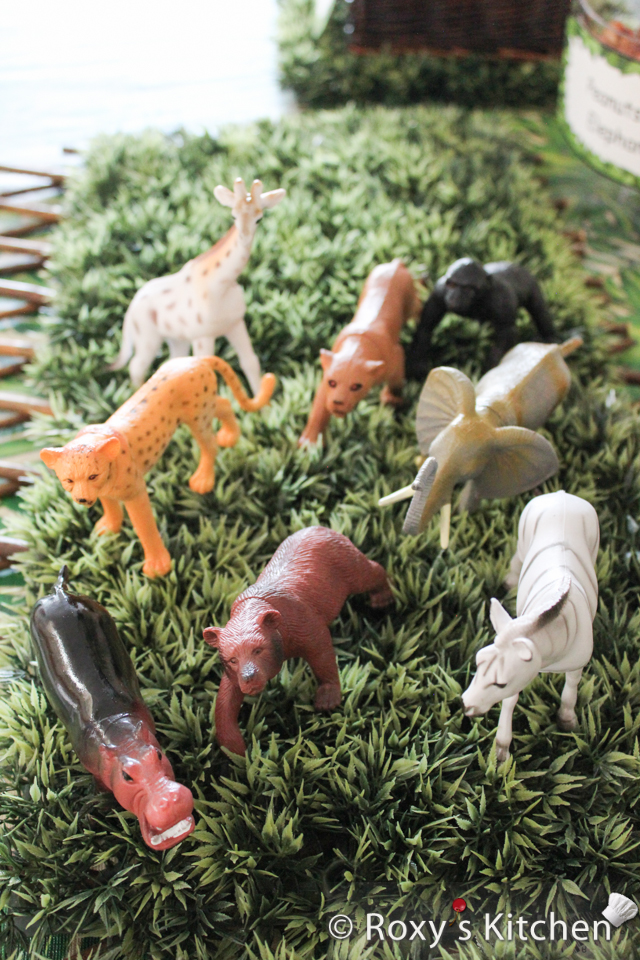 …or some cute animal masks that you can buy or print for FREE (see below).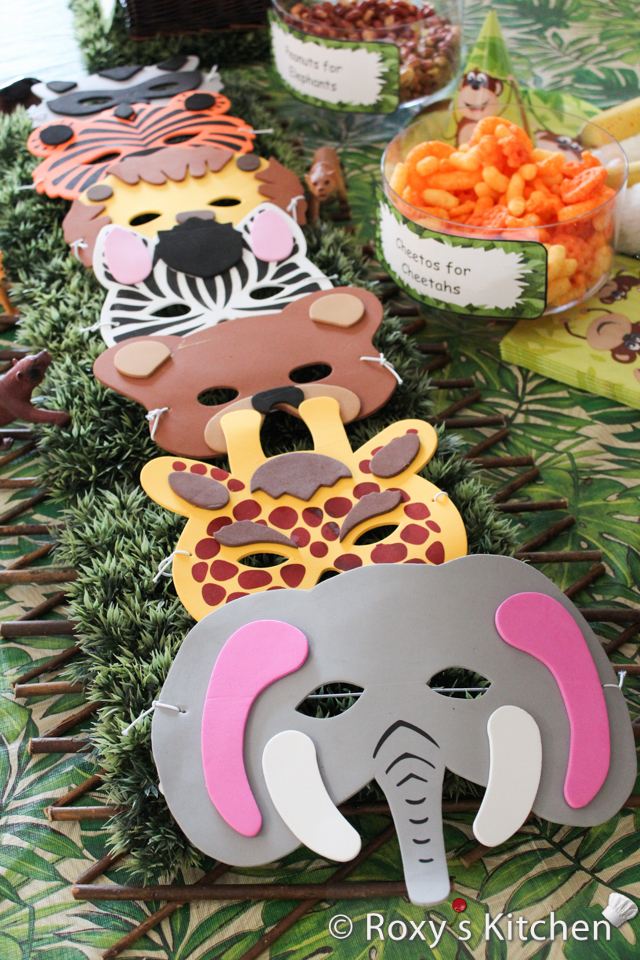 Here are a few masks that you can print for FREE from www.artistshelpingchildren.org – tiger mask, zebra mask, giraffe mask, lion mask, elephant mask, hippo mask, leopard mask, monkey mask, cheetah mask and panther mask. This is an awesome website by the way with so many free printables and many arts & craft ideas for kids.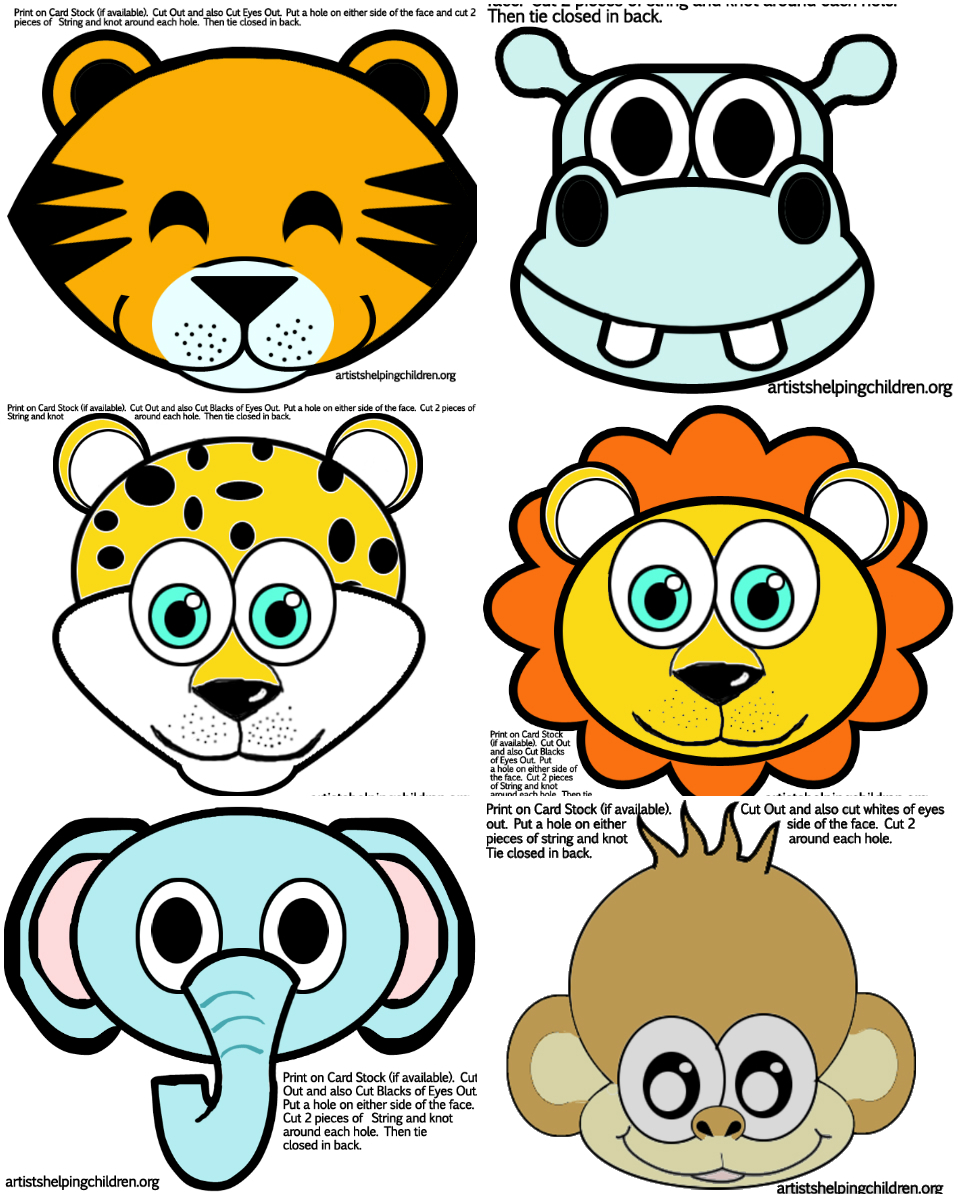 Also, any items you have around made of wood fit perfectly with the jungle theme.  Here's the wood basket I used for the bananas: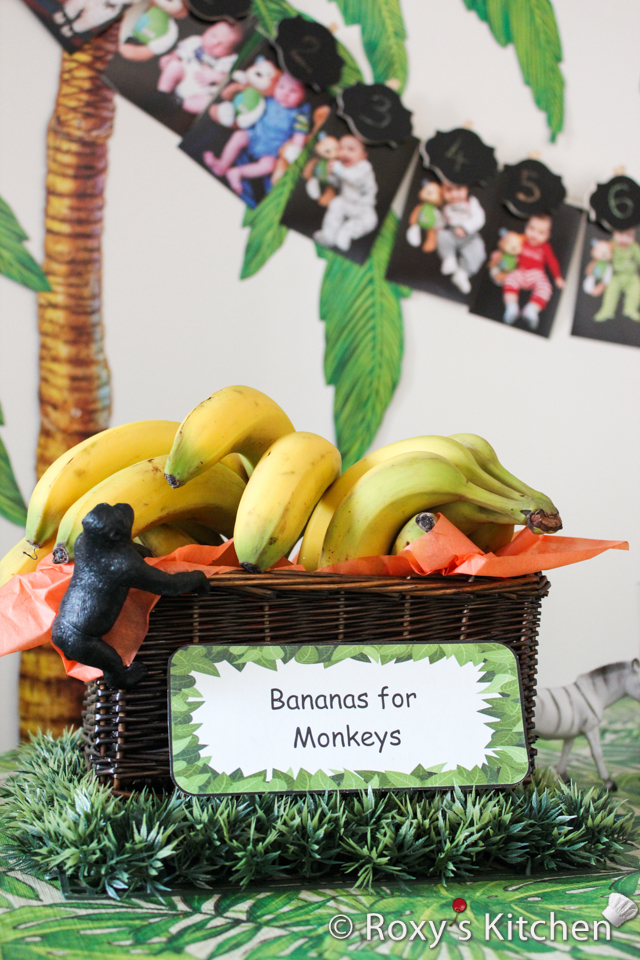 I bought some of the party supplies from the dollar store and Walmart and some from Amazon & Party City (in GTA, Canada). Here's a list of items and prices:
Monkey Party Hats (Walmart) – $1 / 8 hats; I really liked these Safari Party Hats but had already bought these ones – you can download the image here for FREE and read the instructions on how to make your own hats.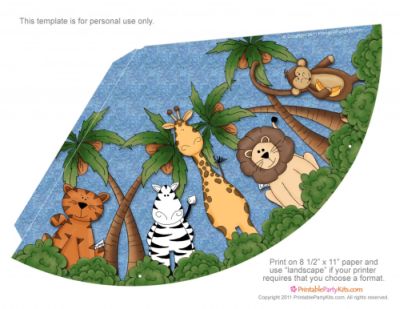 Monkey Paper Plates (Walmart) – $1 / 8 plates
Monkey Napkins (Walmart) – $1
Palm Tree Paper Lanterns ($ store) – $1.25
Artificial Grass Squares/Tiles ($ store) – $2 / tile
Willow Expandable Fence ($ store) – $2
Plastic Cups that I used for the berries & banana pudding  ($ store) – $2.00 / 10 cups
Striped Paper Straws – $1 / 10 straws
Safari Toy Animals ($ store) – $2.50 / 4 animals
Safari Animals Happy Birthday Balloons – got these ones for $5 each at PartyCity but you can find them cheaper on Amazon or you can buy animal print balloons for even less – $7 for 20 balloons
Natural Grass Table Skirt – 29 inches high, 9 feet long (PartyCity) – $7
Jointed Palm Tree Cutout – 6 feet high (PartyCity) – $7
Island Palm Vinyl Table Cover(PartyCity) – $8
Foam Animal Masks (Amazon on sale) – $6.49 / 12 masks (I bought 2 sets & used only the jungle animals from each)
Chalkboard Clothespins (Michael's)- $1.50 / 2 clothespins
If you don't have access to the stores I mentioned or you can't find the items easily, you can get most of these party supplies on Amazon as well.
This must be the longest post ever but I truly hope it will help many parents out there organize an awesome Safari / Jungle Birthday Party on a budget. If you've found this useful I'd love to hear your thoughts in the comments! Also, don't forget to share it with your friends on Facebook, Google+, Pinterest etc.

!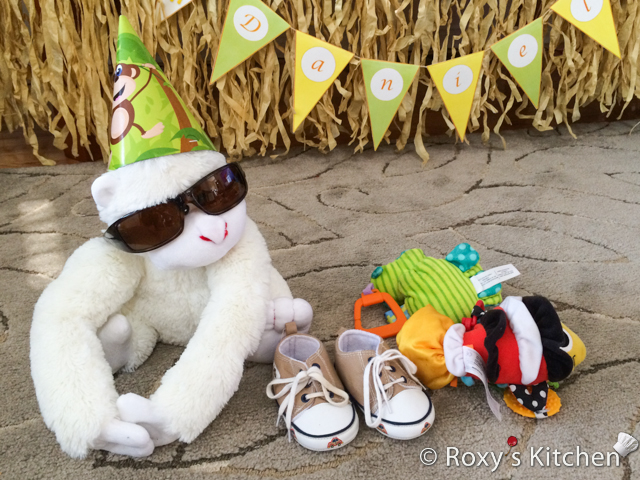 P.S. After the party our curious monkey found some items that did not belong to Daniel. We've open a Lost & Found since then! If you've lost some sun glasses, a pair of shoes or a fishy toy, leave us a comment below :).
Be sure to follow me on Pinterest for more birthday party ideas, awesome cake decorating tutorials and much more!
Visit Roxy's Kitchen's profile on Pinterest.
You might also like these posts…
Safari / Jungle Themed First Birthday Party – Dessert Ideas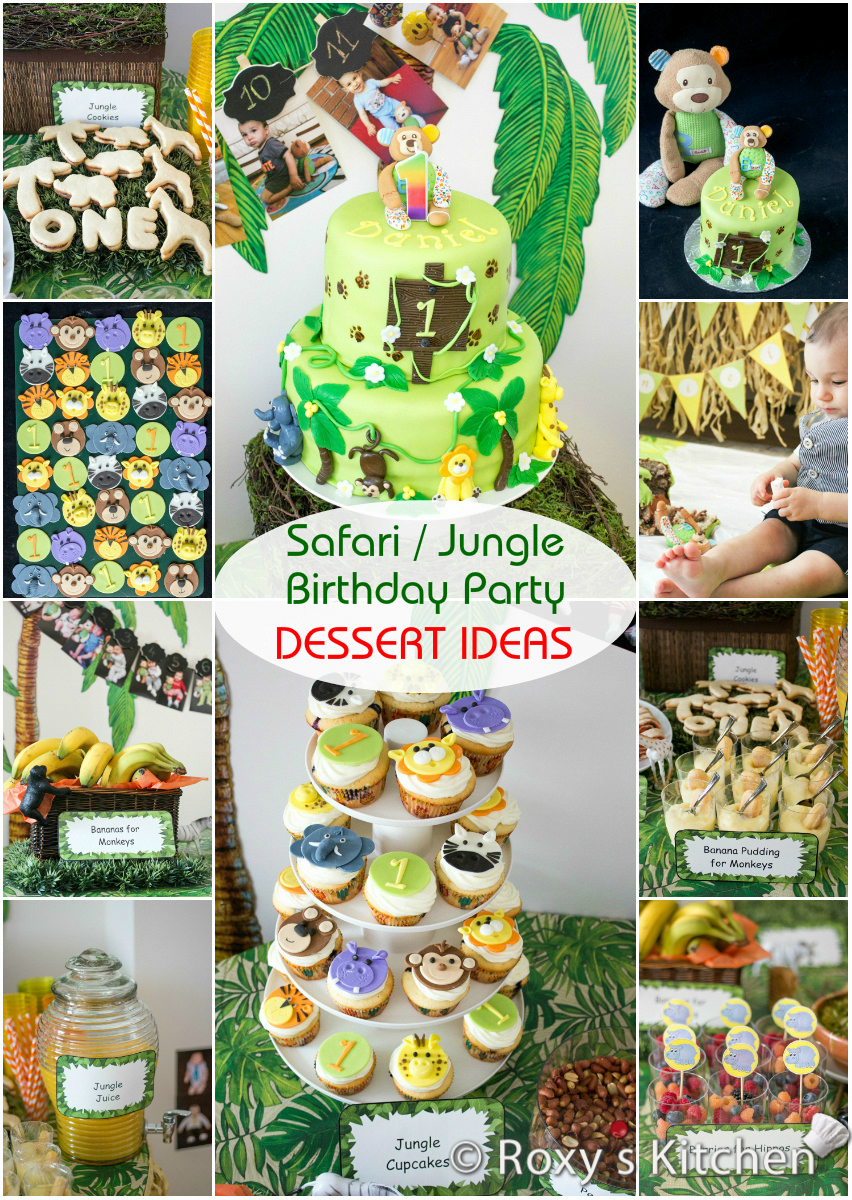 Safari / Jungle Themed First Birthday Party –  Appetizers, Finger Foods & Snack Ideas
Safari / Jungle Themed First Birthday Party– DIY Decorations + FREE Printables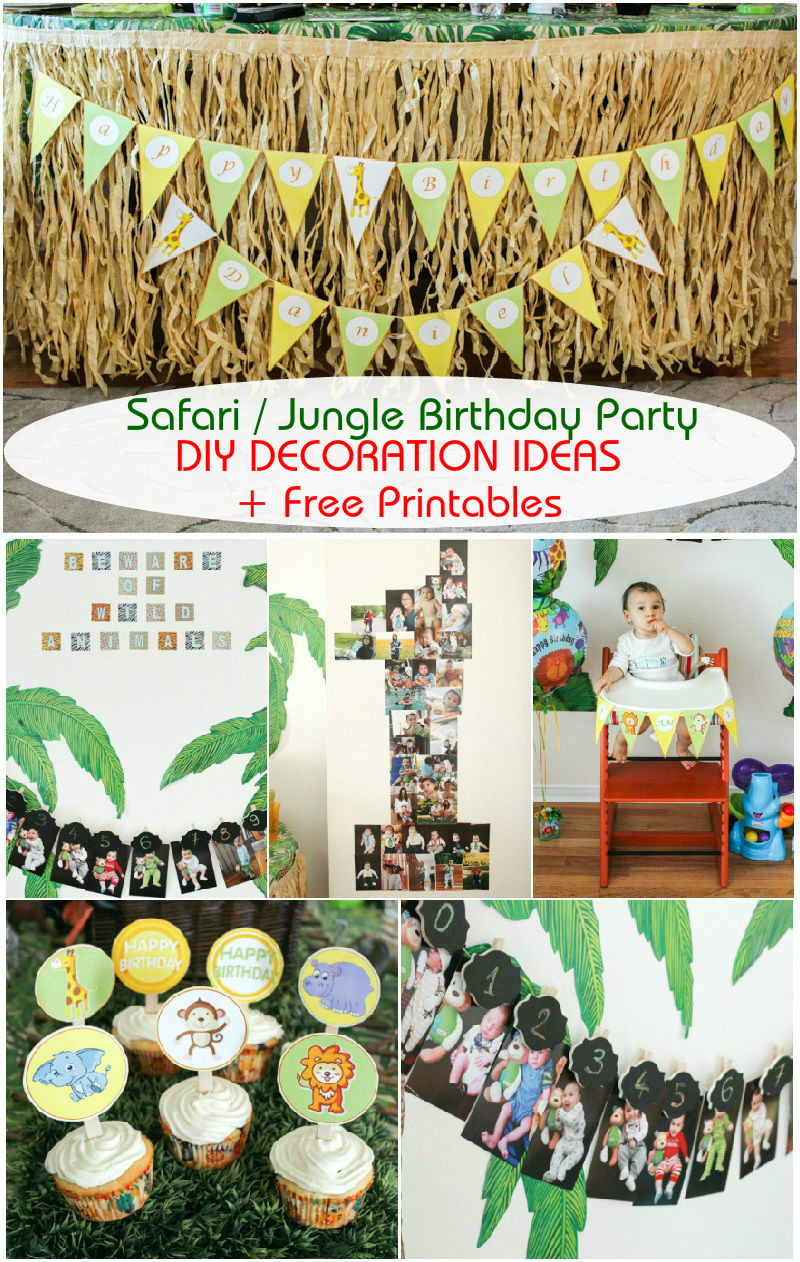 ---
This post contains Amazon.com affiliate links for products I personally use and love. If you purchase a product through an affiliate link, your costs will be the same but I will receive a small commission which is used for hosting and running this site. I appreciate your support! 

YOU MAY ALSO LIKE: