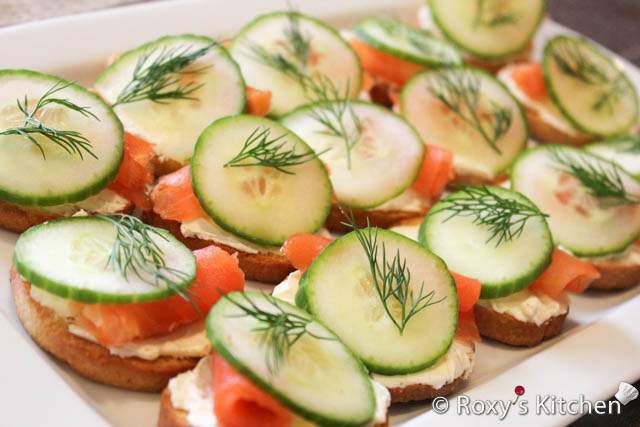 Oh, I made these so many times this holiday season and they were always the first appetizer to go.  What can be better than a light appetizer with smoked salmon and cucumber with a touch of cream cheese when everywhere you go during this time of the year you find the traditional cabbage rolls (sarmale), roasted pork, pork jelly (piftie), sausages, and you name it… all kinds of dishes that are heavy on meat – delicious but  SO heavy. So back to our healthy smoked salmon, did you know that in the mid 1800's New York, especially Brooklyn, emerged as the fish-smoking capital of America? Here's a great article about the history of smoked salmon if you're interested in reading ;).
Time: 15 min, Prep: 15 min.
Servings: 15                     
Ingredients:

150 g smoked salmon, thin slices
3 Tbsp Philadelphia cream cheese
15 small slices of crispy / toasted baguettes
½ long cucumber
Fresh dill
Directions:
Slice cucumber 1/3 cm thick. You will need 15 slices. Cut the smoked salmon in 1 x 2 cm pieces and roll each piece up.
Spread cream cheese on each slice of baguette. Place a salmon roll-up and a slice of cucumber and decorate with fresh dill.
Cover with plastic wrap and chill until ready to serve.
Enjoy!

YOU MAY ALSO LIKE: