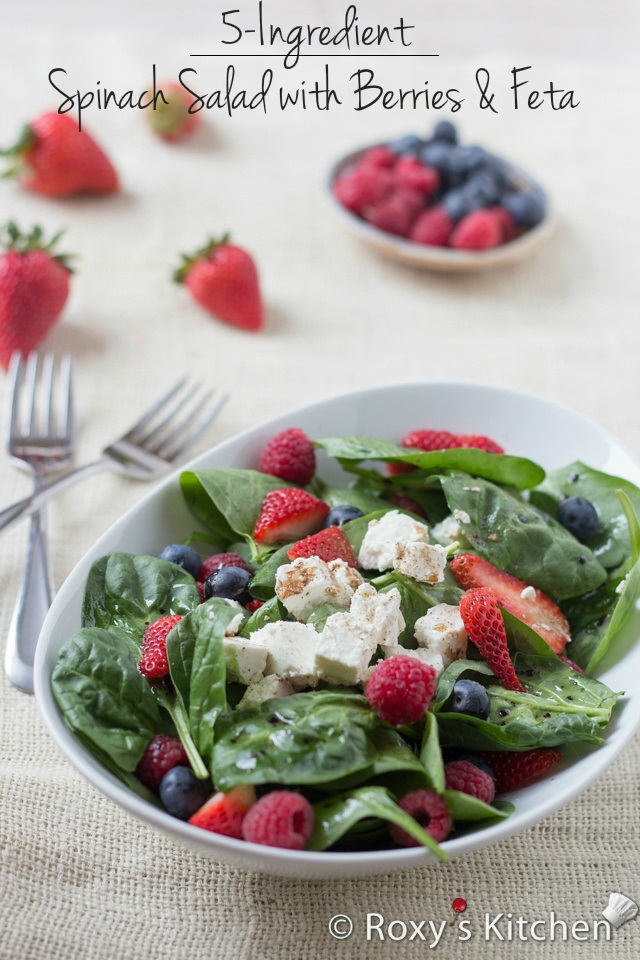 This Spinach Salad with Berries and Feta Cheese has it all: fiber, protein, iron, calcium, so many vitamins and it's packed with antioxidants for a youthful skin. A delicious salad loaded with fresh berries and feta cheese and drizzled with a balsamic dressing. We love this salad so much because it's full of flavour, so healthy and easy to make, it literally takes just 10 minutes to put together… even my dear husband who's a pro in the kitchen (not really!) makes this all the time!
It's the perfect summer salad for a weekday lunch or weekend picnic / BBQ! And if you're not convinced that it'll be a filling meal, you can also add some grilled chicken or shrimp… so yummy!!! 
Time: 10 min, Prep: 10 min.
Servings: 2 servings
Ingredients:
2 cups baby spinach
1 cup mixed berries – raspberries, blueberries, strawberries
2 Tbsp feta cheese cubes
10 Tbsp olive oil
5 Tbsp balsamic vinegar
Pepper
Directions:
Place the spinach in a bowl. Add the raspberries, blueberries, strawberries and feta cheese and season with pepper.
Mix the oil and vinegar and drizzle over the salad. Toss gently to combine.
---
5licious – Recipes with Five Main Ingredients or Less
Water, oil for frying, and other essential spices in anyone's cupboard (salt, pepper, paprika, oregano, basil,  rosemary, chili, curry, bay leaves, thyme, cinnamon , vanilla extract, sugar) do not count!

YOU MAY ALSO LIKE: