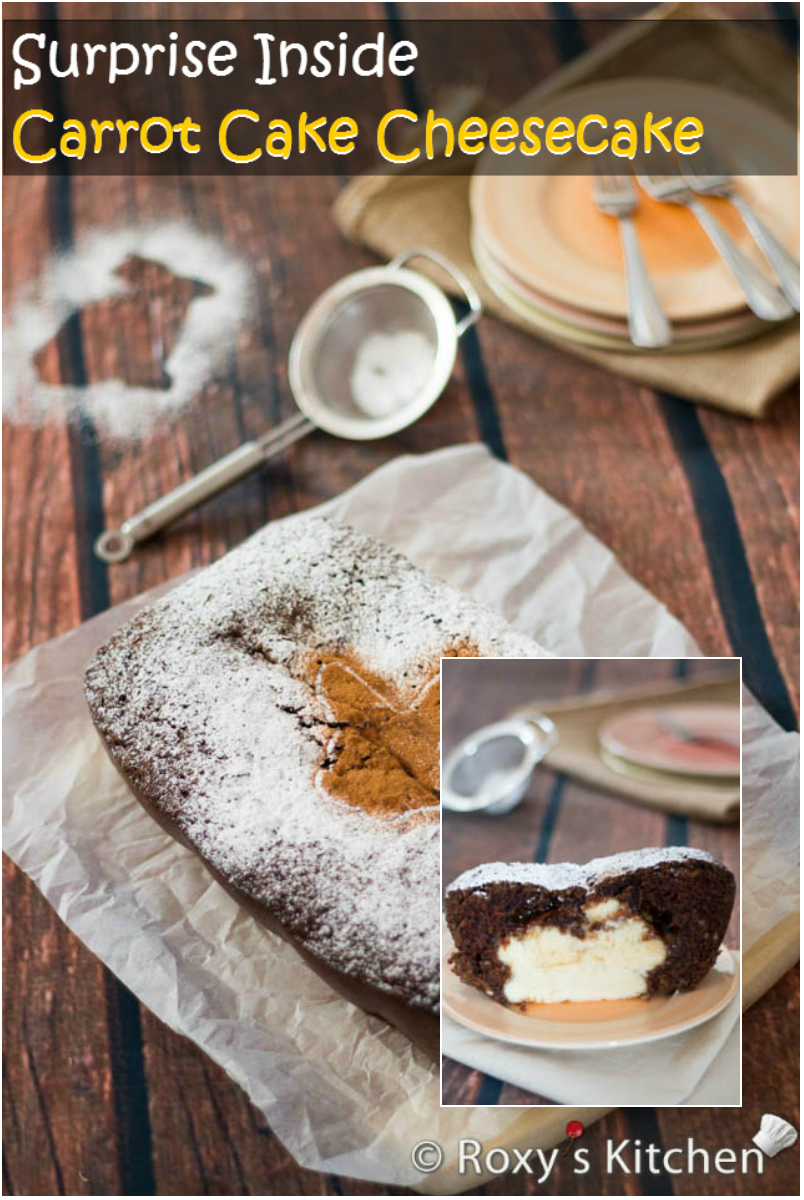 Who's up for baking something super delicious and creative this Easter that will WOW your guests? There is a new trend in the world of cake decorating and that is the surprise-inside cakes! What might seem as a simple cake on the outside, it's actually decorated from the inside out making it a stunning cake when cut into. I've been trying to make one of these cakes for a while but didn't find the time to make it…. until NOW! I decided to make this Surprise Inside Carrot Cake Cheesecake (Warning: Easter bunny hiding inside!) to inspire you to bake something special this Easter. This carrot cake & cheesecake combination is to die for so you should make it even if you're not into making surprise-inside cakes… just slightly swirl the two cake batters together and you got yourself a pretty marbled and delicious cake to enjoy.
Recipe Girl posted a strawberry cheesecake cake recipe a while ago so I used her recipe for the classic cheesecake. Just go over to her blog and print out the recipe to make the cheesecake. Just a note that I used a rectangular/sheet pan instead of the 9-inch round pan she used and I also added half more of the quantities indicated in her recipe (below you have the adjusted ingredients).
For the carrot cake I used a recipe that I posted a while ago so you can go to my previous post to see the step-by-step photos and instruction to make the carrot cake batter.
Now back to how these surprise-inside cakes are made… most of the times cookie cutters are used to cut out various shapes out of a pre-baked cake (letters, numbers, bunnies, hearts, butterflies… you name it!). Then you place your cut-out shapes into a baking pan, pour cake batter over and bake it again.
Cheesecake is not that easy to work with when cutting out the shapes because it tends to stick/crumble but hey, I have always loved challenges J! And no worries, I will give you all the tips to make the perfect surprise-inside carrot cake cheesecake! Or if you're not up for the challenge you can make a basic white cake (see my four-ingredient cake recipe) or even use a cake box mix.
Time: 150 min, Prep:  60 min.  Cook: 90 + chilling time
Servings: 10-12
Ingredients:
Three 8-ounce (250 g) packages cream cheese, at room temperature
1 cup (220 g) granulated white sugar
pinch of salt
3 large eggs
1/2 (115 g) cup sour cream
1/2 cup (115 g) heavy whipping cream
1.5 teaspoons vanilla extract
I used a rectangular/sheet cake pan (15.25 x 10.25 x .75 inch / 38.7 x 26 x 1.9 cm) to bake the cheesecake. Slightly grease the pan and line the bottom with parchment paper.
4 eggs
1 ¼ cup (300 ml) Crisco – vegetable – oil
2 cups (450 g) sugar
2 tsp vanilla extract
2 cups (220 g) all purpose flour (substitute 1 Tbsp flour with cocoa powder to enhance the carrot cake appearance and make your cheesecake bunny stand out)
2 tsp baking soda
2 tsp baking powder
½ tsp salt
2 tsp ground cinnamon
4 big carrots (~350 g), grated
1 cup (150 g) pecans
You need a pan that is taller than the bunny cookie cutter you're using. The only one I had was a loaf pan (9.25 x 5.25 x 2.75 inch / 23.5 x13.3 x7 cm). You can use square, round pans etc. but make sure to adjust the ingredients accordingly so that you have enough carrot cake batter to cover the cheesecake bunny.
I had some extra batter but nothing goes to waste in my kitchen so I baked some cupcakes! Just to give you some ideas, you can make this carrot made out of cupcakes or this wonderful rose cupcake bouquet in a pot.
Directions:
Prepare the cheesecake according to the instructions provided by the Recipe Girl here. Make sure you use a rectangular pan instead of the round one indicated in the recipe and adjust the baking time since it will be done faster (25-30 minutes should be done). Also, note that I didn't place the cake pan in a roasting pan with hot water as indicated in the recipe as I didn't have such a big roasting pan… it turned out just fine so no worries.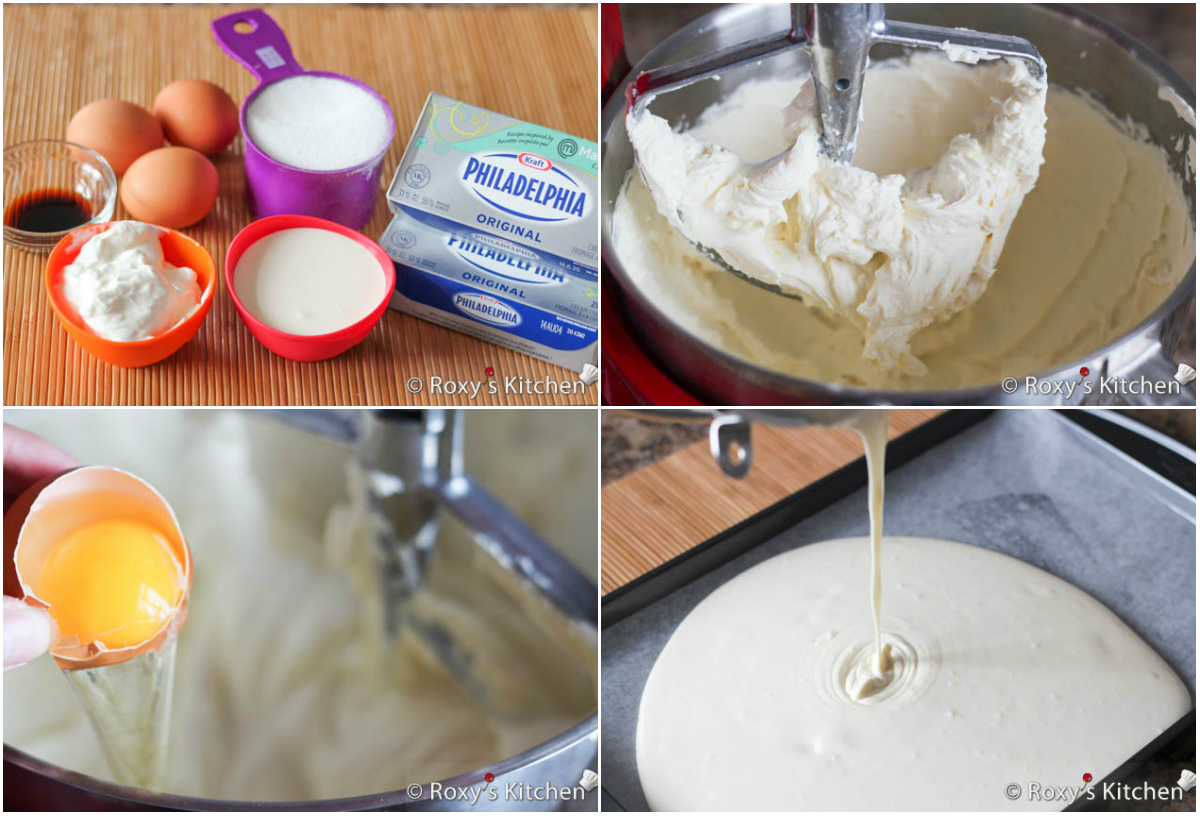 Let it cool on a wire rack, put it back into the pan and place the pan into the freezer for 4-5 hours or overnight. This step is crucial, otherwise your cheesecake will stick and crumble when cutting out the bunny shapes. Even if you are using a regular cake instead of cheesecake remember to freeze it before!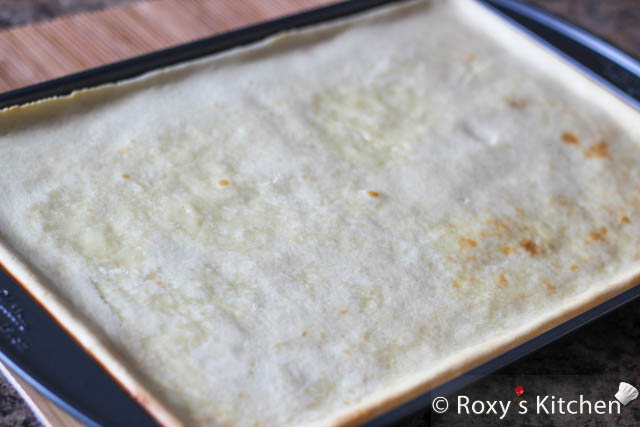 Take your bunny cookie cutter, pass it through hot water (don't wipe it) and cut out the shape out of the cheesecake.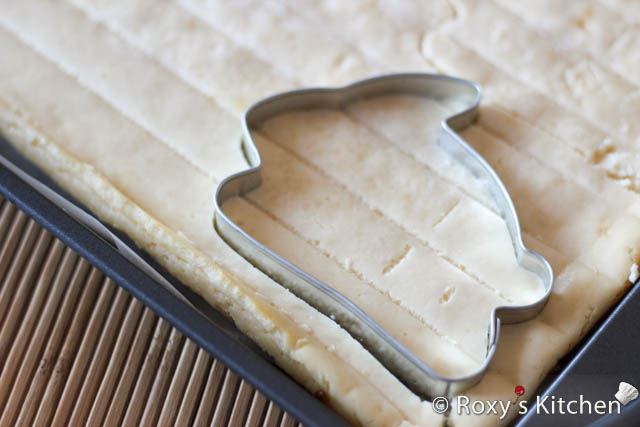 Use your fingers to slightly press down around the inside edge of the cutter while carefully lifting up the cutter. The faster you do this the better! If you spend too much time touching the cheesecake it will start to soften and the edges will crumble.
Wash your cookie cutter after each use and repeat the steps to make all the bunnies. I was able to make 12 bunnies using a 3.5 x 3 inch cutter. Place cut out cheesecake bunnies back in the freezer while you prepare the carrot cake batter following the instructions from my previous post.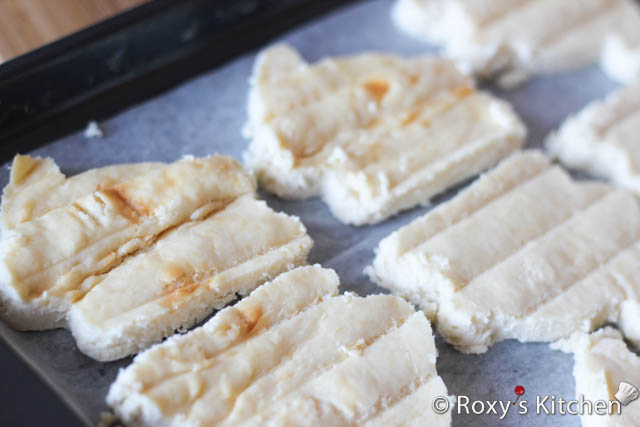 Arrange the 12 bunnies in the middle of the pan as seen below.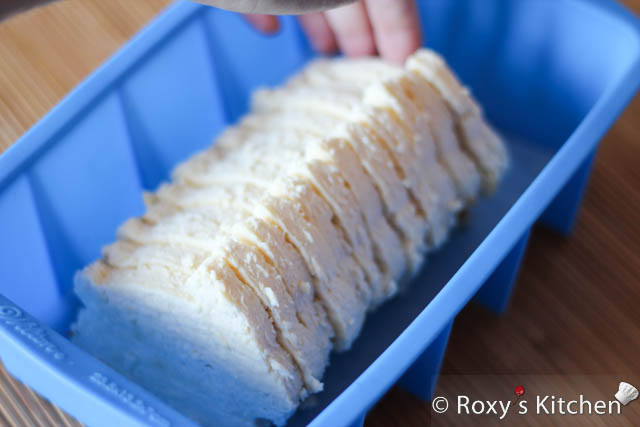 Pour the carrot cake batter over. Since my loaf pan was just close to 3 inches deep (same as the cookie cutter) I had to leave about ½ inch of the bunnies out. The cake will rise in the oven and it will cover the bunnies so no real issue here but if you have a pan that's 4 inches deep it's even better. You can cover the bunnies completely with carrot cake batter… but then you won't have any left overs to make the cupcakes :-P.
Bake for 45 minutes or until a toothpick inserted in the carrot cake (not the cheesecake in the middle) comes out clean.
Sift some powdered sugar over the cake, place a bunny face cookie cutter in the middle and sift some cinnamon powder inside the cutter.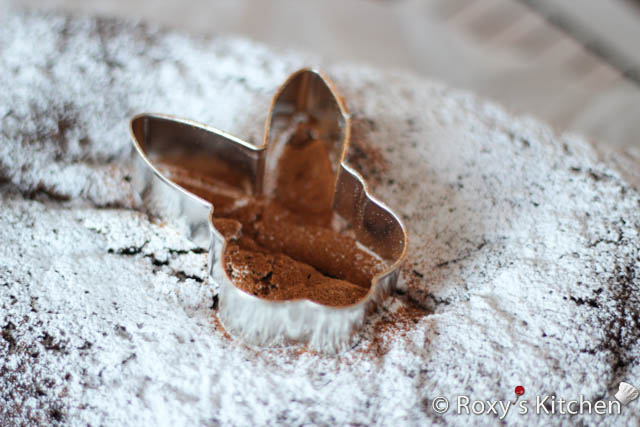 And here it is… a basic carrot cake cheesecake on the outside with the WOW factor on the inside!
Stay tuned for more surprise-inside cakes… OH I have so many ideas and not enough time!!!
Bye for now… I'm off to baking eating some cake :)!
~Roxy
A good picture for pinning 😉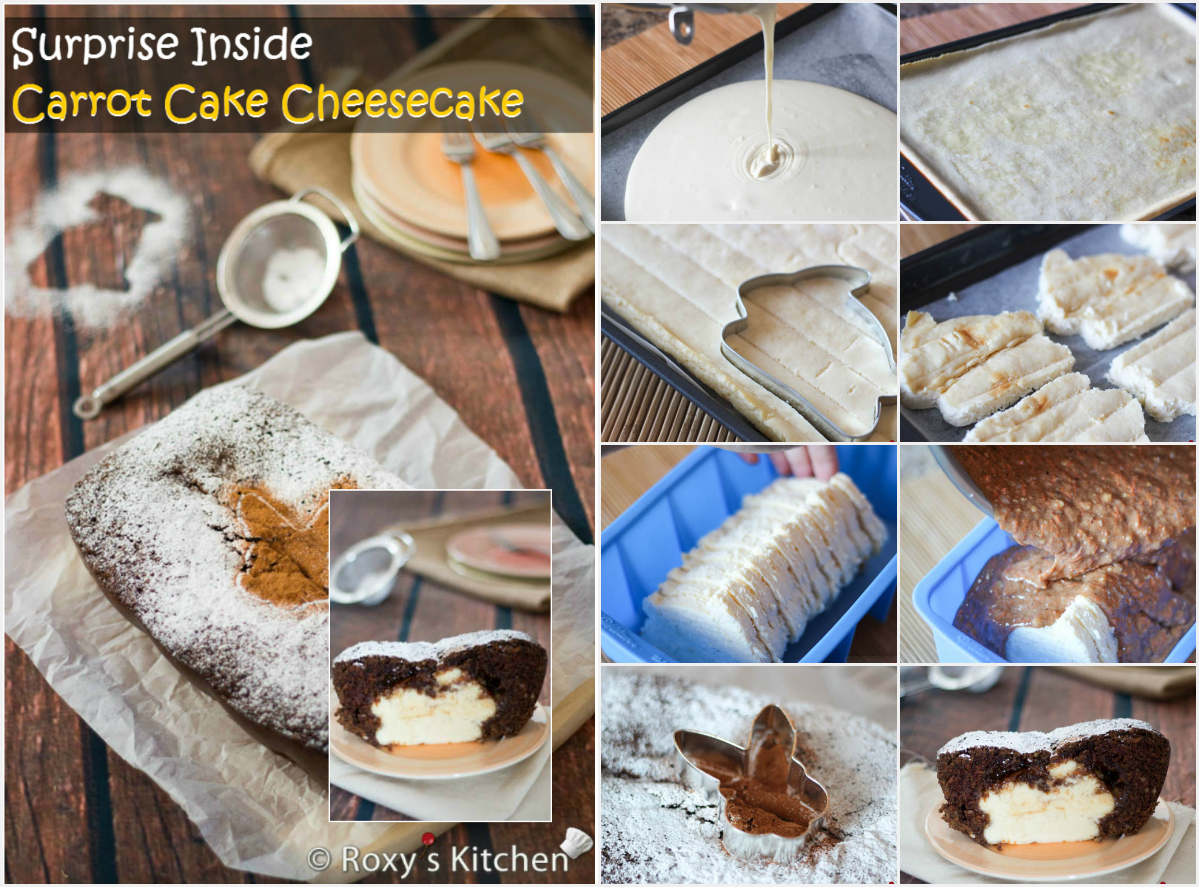 Check out my other Easter recipes and be sure to follow my Easter board on Pinterest for more inspiration on Easter food from appetizers to main courses to desserts!
Follow Roxy's Kitchen's board Easter on Pinterest.

YOU MAY ALSO LIKE: