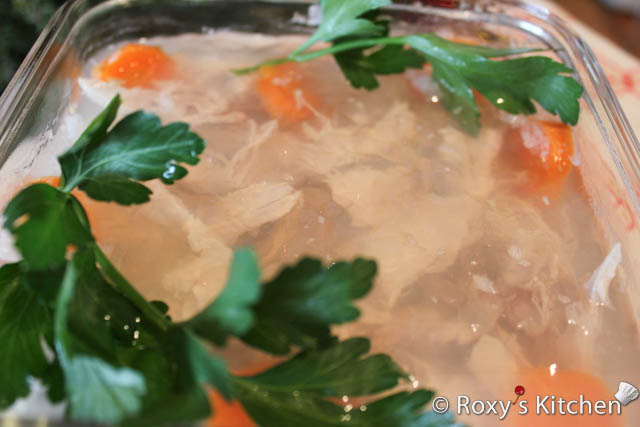 The traditional dish in Romania that is popular around Christmas holidays is actually pork jelly. It is made using pork trotters, rind, ears or feet as they contain a lot of natural gelatin. I have decided to use turkey since it has less fat and calories. This recipe is very easy to prepare but it takes more time to cook. It can be served as an appetizer.
Time: 195 min, Prep: 15 min.  Cook: 180 min.
Servings: 10-12      
Ingredients:
2 turkey wings
1 turkey chopstick
1 big onion
1 big carrot
15 garlic cloves
3-4 pouches of gelatine (~25 g)
4 l water
2 bay leaves
salt
Directions:
Place turkey, bay leaves, whole onion and carrots in 4 l of water and bring to a boil. With a strainer or slotted spoon remove foam that forms on top of the soup and discard. Reduce heat to medium-low and let it boil slowly for 3 hours (or until the liquid has reduced by almost half). When the meat is cooked add salt to taste.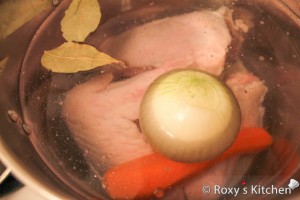 Remove the wings, chopstick and vegetables from the broth. Let the turkey cool off and then remove it from the bones and cut into small chunks. Arrange the turkey pieces on bottom of bowls or loaf pans. You can also use the carrot, cut into rounds.
Melt soaked gelatine into hot turkey broth. Pour into vegetables-poultry mixture. When the broth is warm add minced garlic. At the end remove the fat swimming on top.  Fill the bowls with broth to cover the meat. Refrigerate and allow the whole mixture to cool over night.

YOU MAY ALSO LIKE: