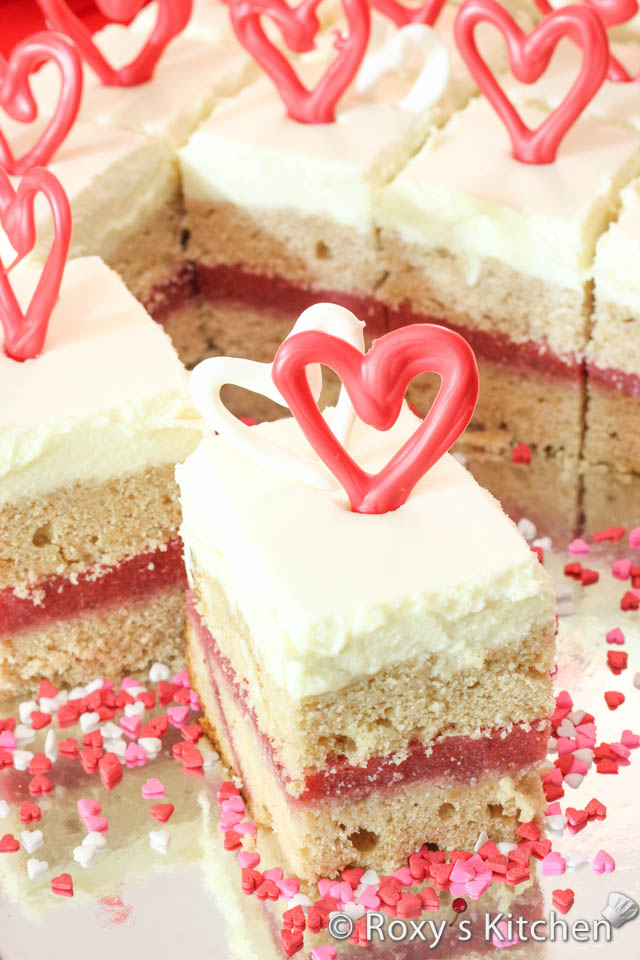 Valentine's Day is just around the corner so today I have for you another delicious dessert to bake and enjoy together with your loved ones. I made two easy fillings, a strawberry jelly and a white chocolate & whipped cream filling. To keep it even simpler you could pick just one of the two fillings but just double the quantities to have enough for two layers. I wanted to give my dessert a stronger strawberry taste so I made a strawberry vanilla cake for the base as well. Overall I think it's the perfect Valentine's Day dessert, absolutely delicious, perfectly sweet and totally refreshing <3 <3 <3. Plus strawberries and chocolate are always perfect together, especially on Valentine's Day : )!
As usual, for the cake base and fillings I will list all the ingredients but you can find step-by-step pictures and instructions in the How To's section or by following the links below.
Time:  130 min, Prep: 60 min Cook: 70 min + chilling time
Servings: 20 squares
Ingredients:
5 eggs
1.5 cups (165g) sugar
1 cup (225g)unsalted butter
1.5 Tbsp vanilla
¼ tsp salt
¾ cup (175ml) milk
3 tsp baking powder
2.5 cups (275g) sifted cake flour
½ cup (75g) strawberry pudding powder (optional, I usually add this to get  a stronger strawberry flavour)
½ cup (100g) seedless strawberry jam
1 Tbsp red food colouring (optional)
Divide the batter between two 26.7 cm (10.5 inch) springform square pans. I baked it in just one pan and cut the cake in two horizontally but I strongly recommend using two pans since the cake will bake faster and more even.
For strawberry jelly:
4 cups (750 g) strawberries
½ cup (115 g) sugar
3 Tbsp (21 g) unflavoured gelatin
For white chocolate and whipped cream filling:
300g white chocolate chips or gated chocolate
3 cups (750ml) whipping cream, divided
¼ cup (30g) powdered sugar, if using unsweetened whipping cream
3 Tbsp (21g) unflavoured gelatin
For syrup to moisten the cake:
1 cup (240 ml) water
6 Tbsp sugar
1.5 Tbsp vanilla
Boil the water and sugar, add the vanilla extract and let it cool off.
Directions:
Make your cakes and let them cool off. Cut off any dome or excess on your cakes using a sharp knife to level them off.
Make the strawberry jelly and while it's cooling off a bit (should still have a pouring consistency) line one of the springform square pans with plastic foil. Place the first layer in the pan, moist it with sugar syrup and pour the strawberry jelly over.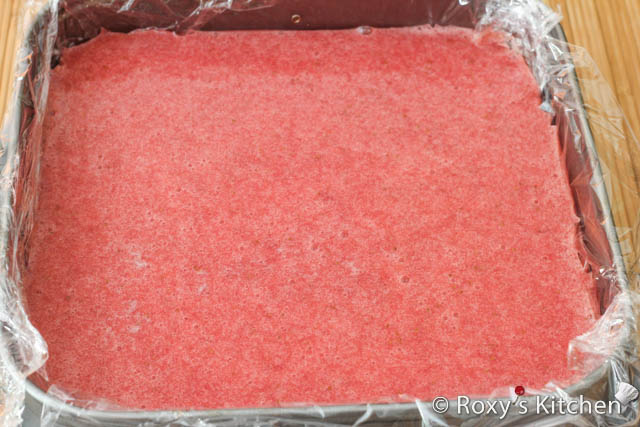 Place the cake in the refrigerator while you're working on the white chocolate filling. Then remove from the fridge, place the second cake layer on top and moist it with sugar syrup.
Pour the white chocolate filling on top and refrigerate for 4-5 hours or overnight. If you find that your pan doesn't have high enough sides to hold the last layer of filling (as it happened to me) just slightly open the springform's pan clamp and carefully slide the sides of the pan a bit up and then close it back. Then pour the white chocolate filling over.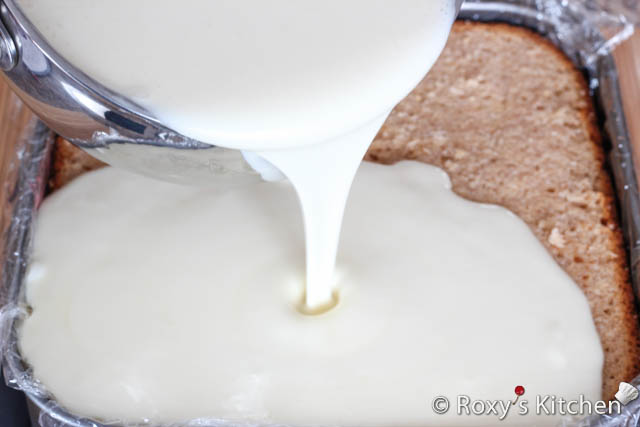 Then carefully remove the springform pan and cut the cake into 20 squares.
I made the hearts on top using white and red candy melts. Melt the white candy melts according to the package instructions, let the coating harden a bit (it should still have a pouring consistency), pour it in a piping bag fitted with a #4 decorating tip and make the hearts. Repeat the steps to make the red hearts. If your candy starts to harden to much you can place the piping bag in the microwave for a few seconds. Make sure you remove the tip before though. metal should never go in the microwave!!!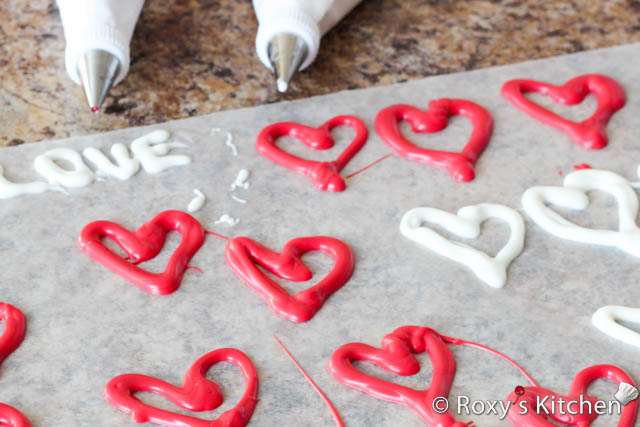 Enjoy!!!

YOU MAY ALSO LIKE: